Isaac Namioka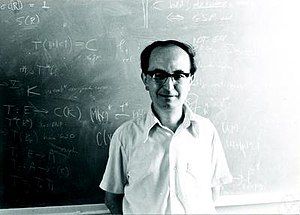 Professor Emeritus Isaac Namioka passed away peacefully at home on September 25th, 2019.  
Isaac was born in Japan on April 25th, 1928, and spent his boyhood in Himeji. After receiving his Electrical Engineering degree at Kobe University, Isaac moved to the United States to attend graduate school at Kansas University.  At KU, he met Professor John Kelley, his PhD advisor and co-author of their textbook "Linear Topological Spaces".  To continue his graduate studies, he moved to Berkeley CA to attend the University of California, and it was there that he met Lensey Chao, his future wife and fellow graduate student in Mathematics.  After receiving his doctorate, he and Lensey married in 1957 and moved to Ithaca, NY where he taught at Cornell University, and where they started their family. In 1963, he moved to Seattle where he became Professor of Mathematics at the University of Washington.  In 2013, he became one of the Inaugural Class of Fellows of the American Mathematical Society. Isaac was also a member of the Japanese Baptist Church in Seattle, and an avid photographer.
Isaac is survived by his wife of 62 years, Lensey Chao Namioka, his daughters Aki Namioka and Michi Garrison, his grandchildren Leila Garrison, Brendan Garrison and Sven Nilsson, and his son-in-law Erik Nilsson.
A memorial for Isaac will be held at the Arboretum Graham Visitor's Center from 1:00-3:00 PM on November 16th, 2019.
---
Comments
He was a good friend of Ramesh and I. We have known him since they came to Seattle in 1963 and have enjoyed their company and the good Chinese food that Lensey served. We saw each other frequently and shared family news as children started growing and eventually married. The last time we saw them was when they visited us in April. We have very fond memories of the years we have known him. A gentle person. Our condolences to all of you.
    
Shanta Gangolli
---
He was a wonderful, kind neighbor to us in Montlake. We will miss him.
    
Tom Payne
---
My mentor, Isaac Namioka, is my parents friend. He visited my church which was my home during WW2 to keep his parents books safely. I was 5 years old and he was a high school student in Kobe. With Isaac's guide, I came Seattle. His and my parents are pastors in Himeji area, and his mother and mine studied at Kobe college.
    
Noyuri Ishida Soderland
---
Professor Namioka was a great teacher. I took two of his classes in the early 1980's. I learnt a lot from his teaching. I will always remember him. I don't know Japanese, but I find a Japanese song in youtube that I think he would have enjoyed. Here is the link https://www.youtube.com/watch?v=uo3pN3gcA8s&list=RDuo3pN3gcA8s&index=1
Kin Li, Math Dept, HKUST
---