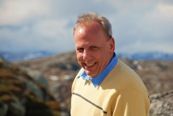 Mark Dion died unexpectedly on April 12, two days before his 66th birthday. Mark was born in Albert Lea, MN and grew up in Mercer Island. He received his BA at St. Olaf, MN, Magna Cum Laude, attended Divinity School at Yale on a Rockefeller scholarship and received his Masters Degree in Social Work from UW. He worked for many years in the field of Mental Health in both public and private practice. 
Mark was the founding director of Social Services for the NW AIDS Foundation, Assoc. and Director for UW School of Social Work's Aids Training Project providing training and workshops on the phsycosocial aspects of AIDS.  He was the cofounder of Seattle Aids Service Network, Member of the AIDS Housing of WA Client Service Review Committee and Govenor's Task Force on AIDS Service and Education.  He authored or co-authored many articles and curricula on domestic violence, aquaintenace rape and AIDS/HIV.  He was honored as WA State Social Worker of the Year in 1992. 
Mark coped with life's hardships with humor, love and Broadway musicals. He devoured the daily newspaper and took copious notes to share news with others. He was most at peace over tranquil or stormy bodies of water. 
Mark is survived by his daughter, Morgen Ackerman-Johnson (Kate and Deb), sister Lynn Dion (Gerry), brothers Jim (Deb) and David, nieces and nephews Nate, Andrew (Erin), Sara, Tyler (Karen), Jeremy (Avery), his dearest cousin Torunn, and many relatives in Norway. He was the son of Rev. Charles Dion, who established Holy Trinity Lutheran church on Mercer Island and his beloved mother, Audrey Dion, who taught him the value of social justice, as well as countless friends, preceded him in death. 
Remembrances can be made to Lifelong AIDS Alliance.  
Mark Dion's Memorial scheduled for June 20th at 2:00 pm
University Congregational Church
4515 16th Ave NE
Seattle, WA
---
Comments
Dear Mark...we miss our friend...and hold memories of times with you in our hearts... --Anne Ganley
---
Mark, you are sorely missed, by me and every person whose life you touched! A good friend, always willing to go the extra mile for your clients, your friends. You were so gentle, so loving, so filled with compassion and empathy, a very wise soul indeed! I miss you my friend, but I know you have just moved on in your journey! Love you! --Bill Rogers
---
Say not in grief 'he is no more' but in thankfulness that he was. 
- Hebrew Proverb
--Norm Schwab
---
You inspired so many to live and act with generosity and compassion. We all were made stronger by your good works. It was an honor to work with you. --Heather Andersen
---
Mark, one of the building blocks of my early life, never to be forgotten. --Jennifer Welti
---