Sandra Robinson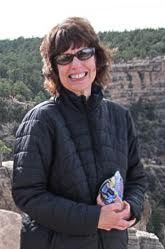 Sandy Robinson was born Sandra Maria Morales on January 17, 1947 in Manhattan, N.Y.   She grew up on Long Island and after high school, attended Ithaca College in Ithaca, NY, earning a degree in Theater Arts.   
Sandy spent time in stock theater both on Cape Cod and in Baltimore MD, before moving to Seattle in 1972 to work as an Assistant Stage Manager at the Seattle Rep. Although Sandy did not stay in the world of theater, she never strayed far.  She created Sandy Robinson Casting Associates and ran a successful business as a casting director for the film production community. After selling her company, Sandy traveled in Europe with her husband, George.  She then returned to Seattle, shifted gears and began a second career in the film/video production industry.  Working as both Account Manager and Executive Producer over many years, Sandy became the indispensible core of any project she was a part of.  More accurately, she was the heart and soul of wherever she chose to work.  Sandy retired in 2009.
Sandy, of course, was not defined by her work.  She had a long and loving marriage.  She enjoyed films and music and was always immersed in a good book.  Her garden thrived and her long legs took her on many walks.  At her core, however, Sandy was and will always be remembered as a dancer.
Equally important were her friendships. Sandy was a loving and giving friend.  She lived her life with kindness and grace, and although she worked in an industry that creates artifice, she had none. Sandy's beautiful soul will be sorely missed by her friends. She is gone much too soon.
Sandy died in Edmonds, WA on August 8, 2016 of complications of Multiple Systems Atrophy.  She is survived by her husband, brother, niece and many, many friends. 
If you would like to honor Sandy's life, please make a donation to your favorite charity in her name. 

Grief never ends…but it changes.
It's a passage, not a place to stay.
Grief is not a sign of weakness, nor a lack of faith…
It is the price of love.
 
---
Comments
thank you from her brother Danny
---
Sandy, I will always remember you and the way we met, as fledgling dancers (and singers) in the African-Cuban tradition of Lucumi. A pleasure and blessing to share the floor with you. And your gift of a bundle of sacred Ogham branches is still close to me. I know your flight will be swift, and you will get on with your elevation as you did in everything you touched. My love goes out to you, George and your family and friends. Ibae baentonue, Sandra Maria Morales Robinson.
- Sharon Elliott, Omidina
---
As a witness to Sandy's talents in singing and dancing, I want to express my sorrow at her passing. She was much loved by her husband George and brightened the world with her presence.
Al Hermann
---
Sandy was a lovely person. I will always remember her nice smile and pleasant manner. Since I live all the way across the country I did not get to see her often but she will always linger in my memory as a very special person. She will be sadly missed. I can see her now with that lovely smile.
Gloria Keane
---
Sandy was an amazing person and a fantastic aunt. I was always amazed at her many talents, but particularly at how grounded and calm she was. She was like a chameleon who adapted so well to life's changes and took the ups and downs with such grace. She was kind and generous and had a special way with people, animals and plants. We shared a common interest in herbalism and I wish that we could have had more time to explore that and many other things, but I am so grateful for the time that I did have with her. May she always live fondly and lovingly in our hearts.
Jane, Sandy's Niece
---
What a lovely lady was she
Julie Hunt
---
Your beautiful voice still echoes in my head. It probably always will. Yes, you were a devoted learner, gardener, dancer, friend, partner, and a most creative soul. I cherish having you an important part of my life for over 30 years and knowing that you allowed me into yours. You will continue to be an inspiration to me and all you've touched.
Thank you, dearest Sandy.
    
Kim - San Francisco
---
I had the good fortune to work with Sandy over the course of three decades, as a casting director and then as a producer. She treated actors with professionalism and respect, and as a producer was calm, prepared, even-handed, and gently resolute. She was always a hitching post of reason, and a calming, measured influence in the sometimes chaotic and high-energy environment of commercial production. We worked on projects ranging from pioneering workplace smoking awareness and policy to the early (and considerably more benign) world of video gaming product promotion. I counted on Sandy for answers, stability, and her canny ability to quietly mediate. But I mostly enjoyed and admired the sense that Sandy was someone much deeper than her work. Sandy's influence on the evolution of Seattle film and video production is, if not directly quantifiable, nevertheless tangible and lasting. She helped make this town a nice place to work, among nice people.
Bobby Zenk
---
Sandy was such a luminous, kind presence in dance class - and life. Since her illness, I have often pictured her in class. I think she continued to dance right along with us all through it all.
I am so sorry for your devastating loss, George.
Kristin Jackson
---
I had such a wonderful time working with Sandy at Pinnacle - she had such a loving approach to life about her.
- Vance Martin
---
I'll always remember Sandy for her kindness and spirit in dance class. I am so terribly sorry for your loss, and will remember her --especially on the dance floor.
    
laurie bo roth
---
So sorry to just now see this wonderful woman is gone...she was supportive, realistic and simply great at teaching when I took an acting class with her in Seattle many years ago. Blessings and thank you, Sandy
Frank Smith
---