Carol Joanne Nelson
12/2/1937-8/1/2023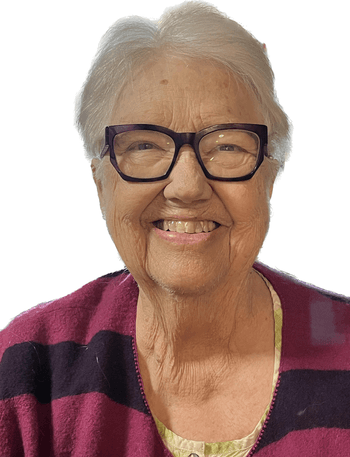 It is with great sadness that we share that Carol J. Nelson passed away on Tuesday, August 1 st , at
Swedish Hospital. Her daughter (Kirsten), son (Joel), and grandson (Caden) were at her side.
Carol was diagnosed with lung cancer earlier this year and was undergoing chemotherapy and radiation
treatments.
Mom had a big, generous heart and a zest for life. She loved her family, her friends, her students, and
she loved to laugh.
Carol was born in 1937 in Minnesota to Oliver & Rose Anderson. In 1960, she married her best friend,
Jim Nelson. They began their adventure together by heading west, stopping briefly in Gilford, MT, to
teach before landing in Seattle, WA, then eventually Port Angeles, WA. The Pacific Northwest was
home, although Mom was always proud to hail from The Range.
While she taught other grades, Carol's favorite was 5 th Grade and she had many fond memories of her
students. Her class's annual productions of Shakespeare's Macbeth made her proud.
Mom loved gardening – from growing her Hybrid Tea roses, Mr. Lincoln and Peace, to rhododendrons
and vegetables, to this year's Caliente Lavender and Crocodile geraniums and Sungold Tomatoes. She
loved watching & listening to the birds and insects as she gardened.
Carol also loved nature and travel. Locally, she enjoyed visiting Hurricane Ridge, Lake Crescent, Salt
Creek, the Dungeness Spit and the Washington coast. She enjoyed The Open Air Museum in Oslo, her
stay on the Rue Cler in Paris, as well as breathing in the Plumeria-scented air on trips to Kauai. Like
everything in her life, she enjoyed these adventures more when she did them with her family and
friends.
Shortly before she passed, Carol was treated to the story of the 1883 eruption of Krakatoa as told by her
grandson, Caden. As I teacher, we're sure she enjoyed the lesson and we like to think she went out with
a bang.
It's impossible to convey all that Mom was, but above all she was a joyous soul. She wanted everyone
to know she loved you.
No services are planned at this time. To honor Carol, please enjoy a garden walk, a colorful sunset, or
pet a cat and/or dog. Or travel, read, or have a really good meal. Savor a cup of coffee. Hug those you
love and be a really good person.
---
Comments
---