Peter F. Wolf (née Peter Nagy-Farkas, Jr.)
February 3, 1933 – January 12, 2023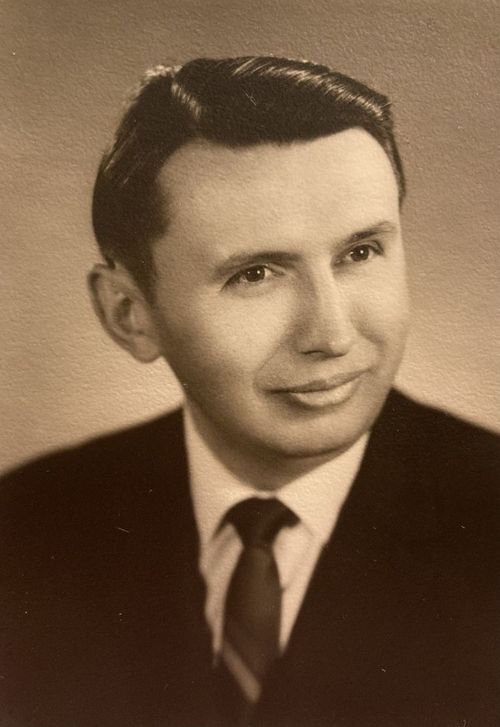 Peter quietly passed away from metastasized colon cancer at age 89 in his home in Kirkland, Washington, surrounded by his loving family.
Peter was born in Bačka Topola, Yugoslavia (now Serbia) to Hungarian parents Irén Toth-Bagi and Peter Nagy-Farkas, Sr.  His father and sister Irénke died during World War II.  Subsequently Peter's stepfather, Daniel Kiss, helped raise him with loving kindness, and Peter managed to survive the horrors of World War II with many tales to tell.
  
Peter knew he wanted to be a teacher, but after attending some schooling for teachers he was told he would not get his teaching certificate if he did not join the Communist Party.  At age 17, wondering what else he might do with his life, it was discovered that he had extraordinary musical talent.  He began his studies at the Subotica Music School, where he studied composition with Karel Nápravník and organized and conducted the school's first student orchestra.  He went on to obtain a degree in Music Education from the Music Academy in Belgrade.  (Apparently musicians were exempt from the Communist Party membership rule!)
While a student, Peter had exciting episodes playing cello, double-bass, and folk instruments in the band of a traveling circus.  Seeking freedom, he also made a daring but unsuccessful attempt to escape communist Yugoslavia that involved being chased by police dogs as he ran through the woods towards Austria.
After graduation Peter became a cellist in the Yugoslav National Orchestra and in Kolo, a colorful folk-dance ensemble.  He toured extensively in Europe and Asia and performed for many heads of State as well as public audiences.  In 1952 his tour in the United States included performances both here in the Seattle Opera House (now McCaw Hall) and in New York's Carnegie Hall.  After becoming a U.S. citizen in 1967, he performed as a cellist in the Tacoma Symphony, WA, then in the Birmingham Symphony Orchestra, AL, from 1968-1972, as well as in various smaller ensembles over the years.  As a conductor he led the Birmingham Symphony's Training Orchestra, a city chorale in Dover, DE, a church choir in Tacoma, WA, and various student orchestras and wind ensembles.
While touring in France in 1959, Peter made a bold escape from the communist musical group to seek political asylum.  This time his defection was successful.  After many adventures he obtained a scholarship to study at the Schola Cantorum in Paris where, after three years of study, he received the equivalent of a Master's Degree in Music Composition and Conducting.
Peter's goal was to come to America.  He was able to do so in 1962 under a special bill signed by President Kennedy that went beyond the standard quota to allow an increased number of intellectual/cultural immigrants.  Peter started out with odd jobs in California – such as dishwasher, night janitor at Stanford, assistant in a music library – while he began learning English.  Acclaimed composer Darius Milhaud, whom he had met in Paris, helped him get his first teaching job at Lewis & Clark College in Portland, OR.
Seeking an American master's degree, Peter studied under composer John Verrall at the University of Washington, then completed his Master's Degree in Composition in 1968 under Leroy Ostransky at the University of Puget Sound.  It was at UPS that he met pianist Kathy Gies, and they were married in 1968.  In 1974 he received his Ph.D. in Composition from Eastman School of Music under the tutelage of the illustrious composer Samuel Adler.
Peter's additional teaching positions over the years have included:  University of Puget Sound, WA (Teaching Assistant); Alabama College/University of Montevallo, AL; Westfield State College, MA; Interlochen Arts Academy, MI; and Wesley College, DE.  He taught composition, music theory, music history, and cello.  Students especially enjoyed his music appreciation classes, because he relayed so many entertaining stories about composers.  As an outstanding composition teacher, he sparked the creative fires of many young composers from America and Europe and taught them the skills they needed to become craftsmen at composing in their own individual styles.  He was especially proud of the composition students he taught privately who became excellent, successful composers, including Christopher Lee Fraley, Barret Anspach, and Michael Matlock.
Peter's own compositions have been performed across Europe and the United States and have included works for symphony orchestra, string orchestra, choir, wind ensemble, ballet, piano, cello, bell choir, and a variety of smaller ensembles.  Some of his notable compositions are:  Phoenix (orchestra); The Uprising (orchestra & ballet-pantomime); Renaissance Variations (2 versions:  cello & piano; orchestra); In the Woods of Interlochen, later retitled Fantasy for Strings (string orchestra); Trio for Flute, Clarinet, & Piano; Adon Olam (choir); Psalm 146 (baritone, choir, & orchestra); Toccata for Two Pianos; Dance of the Dragon (duo-piano); Circus Memories (piano); Hungarian Songs & Dances (band); Festival of Lights (orchestra); and Rosslyn Chapel (orchestra).

Around 1970 Peter was the Alabama Music Teachers Association's Composer of the Year for his duo piano piece, Homage to Hindemith.  He was even prouder of the awards earned by his students as they created their own beautiful music using the composing skills he had taught them.  In two successive years while teaching at Interlochen two of his students, Stan Konopka (age 14) and Andreas Dörfler (age 15), each won the BMI (Broadcast Music Inc.) competition for composers in the Western hemisphere aged 24 and under.
Peter also had beautiful music manuscript handwriting.  For decades (before the advent of computers) he hand wrote all the instrumental parts for his friend, the prolific, ethereal, world-famous composer Alan Hovhaness, whenever Alan composed a new work.
Peter's book, Conversations with a Composer, was published in 2015.  It revealed his views and philosophies that guided his unique method of teaching the art of composition, along with practical materials he used in teaching the craft of composing.  He spiced up the book with entertaining stories about some of his life experiences.  His book is available from the following website:     https://www.fraleymusic.com/category/music/recordings/
The things Peter loved most in life were his family, talking and joking with friends, eating good food – especially bread, composing, teaching composition, traveling, stamp collecting, and listening to the music of Mozart, Hungarian music, and East European folk music.
Although raised as a Catholic, Peter had an affinity for Judaism, especially since Jews had treated him so kindly and generously during his life.  In 1975 he converted to Judaism and attended Temple Beth El in Springfield, MA, then Temple Beth El in Traverse City, MI.  In recent years he felt Yeshua helping him and became interested in Messianic Judaism.  Shortly before his death he had a very meaningful meeting with Messianic Rabbi Matt Rosenberg, who led his burial service and will also lead his memorial service, a Celebration of Life.
Peter is survived by his wife of 54 years, Katherine (Kathy); his son David and daughter-in-law Annette; his daughter Rebecca (Belle); and his three grandchildren, Oliver, Claudia, and Fiona.  At 3:00 on Friday, February 3rd, which would have been Peter's 90th birthday, a memorial service, followed by a reception, will be held in the Fireside Room at North Seattle Church, 2150 N. 122nd Street, Seattle, WA 98133.  Remembrances will include a digital slide show of photos of Peter and recordings of some of his compositions.  Attendees will be encouraged to speak up and share their cherished memories and stories about Peter at this Celebration of Life.

Follow this link to the slideshow shown at Peter Wolf's Celebration of Life, which is accompanied by a recording of his composition, Fantasy for Strings:

https://youtu.be/16GwY3Cu4kA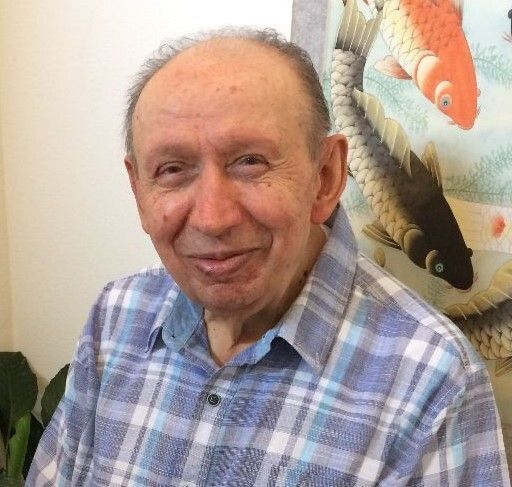 ---
Comments
Thank you for everything 

Michael Matlock
---
Goodbye, dearest Peter.

You were always so kind and friendly, you made it a point to know everyone's names, including the kids, Vinaya and Dhivesh. We all miss you dearly.

Bravo on all your accomplishments, your moral fiber, and a life well-lived!

Navin, Prabha, Vinaya, Dhivesh
---
Few people have ever smiled as broadly at a Cascadian Chorale concert as Peter did every time. I already miss his geniality, his positive vibrancy, and the love that shone through our every interaction. A dear and special soul indeed.
Gary D. Cannon
---
I will fondly remember Peter Wolf from our many subsequent years serving together as Adjudicators at the Edmonds Music Festival with the Edmonds Music Teachers Association. We judged voice students, piano duets, and many other instruments including harp, tuba, guitar, strings, etc. (I relied upon his vast knowledge of other instruments besides my chosen field of teaching) In between students, he would tell me many interesting stories of his career highlights, his marriage and children, and his Jewish faith. Besides our faith in God, We shared an interest in Jesus Christ and The Holy Spirit! Peter was one of the kindest and most humble music teachers I have ever met! He will be greatly missed and I look forward to seeing him again one day in heavenly realms! Psalms 23 - In God's Love, Jennie Holland - Edmonds Music Teacher, BA Music Performance SPU
Jennie Holland
---
I will miss you Peter! Thank you for all your kindness, I will always cherish all the time that you spent in prayer for myself and my daughter. I'm a meat cutter at Pcc Markets ,Peter and Kathy came in at least once a week, there was always general conversation of, How are you ? what's going on ? but years ago he had sensed my heart was heavy and I had confided that my oldest daughter has spent years trying to conceive ! the pain and anguish of not being able to was overwhelming that day .Peter took the time to assure me that God cares and reminded me of my faith. every day from that time on he would always pop in and say, is she pregnant yet ? Six years later !! Parker Wayne was born on June 23, 2022. Thank you for all your prayers!!!! your continued faith that help to lift up mine. God Bless, Allison Smith
---
Thank you so much for your kindness and generosity in our lives. We can never forget your geniality and general outlook of humor and creativity.

May flights of angels sing thee to thy rest.

stephen matlock
---
I met Peter in the original Kirkland location of PCC Co-op Market some many years ago. He had a totally winning smile and when introduced to me while his wife Cathy (or is that Kathy?) shopped, he and I gravitated to the bread section. He knew a considerable chunk of good info regarding breads. From there the tone switched to music, and beyond that he mentioned his time teaching music in western Massachusetts (Massachusetts is my home state). His numerous stories were looked forward to. Peter, may you rest in peace. When I look to the clearing sky over my mini-slice of Kirkland, I will look for your smile. Via con Dios.
Thomas Bliss
---