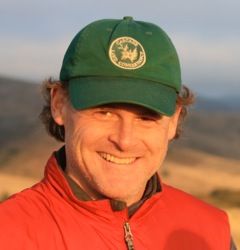 Peter Hand Conard, a deep thinker and connector of people and ideas, died at home, after a long journey with lung cancer, on December 10, 2014, surrounded by his wife and sons.  He was 52 years much too young.
Peter grew up in Vershire, Vermont, on the campus of the Mountain School, founded by his parents just after he was born.  He and his two brothers were raised in a spirited, charismatic, intellectual home, where Peter absorbed, and became a master of, conversation and crossword puzzles.   They skied the mountains of Vermont, beginning a lifetime of graceful, skillful, joyful oneness with ice and snow.
Peter attended Middlebury College, graduating with a degree in Geology in 1983.  His years there were marked by making deep friendships (and good-natured mischief with them) that lasted a lifetime.  Drawn to architecture and design, having built houses in Vermont, Alaska and Colorado, he earned a masters degree in architecture from the University of Oregon in 1991.  Peter's passion was for creating homes that his clients love to live in, and were artistic structures revealing the beauty of their surroundings in unexpected ways.   He was a gifted listener and interpreter of his clients' desires, and his clients often became friends. He practiced his art and his craft with his partner, Jim Romano, at their firm ConardRomano Architects.
Peter and Laura met playing hockey in Seattle, and married, raising two sons, who were Peter's pride and joy.   He was devotedly involved in fathering Sam and Eli: coaching hockey, soccer and baseball teams, passing on his passion and skill for skiing, proudly cheering on rock climbing and ultimate Frisbee, participating on the boards of the schools his sons attended.  Of all his passions, none were greater than his family. 
Peter is a man remembered for his always-positive attitude and amazing smile.  He has left his mark on this world with his keen wit, meaningful insights, and an extraordinary vision for seeing things that many of us could not; and by the many houses Peter designed that grace the planet in Vermont, Wyoming, Australia, the Shetland Islands, and Washington.  He is survived by his wife, Laura, and their two sons, Sam and Eli; by his brother Nat and his wife Brenda Hamm, and their children Rebecca and Ben; and by his sister-in-law, Carol, and her children, Lindsey, Ian and Addie.  He is predeceased by his brother David, and his parents, Doris and Mac. He is also survived by a large community of friends who loved him.
"It seems Peter lived his life the same way he played hockey...he showed and played all 60 minutes with total commitment and respect for the game and his team mates."
*
We are most grateful for the superb care Peter received throughout his treatment at Seattle Cancer Care Alliance.
Memorial contributions may be made to LUNGEVITY, a lung cancer-focused nonprofit organization.
*
A Celebration of Peter's life will likely be held in the spring.  Peter's Caring Bridge site will have updates about the date of the service.  
---
Comments
What a great tribute to Peter. So many awesome memories of hockey in Lynwood and Wenatchee! And regrets over opportunities that were missed to spend more time with Peter. Laura, know that you, Sam and Eli are held in our love...much love. - David Cowan/Sue Steindorf
---
Peter, we did not have enough time with you. The time we did share was very special to us and we feel privileged. -joyce and henry keron
---
Very sorry to hear of Peter's passing. My deepest condolences to Laura and the family. - Pat Dolan
---
As a high school classmate of Peter's I will always remember The kind vivacious hardworking guy with a ready smile. I was also glad to get to see Peter last year and Get to find out what great things he accomplished with his life. My heart goes out to his whole family, And a particular warm hug to Nat, who I also remember with great fondness. -Edward Elbers
---
I am so very very sorry to hear of Peter's passing. He died much too young. My thoughts and prayers are with all of his family. -Jody Rorick
---
Oh, Laura, Sam, and Eli, I am so sorry to hear about Peter's passing. He was much to young to leave so soon. My heart goes out to you in this time of grief and loss. Sending you my heartfelt sympathy... -Laurie J. Hampton
---
The last time I saw Peter at The Mountain School, he was probably 10 or 11 years old. I really hate to hear about his death. My condolences to his whole family. -Jeanne Ye Harbison
---
Dear Laura, I just read about Peter's passing in the Seattle Times. I am so, so sorry for your loss. While we haven't seen each other for a number of years I hold you and your family close to my heart. The world lost a great man but we hold him dear in our souls. My love to you, Sam and Eli. Love, Martha Dale 
---
I so very fondly remember Peter's his keen wit and warm, good nature that immediately endeared me too him, as if he were my surrogate Mountain School little brother--minus the annoying stuff! I see that same beautiful spirit in the wonderful picture of Peter above, and I am so so sad that we all have lost this great guy. I too am holding Laura and Peter's boys in loving thought, as well as his wonderful brother, Nat. -Kim Agnew Finger
---
Indeed I was sorry to learn of Peter's death. His father, Waller MacNiven ("Mac") Conard, was my first cousin and we were only a few months apart in age. Peter's grandfather was Frederick Underwood Conard,Sr. & Evelyn Conard, my mother (Mrs. Frank L. Gosnell), was his younger sister. I had exchanged friendly emails with Peter a few times after he was diagnosed with cancer, but was not aware of the extent of his illness. My thoughts & prayers are with the family for their loss. --F. Laurence Gosnell
---
Not a good feeling to lose your loved one. My condolences to the family. (I was a student and babysat Peter at The Mountain School.) --Sarah (Anne Spann) Yancey
---
Peter and his family felt like they were part of my family as I grew up in VT. I loved the Mountain School and I loved all the Conards. The boys were like brothers and our mothers communicated regularly and kept me up to date on the family even as we drifted apart through our college years and beyond. Though we didn't keep up much after high school, it didn't seem to matter. When I saw them again I felt that same rush of fondness, that bond of family. We connected again at the TMS reunion and a few times again before he died. Peter was a wonderful, kind and talented man and my heart goes out to his family. If we had not resided on opposite coasts, I think we all would have been great friends. --Tamara Sloan
---
Our family sends caring thoughts to Laura, Sam, and Eli. Peter was such a bright spirit and we feel lucky to have known him. From playing softball with the Absolute Zeroes to working with Peter on the Billings Middle School Board, we will remember his thoughtful approach and his playful spirit. --Carol Borgmann and Steve Sorensen
---

Dear Laura, So sorry to hear Peter is gone. It hits me hard. I know we've been out of touch for many years, but those years I knew you two so well at the ice rink or on the ball field was a big chapter in my life. It was such a cool story how you two met playing hockey. We saw it all play out on the ice every Sunday night. It was way too soon for Peter to go. The story had so much more to go. My condolences to you and your boys. --Mike Moedritzer
 
---