Earl Adrian Morgan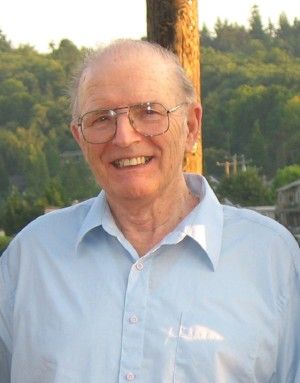 Born August 16, 1923 in Ketchikan, AK. Died April 7, 2018 in Seattle WA.
The third of ten children born to Florence Grace (Johnson) Morgan, family was very important to Earl. He is survived by his children Diana Hansen (James), Nancy Morgan, Susan Heiner (Brian), and Michael Morgan (Joanna) all of Washington. Also survived by three grandchildren, Robin Heiner and Gregg Heiner both of Washington, Karl Heiner (Sara) and great granddaughter Emma of Idaho; sisters Frances Cline, Shirley Morgan, Geraldine Morgan, June Wallace, and sisters-in-law Sally Morgan, Gisela Morgan, and Judith Wales, all of Washington.
Earl was raised in north Seattle and attended West Woodland Elementary School. After school, he made deliveries for the neighborhood pharmacy, riding his bicycle around the city. His free time was spent exploring the docks and shoreline of Lake Union, the ship canal, and construction sites all around Seattle. He was intrigued by any new development and closely followed the construction of the Aurora Bridge. Earl attended Ballard High School, graduating in 1942. He had fond memories of time spent on the Kitsap Peninsula with his aunt and uncle, Irene and John Johanson, and cousins who lived in Tracyton, Washington. He worked in the Puget Sound Naval Shipyard during breaks from school.
During WWII, Earl served in Italy as a radioman in the Army Signal Corp. Upon returning to Seattle, he attended the University of Washington on the GI bill. There he met his former spouse, fellow architecture student Audrey (Hopfensperger) Morgan, with whom he raised four children. He earned his Bachelor of Arts degree in Architecture in 1953. While in school, Earl began working for Fentron Industries as a draftsman. He became a licensed architect in 1964. His specialty was the curtain wall, a system that was developing at that time, typically designed with extruded aluminum frames in-filled with glass. Throughout the years, Earl worked for several other firms including McCool-McDonald Architects, Inc. and the Austin Company, retiring from Fenpro in the late 1980's. He was responsible for the intricate details on many Seattle buildings, and others around the country.
Earl spent countless hours with hammer or pencil in hand, always with several projects in the works. He designed and built the family home on Phinney Ridge and later purchased and renovated a second house in the Crown Hill area. When not building or planning projects, he enjoyed going to dances at the Elks, the Eagles, and the Drift On Inn with his long-time friend and dance partner, Gisela Morgan.
Earl is remembered by all for his kindness, humor and smile. In celebration of his life, a service will be held on Saturday, May 12, 2018 at 1:00 p.m. in the Washington Park Arboretum, Wisteria Hall, 2300 Arboretum Drive E, Seattle WA 98112.
---
Comments
---