Dr. Kevin R. Wood
Farewell Kevin—we wish you fair winds and following seas!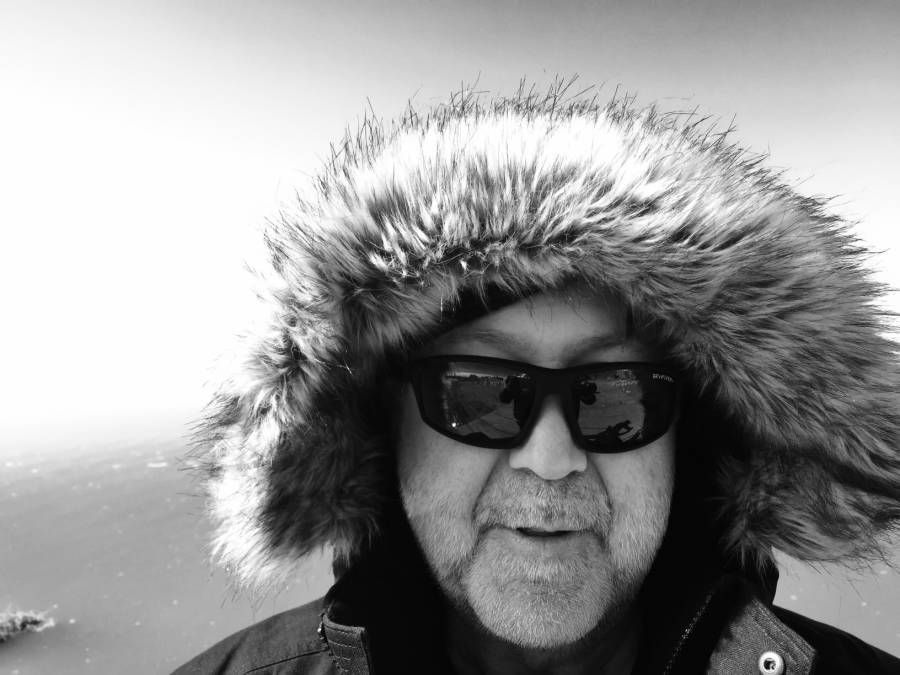 Dr. Kevin R. Wood, husband, father, scholar, scientist, adventurer, and maker died at home in Seattle, WA on February 14, 2022 at the age of 59 from metastatic lung cancer. Kevin was a seeker of the sublime in nature, a sailor, gifted writer, artist, storyteller, cyclist, book and curiosity collector, and a kind and gentle spirit. He was deeply committed to understanding and communicating the nuances of science and history in a way that inspired and motivated people to work for an end to climate change.  
Kevin was born in Jacksonville, Florida in 1962. His passion for maritime history and love of tall ships took him to the Eastern seaboard where he began his sailing career. After a stint as a lobsterman on Matinicus Island, and a transatlantic voyage on a Polish vessel, he began work with Sea Education Association, where he was second mate on the RV Westward and the SSV Corwith Cramer out of Woods Hole. Kevin spent 8 years teaching students about the ocean, navigation, and maritime history from Maine to the Caribbean.  It was on these vessels that some of his most important friendships were made.  
His interest in science led him to join the US Antarctic Program, where he provided scientific and logistic support for the missions at Palmer and McMurdo stations from onboard the Polar Duke Icebreaker, and he was later chosen as scientist to sail on the NSF Icebreaker Nathanial B Palmer on a joint US Russian ice camp in Antarctica.  He worked on the design and build of the SSV Robert Seamans, a 134-foot steel brigantine and the most sophisticated oceanographic research/sailing school vessel ever built in the United States. He received a MS in Marine Affairs at the University of Washington in 2004, and his PhD in Geophysics in 2010.  
Kevin joined the Arctic Group at National Oceanic and Atmospheric Organization (NOAA) in 2004. He was a leader in the Old Weather project—a citizen science program which transcribes historical ships logs from the 19th and early 20th century to reconstruct the climate record from this time period. He published original weather logs from the 19th century Arctic explorations for the first time, noting their year-to-year variability. He was the Principal Investigator of a grant funded by the Council on Library and Information Resources that digitized old US navy logbooks and muster rolls in a way that researchers across the world could access.
In addition to his maritime history project, Kevin was an expedition scientist on RUSALCA (Russian American Long-Term Census of the Arctic), a collaborative U.S – Russian Federation oceanographic expedition to the Arctic regions shared by both countries: the Bering and Chukchi Seas.  He was chief scientist for Arctic Heat, flying aerial missions in NOAA research aircraft from 2016-2021 to deploy marine robotic vehicles (MRVs) and ocean temperature floats in the Bering Sea. Finally, Kevin was the main video producer for the Arctic Report Card, which documented multiple changes in the Arctic each year, and was responsible for the script. Due to his expertise he was selected to participate in an international expedition to locate the wreck of the USS Jeannette, which sank in Russian Arctic waters in 1881, an effort supported by the Prince Albert II Foundation of Monaco. 
Kevin's colleagues shared stories and reflections on a kudoboard after his death. The most common words used to describe him were generous, enthusiastic, passionate, and a "scientist who loved the humanities." As both a historian and scientist, he thrived in the spaces between disciplines, and had a unique knack for understanding the scientific implications of obscure nautical source material. He valued collaboration, and never failed to welcome colleagues to participate in his projects.  He was humble, approachable, and always ready to engage in spirited discussions. He delighted in mentoring young scientists, graduate students, and seekers of all ages and volunteered to help develop science curriculum based on compelling maritime stories for both middle and high school students. 
On the home front, he married Kelly McBroom in 2005, and together they had many adventures, among them, raising their two boys Ryan (age 15) and Galen (age 12).  Kevin channeled his creativity into parenting and spent many hours putting together train tracks, making swords, makeshift sailboats, mentoring the boys as artists, biking, reading aloud, travelling, and snuggling. As a family, they sailed in Norway, lived in England while he was a fellow at the Scott Polar Research Institute at Cambridge, and camped widely in the Pacific Northwest. He and Kelly enjoyed travel to Europe and Central America.
When he wasn't on expedition, Kevin loved to haunt salvage yards, finding treasures like the old mining cart that he transformed into a kitchen island, or the antique toilet tank cover he crafted into an altar. He used his merchant mariner skills to renovate their two hundred-year old houses, doing much of the carpentry, plumbing, and electrical work himself. He constructed a cabin out of wood harvested on the family land in Spirit Lake, Idaho as well as a number of chicken coops, pergolas, and innumerable house and art projects. He leaves behind a trove of nature photography, as well as many pen and ink drawings, and watercolors of fish and insects. His final claim to fame is that he brought coffee in bed to his wife every day of their marriage that they were both in the same country, conservatively, more than 6,200 cups of joe. 
Kevin is survived by his wife Kelly,  two sons Galen and Ryan, sister Barbara Pearson, brother Bill Wood, and father Willard Wood. A Kudoboard [https://www.kudoboard.com/boards/tbeToke7] has been set up where you can post stories/messages and upload photos in memory of Kevin Wood. A memorial is planned for Saturday, April 16th at the Mount Baker Community Club at 1pm.  In lieu of flowers, please consider a donation in Kevin's memory to Sea Education Association: https://sea.edu/why-give/give-online/ 
---
Comments
---