Nancy Ann Schoettler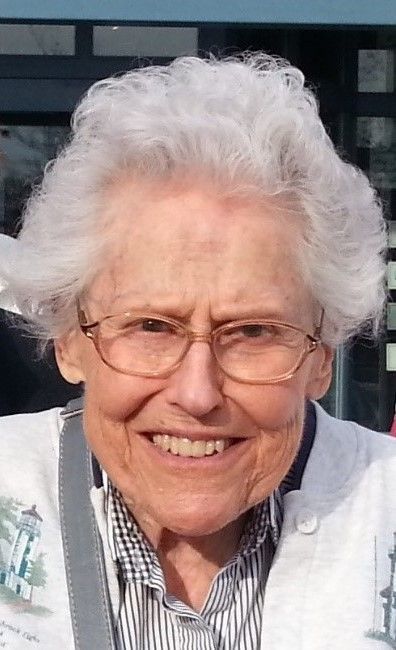 Nancy Ann Schoettler, 93, passed away on August 24, 2021 in Seattle, WA. She was born July 2, 1928 to Frederick David and Marion (Howard) Farley in Ware, MA.  She spent the first several years of her life in Enfield, MA, a town which was later disincorporated, cleared and flooded for Quabbin Reservoir, a drinking water resource developed for the Greater Boston area.  Frederick was one of the engineers on the project.  The same day she graduated as valedictorian from Belchertown High School, she observed the first water falling over the Winsor Dam spillway.  Her Parents are buried at Quabbin Park Cemetery.
Nancy attended Peter Bent Brigham Hospital Nursing School in Boston and served as a registered nurse at YMCA Camp Takodah in NH, which she had attended as a child, teen, and counselor.  The camp theme, "Friendly to All," is engraved on the stone & urn that holds her ashes.  After nursing school, Nancy and her friend, Evie Squires Leonard, went "out west" to visit Nancy's brother, David Farley, who had just started his new job at Boeing. They got jobs at Harborview Hospital and lived there on 9th Street, just blocks away from Horizon House where she completed her life journey. 
While attending the Fireside Group at Plymouth Congregational Church in Seattle, Nancy met a happy man who made her laugh, Wm. D. "Bud" Schoettler.  They were married October 23, 1954 and were together until Bud's death in 2000.  Their three-month-old daughter, Joanne Louise came into their lives on Friday the 13th of February 1959.  While raising Joanne, Nancy volunteered as a Girl Scout Leader and nurse to vaccinate school children.  At the church, Nancy was the crib room manager for 20 years and wedding coordinator for 22 years, seeing some members through both stages of life.  She also volunteered to record and deposit the offering. 
Because of Bud's position with Northern Pacific, and later Burlington Northern Railroad, the family traveled widely, visiting all 50 states and four continents.  Nancy and Bud especially loved Yellowstone and Glacier National Parks.  Nancy also loved flowers, visiting the tulip fields in Skagit County every year and looking in on her dad's dahlia and gladiolus garden in Belchertown, MA every couple of years. On a trip to Yugoslavia in the early 1980's she remembered "there wasn't even a geranium on a windowsill." In the 60's Nancy was a surgical nurse for an eye doctor, Ophthalmologist, "to help pay for family vacations."  
Nancy got her start as a baseball fan in childhood listening with her dad to the Boston Red Sox games on the radio.  Later, Nancy was one of the original members of the Seattle Mariners Women's Club and enjoyed following that team.
In 2002, Nancy moved to Horizon House, a senior living facility conceived of back in 1960 by friends at Plymouth Church.  She and Bud contributed to the purchase of the Baldwin Apartments in 1961, which is now known as the south tower of Horizon House. Nancy served on the resident welcoming committee, assisted at memorials and volunteered at the Monday Market. She befriended Larry Schmitz there and they enjoyed one another's company, holding onto each other while walking down the steep hill to concerts and sharing ice cream and cookies together many evenings.  
Nancy is survived by her daughter, Joanne, six nieces and nephews (James A. Schoettler of St. Paul, MN; Richard L. Irving of Huntington Beach, CA; Norman Farley of Naples, FL; Brad and Walt Farley of Seattle, WA; and Virginia Farley of San Jose, CA), 11 great nieces & nephews, and eight great great nieces and nephews.   She was preceded in death by her parents, husband, brother and many good friends. 
Nancy was grounded and practical yet always had a kind word for others.  She could carry on good, relevant conversation with anyone she met and corresponded for decades with longtime friends and family.
Nancy's ashes will be interred at Acacia Memorial Park in Bothell, WA.  Funeral services will be held after COVID-19, and publicized on The Co-op Funeral Home of Peoples' Memorial website, https://funerals.coop/
Donations in Nancy's memory may be made to:
Horizon House Resident Assistance Fund
National Park Conservation Foundation
Seattle Mariners Baseball Women's Club Youth Scholarship Fund
Camp Takodah, Richmond, NH
Belchertown Historical Society, MA
---
Comments
---