Jan Ames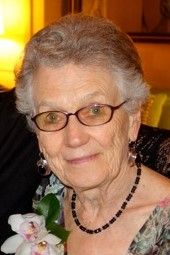 Jan Ames began her long and purposeful path toward a life well lived on October 31, 1928, and ended her successful journey on August 9, 2017, having had success in her family, professional and personal life.  
Born Janice Louise Fondy in Steamboat Springs, Colorado, Jan graduated from high school in 1945 and continued her education at South Dakota State College in the Journalism Department.  Her children are grateful that she ignored the advice of the Dean of Women who told her to steer clear of Bill Ames, whom she eventually married on December 23, 1949.  Marriage and family were a central beacon on Jan's path through life. Early years of marriage were focused on the education of her husband, who became a professor of Communications at the University of Washington, and on raising her children Laurie (1955) and Tim (1956).  The addition of a Whidbey Island cabin in the early 1970's provided a delightful getaway for the family and friends up until the end of her life.  Walking the beach looking for agates and picking up garbage, playing hands of cutthroat card games like Whist (which she rarely lost), eating Star Store sandwiches and taking long walks on Double Bluff became part of the family routines. The 1980's brought the opportunity to travel, and life's path seemed incredibly munificent until Bill was diagnosed cancer in 1984.  Bill died in 1989 but family continued to be the core of Jan's life. Grandchildren arrived in the 1980's, and Jan was an active grandmother – each was treated to a trip to Washington, D.C., and they still treasure those experiences.  Since her own children were not willing to do so, Jan spent many hours on the amusement rides with her grandchildren at the annual Whidbey Island Fair.  
Her professional life was influenced by her husband's heart attack in 1964, and she obtained a graduate degree in librarianship at the University of Washington in 1969. This led to a part-time job at the Washington Regional Library for the Blind and Physically Handicapped, which became her life's work. She would eventually become the Director of what became the Washington Talking Book and Braille library in 1979 and set about modernizing the library to better serve its patrons, turning it into one of the finest such libraries in the country.  No one was more fiercely dedicated to bringing access to information and books to the blind and physically handicapped than Jan Ames. The loss of a husband did not slow her career, and the 1990's saw Jan continue her very challenging and fulfilling work at the WTBBL.  She enjoyed going to work every single day. Lobbying the Legislature to obtain a permanent site for the library in downtown Seattle was a crowning achievement. By the time she retired in 2003, she had been recognized by the American Council of the Blind, the National Federation of the Blind and the UW Library School as alumnus of the year.
Jan was not idle in retirement. The first question each morning was:  "What's the plan for the day?"  These plans included volunteering at First Place School, belonging to the board of People's Memorial, and serving as secretary for the 46th District Democrats.   She looked forward to solving the problems of the world during Friday morning walks around Green Lake with her dear friends Jerry and Randy.  She loved trips with family and friends and truly treasured the time she was able to spend with her four grandsons.  A lifelong walker like her husband, Jan recently found she was having trouble getting up the hills and was ironically found to have the same cancer that had stricken her husband.
Jan continued her full life and was able to squeeze out several more productive years thanks to the quality and compassionate care of Dr. Kinsey McCormick and staff at Seattle Cancer Care Alliance.  As her life's journey grew to a close, Providence Hospice delivered kindhearted and caring services.  Jan is survived by her daughter Laurie; Laurie's two sons Jackson (Alex) and Tim (Selena); her son Tim (Cathy); and their two sons, Tyler and Nicholas.  Jan's brother Vic (Donna) and sister Phyllis (John) and their families provided support that was greatly appreciated. The backing and love shown by her countless friends during the last several years has been truly amazing and was treasured.
While Jan's journey is over, the journey goes on for the rest of us. This path she traveled -- which brought her a loving husband and family, a challenging and rewarding career, and a robust life in retirement -- can serve as an example for all of us. Her family and friends will miss the heartfelt, handwritten thank you notes that always arrived after a dinner or in response to a gift, and the colorful sock and earring collection that she loved. Jan Ames was able to live a long and purposeful life based on the fundamental value of helping others, and the world is a better place for her journey.  
The memorial for Jan Ames will take place at 2:00 p.m. on Saturday, August 19th in Room 210 in Kane Hall on the campus of the University of Washington.  A reception will follow afterwards in the Walker-Ames Room in Kane Hall.
The family suggests donations to the Washington Talking Book and Braille Library, to Seattle Cancer Care Alliance, to People's Memorial or a charity of your choice.
---
Comments
Dear Laurie and Tim:
I was fortunate to know both your parents - Jan, at the library and Bill, at the U.W., whom I had for class as an undergraduate. Bill was so proud of your mother! May she rest in peace. I only volunteered briefly at the library as a newspaper substitute reader, but, Jan was always cordial and pleasant,
I send very sincerest sympathy,
Jean Bray,
Belfair Washington
---
Jan's clear and calm wisdom will be missed by everyone in the 46th District Democrats. Indeed, Jan made our community and our world far better places.
    
Gerry Pollet
---