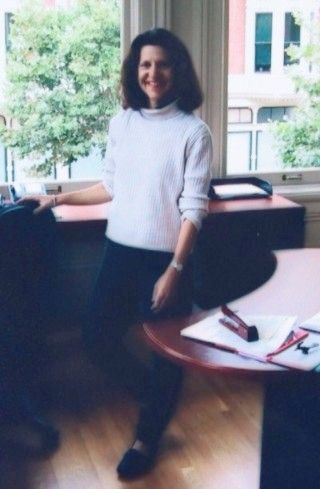 Lisa was born at Palo Alto Hospital and grew up in Los Altos Hills, California. She passed away April 21, 2016, in Seattle after a long and valiant battle with cancer. She didn't want a long obit—if you know her you will know she was a very private person. But as her big sister, I am taking the liberty of writing one. I hope she won't be mad at me.
Our dad built the family home in 1950, when Los Altos was just Los Altos--a modest town of apricot orchards, fields of mustard, and ranch-style homes. She loved it there. An honors student at LAHS, she also loved dance, music, and being athletic. She gave herself intensely to everything she took up, and found her calling in the world of philanthropy. Before going to work for the Paul G. Allen Family Foundation in Seattle, she  had worked at the Rosenberg Foundation and the California Healthcare Foundation, among others, in the San Francisco Bay Area. In her words, she was "a versatile professional with broad knowledge of grantmaking and administration. Skilled in systems development; strong team player." 
Our mom, dad, and her husband predeceased her. She leaves behind a loving family of two sisters, a brother, two nieces, two nephews and their families. A private gathering will be held in California in June. If you wish to give something in her memory, we suggest a donation to your favorite charity or your local library. Lisa believed passionately in libraries.
---
Comments
How nice to know a bit more about Lisa, a fellow resident at Mirabella Seattle.
    
Connie Chaplin
---
What a wonderful photo! I'm sure Lisa would be pleased that you chose it for all of us to remember her by.
I met Lisa when she lived on Bainbridge Island, about the time that her husband passed away. Philanthropy seemed the perfect vocation for such a giving and caring individual, and we had many heart-to-heart discussions during our acquaintance. I was sorry to see her go, when she moved to Seattle, but she was so enthused about Mirabella, her new residence, that I was genuinely happy for her. I visited her there a couple of times, and it seemed very nice.
Lisa always seemed younger than her years--NOT less mature, but in the way she saw the world, her positive (and infectious!) outlook on life, and the enthusiasm with which she met each new day and each new challenge. We shared a love of libraries and of learning, of good music and good books. One of her favorite books was Franny and Zooey, by J.D.Salinger. I had never read it before knowing her, and she described it glowing terms, and teared up a little as she did, saying that she loved the family in the book, and the way that they cared for one another. I hope she won't mind that I shared that.
I'm sorry to say that I hadn't talked to Lisa for quite some time before her death. She had left a message on my answering machine during a time when I was especially burdened with a lot of family drama that was going on, and when I finally came up for air and reached out to her, via e-mail, her answer was so brief that I thought (guiltily) that perhaps I had offended her. I should have known better; I don't think that Lisa was the kind of person to carry grudges. I didn't know that she was battling cancer again, or that she was losing the battle.
My sincerest condolences to her family, and especially to the two sisters that I had met, and enjoyed getting to know, on two occasions. Lisa, I hope they're treating you like a queen in Paradise, and I hope to see you there one day.
    
Meri McMurdo
---
After falling out of touch with Lisa I just discovered her obituary here. I'm so deeply saddened! Lisa was a client of mine who I adored getting to know. She was such a bright, sensitive and beautiful human being.
I know you are out there in the universe somewhere Lisa spreading light and love and I hope to someday talk with you again.
xo Lori
---
I was just wondering about Lisa, and stumbled upon this loving obituary. I knew her long, long ago when we both were part of a rural commune in Northern California called Gopherville, where I knew her and her then-boyfriend Dan Duncan. That's where I also knew Peter Arnold, her late husband. The three of us shared a lot of our literary passion. Peter was also a fine visual artist, and after he and both moved to San Francisco we were in touch for a while. I moved to Seattle much later to work as a staff writer at the Seattle Times. I ran into Lisa and her mother at the Seattle Art Museum back in the late 1990s. It was so long since I'd seen her, but we still recognized one another. Later I heard that Peter had died, and I wrote her expressing my sympathy. He was a remarkable person, a real individual. I'm sorry Lisa and lost contact again after that, but I did know she was proud of her work foundation work. Somewhere in my basement full of papers, I probably still have the letters she wrote me in the 1970s, when she and Peter were living in chilly New Hampshire, and we corresponded regularly.
Though it was so many years ago that I knew and was close to Lisa, I think of her fondly. She was a person of wit, intelligence and integrity. I am terribly sorry she suffered such a harsh illness, and left you too soon. RIP Lisa

Misha Berson
---