Juanita Joan Randall
"She was always helping people and was kind and compassionate to all even strangers."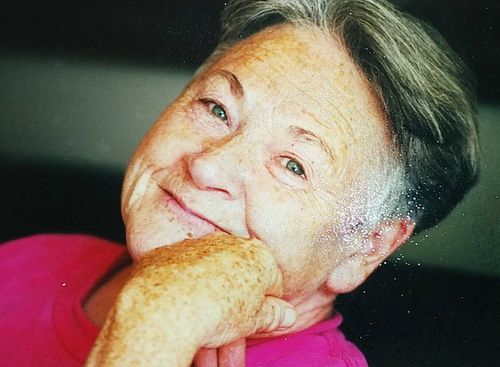 Juanita Joan RANDALL was living in Issaquah,  she has lived there for the last 20 years, currently with her grandsons Michael-Sean and Alex. Previously she lived in Livingston, MT and Portland OR.  She died of Kidney Failure at 7 am May 25th, 2020 in Seattle WA. She was 83 years young.
Joanne or JJ as she was called by her friends and family was the one who was always there for her family when they needed help or just wanted to talk about something. She loved her family more than anything and will be very much missed by all of them. One thing everyone commented on frequently was her incredible sense of humor even when going through the most painful and difficult things in life. She had this smile to that just said it will all be ok you'll see. Everyone loved her shy knowing little smile.
Jo as she was called then was born Dec. 12, 1936 in Cottage Grove and raised in Gresham Oregon. The daughter of Mildred Smith and Glan Philips, berry farmers. She grew up a country tom boy, and besides working hard on the berry farm she spent her time riding her black stallion and later a Harley (Hog) motorcycle and running around with the neighbor kids pulling pranks. 
When she was 18 she married her neighbor and childhood sweetheart Shawn Rutledge Hudelson. They owned a restaurant and played country music in their band in Yamhill Oregon.
They had three daughters, Tonya, now in Bremerton, Teresa, now in North Carolina and Tamara now in Bonanza, OR. After ten years marriage she divorced Shawn.  Later she married Gene Miller and that relationship lasted the test of time. She died his widow as he preceded her by 10 years. They had one son Timothy Miller, now of Warrenton, Oregon. 
JJ loved to learn and was always studying something so someone insisted she go to college. No one in her entire family had ever done that but she did and graduated from Portland State University with a bachelor's degree in science. This is a legacy she left her children and grandchildren who followed JJ's example as many have gone on to do the same.
JJ did several different types of employment during her lifetime. Although she went to school originally to become a PE teacher, she became disillusioned with it because of bureaucracy she experienced and so she became a massage therapist. That was her passion and she did it for 45 year helping countless people. Helping people was what she was known for and her kind, giving nature was always apparent in her interactions with others.
JJ loved music of all kinds and she had a beautiful singing voice. She loved to read and especially enjoyed novels in later life. She was a avid swimmer and scuba diver for many of her younger years and she loved to dance. However, being a mother and grandmother was her true joy in life.  
As the years went by she had the joy of grandchildren and then great grandchildren.
Grandchildren, (14 total) from 
Tonya include Reva, Maria, Jeremiah, Joshua, Clare, Michael- Sean and Alex. 
From Teresa include: Purity, Crystal-Rose, Glen and Melody  
From Tamara (Tammy) Christopher, Michael, and Jeffrey.
Great grandchildren include: Chardon, Ella, Eden, Serenity, Naomi, Devon and Reyna
JJ's celebration of life will be on Sunset Beach Sept. 16th at 12 noon, Seaside. 
Immediate family only.
She has left a wonderful legacy throughout her life and her family will be forever grateful. 
JJ left this world for heaven on Memorial Day May 25th, at 7 AM surrounded by her loving family who sat with her holding her hand and being at her side constantly for two and a half days. She passed in a state of deep contentment and joy knowing she was so loved.  
Graduation for PSU with son Tim

Grand daughter Melody's family

Grand daughter Purity's Family

Grand daughter Crystal and husband Keith

JJ and Grand daughter Reva

Grandson Glen and wife Tia

JJ and daughter Teresa and granddaughter Purity
80th birthday party daughter Tonya's family
---
Comments
hello Tonya, I loved your mother....as did so many....I have nothing but fond memories.... Bless your heart during this time of loss ~ hugs from Livingston....
- Lindie Gibson
---
Thanks to your mom, I too became a massage therapist. She was definitely my inspiration! We would trade body work every week. She will very much be missed :(
- Elaine
---
What a loving, beaming mother and friend to do many. I have fond memories of times together at the clinic in Livingston Montana. She was loved and will be missed by many. What a beautiful legacy she lives in all of her children grandchildren and great grandchildren
    
Gregory Mascari
---
JJ was a sweet lady, always smiling, always supporting Issaquah Singers. She was a Light shining in the dark. A great role model for all.
    
Dorothy Hay
---
Dear JJ ( I"m addressing this to you because I know you're listening! )
Many years ago an old friend ( now passed on ) told me that as people age they either become very sweet or very bitter.
Bitter is easy. Another old man once told me "Young fella, first you lose yer hair. Then you lose yer eyesight, and then ya loose yer teeth, and Gad I'm glad it starts at the top and works its way down!!
I'll leave to you to guess which he was; sweet or bitter.
Sweet is tough! Sweet takes work. Sweet takes the ability to focus on others while ignoring the internal tragedy that happens with aging.
I'm convinced that "Sweet" is also a mark of high intelligence. That's something else I noticed about you when we met. Those bright blue eyes were shining back like beacons, illuminating everything they touched. You didn't say much, but I doubt you miss much!
So now it's time to go home, rest and then off to the next big adventure. And I"m pretty sure we're all going to see each other 'on the flip side'.
    
Laurence Lance
---
JJ will always be with and around each of you, guiding and smiling at everyone's antics. Her life was an adventure, lived to the fullest. I always enjoyed her wonderful smile which always lifted my spirits. JJ left a beautiful piece of herself to everyone she met. God Bless Her.
    
Jill Thompson
---
Lovely memorial page. Thanks for putting so much work into it. I learned things about my friend and sister-in-law that I had not known before. She was a beautiful soul. My love to all the family.
    
Anne
---
I experienced this amazing woman JJ, at her family's side, on her family's side, with wisdom and curiosity well beyond many in her generation, open, kind, generous with her time and strength, rolling with it, and living with a beaming light from her center.
    
Alita Taylor
---
I had the privilege of getting to know JJ in the last year if her life. I recall in our conversations, that she had a way of burning straight to the heart of a matter, no matter what it might be. I watched her handle challenges with candor, compassion, and a often belly laugh. Though I only knew her a few short months, I miss her greatly. I am so lucky to have met you.
- Fletch Taylor
---
I'm so sad to hear this. I loved her calm, kind wisdom and that twinkly smile. She taught me to drive stick shift when I was a teenager, (on I-5 in Seattle, no less!) I was scared to death and convinced I couldn't do it and she just sat there in the passenger seat - completely serene and full of encouragement and trust in me. I've never witnessed such unconditional love as she gave. Hug Reva for me, Joanne. You were a wonderful Grandma.
- Néomi Van Horn
---
I am so honored to have been there in her final days, even though it means I'll never get to know her as you all did. I cherished every smile she gave, and got to see the incredible bond between her and Glen. Meeting her and then saying goodbye was an incredible experience, and I'm so glad we were able to be there.
Her final night was spent listening to a Pandora music station I made just for her based off of suggestions from her loved ones and one request of her own. Now I have "JJ's Station" in my Pandora to enjoy and think of her sweet smile!
Tia Hudelson
---
I was lucky enough to live with my Grandma for the majority of my youth. She was always the person you went to when you were feeling down. She had a way of telling stories that was so mesmerizing and uplifting, and she would always distract you from your worries. When I was a kid, she used to pay me to rub her feet and I would sit at the end of the bed and we would talk until the early hours of the morning. Grandma always had the gift of gab, and I always loved taking to her about anything and everything. For my earlier years, grandma taught me the value of working hard via chores and housework and that manual labor can be enjoyable and not just a chore. I have always appreciated and admired her work ethic. She never stopped. Even in her declining health she always wanted to do everything herself. She was such a wonderfully determined and loving person. I owe so much to her, including my love of cooking and food. She always made the best Thanksgiving gravy, and ate the weirdest food combinations. I remember she used to dry little slices of watermelon rind, and then salt them and chew on them. And she loved liver and onions. (Which I hated as a kid) There is so much I could talk about, about her long eventful life, but i will leave it with this... Grandma you were the light in so many people's lives. You were there for so many people when no one else was. If there was one defining characteristic of your life it was truly how much you cared for everyone you met. Even complete strangers. I love you grandma. Your hands healed more people than I may ever interact with in a lifetime. I hope I can live up to your legacy.
Jeremiah Gamman
---