Harriet Ann Schooley Sanderson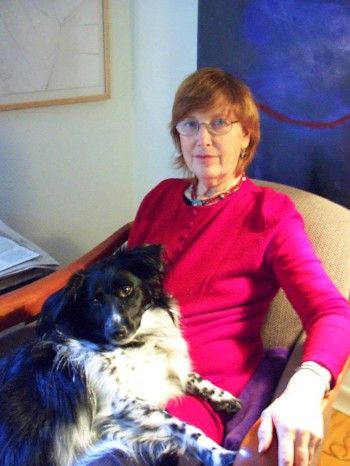 Harriet Ann Schooley Sanderson passed peacefully surrounded by her family in Seattle on February 15, 2017 at the age of 70 from pancreatic cancer.  
Harriet was born on January 26, 1947 in Lebanon, Indiana, and grew up in Indianapolis. Having survived polio as a child, early on she showed her indomitable spirit, keen intellect and abundant creativity. She began making art at an early age, played French horn in the school orchestra and, as a budding entomologist, competed regularly in 4-H where she met her high school sweetheart and future husband, Jim Sanderson. During years of childhood field outings, often accompanied by her father Harry Schooley, she assembled an award-winning insect collection; and after graduating from Southport High School she went on to earn a BS in Entomology while Jim earned degrees in Chemistry and Biochemistry, both from Purdue University.

Harriet and Jim were married in 1969, and in the following year their daughter Anna Kelley was born. After graduating, they moved back to Indianapolis to pursue their careers, lovingly raise their daughter, cultivate their  shared love of gardening and become vital members of the Circle Unitarian Universalist Fellowship. Harriet honed her prodigious printmaking skills at the Indianapolis Art League where she sometimes worked at the large etching and lithography presses alongside her mother, Alice Schooley. At the same time, during the 1970s and 1980s, Harriet also practiced silkscreening, drawing, painting, ceramics and became the chief designer at Fox Stained Glass Studio. After moving with her family to Seattle in 1985, she earned a BFA in Printmaking in 1988 and an MFA in Printmaking in 1990, both from the University of Washington. Among her professors who were significant mentors, and who were to become her esteemed colleagues, were Shirley Scheier and Michael Spafford.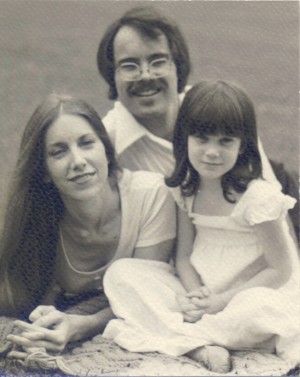 Harriet was a nationally recognized artist, lecturer and collaborator, thoughtful teacher and generous mentor. In 2008, she and Jim traveled to New York City where she received the Wynn Newhouse Award for artists of excellence who happen to have disabilities. In 2011, The University of Washington College of Arts & Sciences presented Harriet with a Timeless Award, honoring 150 distinguished living alumni for their contributions and accomplishments. Harriet's art has shown nationally and internationally and continues to make an indelible mark. Her work is included in private and museum collections and taught in fine art college curricula around the country.
In the prolific 26 years following her MFA, she produced a tremendous amount of potent work across disciplines, all of which centered on the universal experience of embodied existence. Her interior, bodily, approach to artmaking gave rise to a fierce and powerfully visceral conceptual art that Dr. Ann M Fox characterizes as, "sometimes exuberant, sometimes somber, always nuanced." Harriet's permanent installation at Harborview Medical Center, WALKING WALL, is a gently undulating wainscot of 700 walking canes, and a reminder that our daily rhythms continue despite changes according to age and ability. She loved classical music and dance, and frequently attended concerts with her husband Jim. Her  musicality and sensitivity to gesture and movement were expressed in much of her work. As Dr. Ann M Fox writes, "Sanderson's work celebrates the movement of the extraordinary body, enhancing the feminist deconstruction of the bodily ideal." In LAG, Harriet's 5000 square foot installation for the former Sand Point Naval Air Station, she delicately balanced canes and chairs upon one another without fasteners, playfully and poetically alluding to the physically and psychologically destabilizing nature of illness and disability. Her wry humor was always present, in her video performances of balancing acts and in sculptural prints of "acrobats" and other figures who lithely performed in unique bodies. Harriet drew an exquisite line, beginning with childhood doodling on bedclothes and her own skin during periods of illness. In many of her prints and drawings she revisited early recuperative games of connect-the-dots, saying, "Being imperfect is no fun, but a propensity for play can make it more tolerable." Drawing is present even in her installations. Michael Spafford likened her placement of objects to Paul Klee taking his lines on a walk. Harriet continued making art into 2017, believing that art made life worth living. As Elizabeth Bryant wrote for Harriet's 25-year survey Uneasy Landscapes in 2012, "Harriet's most recent work circles back to where the journey of life and art are one."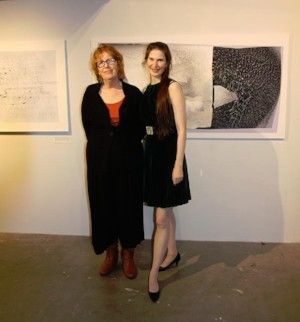 Harriet and Jim created an urban oasis at their home in Seattle's Mapleleaf neighborhood bordering on Thornton Creek and they have been instrumental in the community restoration of the Thornton Creek Natural Area. Harriet's art studio looked out on their beautiful garden that celebrated each season with ever-changing color, texture, shape and aroma that were at once delicate and bold, just as was Harriet and her art. Over the years, she and Jim gathered a wonderfully eclectic group of friends and hosted countless dinner parties with neighbors, activists, artists, University of Washington students who rented rooms in the house and their dear friends from the Wednesday Forum discussion group.
Harriet will be dearly missed by so many. She leaves a legacy of personal and artistic tenacity, inventiveness and wry playfulness. As Shirley Scheier has written, "Her artmaking gives tribute to lives lived with enduring, courageous honesty." No matter our metier, her eloquent work will hopefully spur us on to seek insight through creative  experimentation.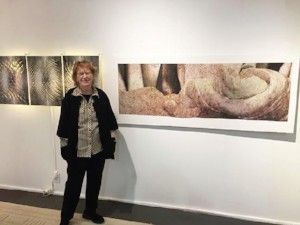 Harriet Schooley Sanderson is survived by her husband of 47 years, James A. Sanderson, of Seattle, Washington; her daughter Anna Kelley Daedalus and Anna's partner Kerry Davis, both artists of Portland, Oregon; her sister and brother-in-law Mary Jane and Ken Pennell of Towson, Maryland; and her nephew Rob Pennell and his family of Spokane, Washington.
A celebration of Harriet's life and work will be held March 19th, from 11 am - 2:30 pm, at the Center for Urban Horticulture, University of Washington Botanical Gardens. (NHS Hall, 3501 NE 41st St, Seattle, WA 98195.) Her family invites you for lunch, music and sharing in this beautiful place dear to Harriet. Donations in her memory may be made to The Nature Conservancy at: http://bit.ly/2mmhtpw  More of Harriet's work can be seen at harrietsanderson.com.
---
Comments
To Jim and Family. Remembering Harriet her beauty, red pig tails, smile and laughter. Elementary ,middle, high school and Purdue. She was always warm and friendly. Seeing her at our 50th class reunion learning and searching her art, we have lost a dear talented soul. My prayers to you Jim, knowing memories will fill the huge void. Hugs
 
Jackie Ellis Garrett
---
To Jim and Family, Harriet has been an inspiration to our family with her courage, creativity, and grace. Our older children, Sharon and Kenny remember both of you well. We will miss her terribly, but her spirit will live on in our memories and in her works of art. We also recognize your part in finding ways to give her the opportunity to express that talent. Our hearts are with you and your family.
JoAnn and Bob Burch
---
I was so saddened to hear that Harriet passed away. Though it has been many, many years since we had seen her, we fondly remember her. She was a lovely woman and remarkable artist. Her work made a strong impression on me. I remember two shows in particular. One had a bed, and attached were pages of poems on a ring. A man nearby said "you can take one" and I was shocked at the idea that you would take something from an exhibit--literally rip it off. I think that man was Harriet's father! And in the end, I did take one. Another exhibit had a sink full of laminated and cut out sketches of hands and it said, "take one." I remember her lamenting people's hesitance to interact with her work and she either did or thought she should have put a sign that said "5 cents" because if they paid, people would take one. It changed the way I viewed art from that point. My thoughts are with you and your daughter, Jim.
Wanda Frederick
---
In memory of a gracious, talented, gifted and compassionate lady as beautiful as her works of art. Along with husband Jim, a legacy of dedication to a world of colors, artistic media of all forms, and horticultural and nature preservation. Our world is a better place because the work of both of you. Heaven opened up for an artistic angel. Praying for you Jim & Anne Kelly thru this most difficult time Love Dennis & Marsha Decker Denise, Brian & Darcee and families
Dennis & Marsha Decker and families
---
Dear Jim,
First of all, please accept my sincere sympathy in the passing of your dear wife, Harriet. Since her passing, I've spent much time collecting my thoughts, wanting to share some memories of her impact on my life.
Harriet and I were young girls growing up together at Edgewood United Methodist Church and Riley Elementary School in Indianapolis. I remember admiring her beautiful red hair and perfectly styled long braids, and being blessed by her quiet kindness and big smile. One day I was invited to her home, and we played in her bedroom. I don't remember all we did, but I'm sure it involved a craft of some kind, because I was fascinated by her skill in using scissors with her left hand. I was also fascinated by the knowledge that her family, at least on that day, had their television in a closet, whereas our family TV had a prominent place in our family room!
Harriet never knew that I was jealous when I heard that she had been chosen by Mr. Malisiks (sp), our elementary art teacher, to make and perform with marionettes. And, do I remember correctly that you, Jim, were also on that "team"? Perhaps that's when your love affair began!
Looking through a folder just today, I saw a copy of "My Life Story", an assignment for sophomore English. I found this paragraph: "The fifth grade I remember well because I became a Bluebird. Here is a picture of Harriet Schooley and me walking to the bus that took us to camp. Both of us became Girl Scouts because of the lack of Camp Fire Girl troops in our area." Unfortunately, the picture is so faded that the images are unrecognizable. But this is another activity we enjoyed together.
Both Harriet and I were in orchestra, playing two of the few brass instruments added to the strings, she on French horn and I on cornet. I remember seeing her for the first time with her French horn, thinking, "of course, how perfect" since her right arm could rest in the bell.
We didn't see each other much in high school, due to our huge school and taking different classes. But after college graduation, she did invite me to her wedding shower. Unable to attend, my mother and I dropped by her home to give a gift of kitchen accessories – towels, hot pads and an oven mitt. To my chagrine, she held up the mitt and I froze. As you can guess, I had bought one for a right hand. I don't remember if either of us spoke of it, but we visited for a short while and she thanked me for the gifts. I think this incident is most telling of our friendship: it never occurred to me that Harriet was handicapped. She lived with such gentleness, kindness, and capability that her right arm, ravaged by polio, was of no consequence to those around her.
When Anna was about three, Harriet sent us a picture of your family, the one that is posted in her obituary. We also talked of getting together in Indianapolis at some later date, which never happened. Then in 2009 I was thrilled to see her name and contact information on a Southport High School Reunion Facebook page. I was able to find her website with pictures of her artwork, and was simply amazed at her creativity, vision and insight. My heart broke when I realized how many health challenges she had faced, and yet was able through her work to tell the story of the emotional impact of disability.
Harriet gently admonished us after the 50th high school class reunion, saying that, after all, you both had come all the way from Seattle! We were unable to come for many reasons, but if we had known you were planning to attend we would have moved heaven and earth to make our attendance possible. I consider it our loss that we were not intentional in maintaining contact with you and Harriet. She was a bright spot in my life on several levels, as I know she was yours on every level. Her contribution to the world of art is invaluable; her contribution to the lives of her friends and family is immeasurable. We will always remember her. Carol Coates Downs
---
Harriet was always a special person and very talented. We were in Senior Girl Scouts together for many years. I am glad that I was able to speak with her at the class reunion. She will be missed.
Suzanne Smock
---