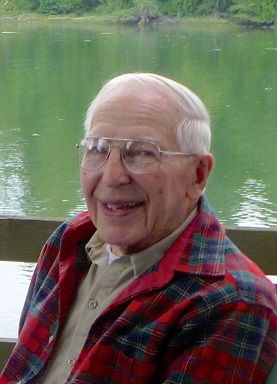 Bruce was born May 3, 1926 in Tacoma, Washington, the second son of Howard T. and Merle (Tracy) Parker.  His father was a machinist at the Northern Pacific railroad shops in South Tacoma and his mother a school teacher.  His family was a pillar of Epworth Lesourd United Methodist Church and Bruce was active in the life of the church from an early age.  As a child during the Depression, he delivered newspapers for the Tacoma Times, Tacoma Ledger, and Tacoma News Tribune (1936-42).  During his high school years at Tacoma's Stadium High School (graduating in 1944), he participated in debate and rifle club and worked as a meat cutter (1942) and as a machinist's helper in the Tacoma Shipyards (1943).  He played the alto saxophone in a "big band" and belonged to the ASCAP musician's union (1939-44).  After high school, he enlisted in the Navy (1944-46) and trained as an electronics technician.  He served on the USS Palau, which had been built in the Tacoma Shipyards.  After discharge from the Navy, Bruce was a partner with his brother David at The Mercury Press in Tacoma (1946-49), while he attended college.
During Bruce's service as President of the annual conference Youth Fellowship and Methodist Student Movement (1943-48), he met Gretchen Ann Ernst, the daughter of Rev. Dr. J. Henry Ernst and Katherine B. Ernst, and they were married June 19, 1949.  Bruce completed his undergraduate study at Tacoma's University of Puget Sound (1950), where both he and Gretchen attended.  The family travelled to Boston where Bruce earned his ministerial degree from the Boston University School of Theology (1954).  Part of his study in Boston was a small seminar on non-violent social action with fellow student Martin Luther King, Jr.  In 1978, he earned a D.Min. from San Francisco Theological Seminary.
Together, Bruce and Gretchen served United Methodist churches in Tacoma (Grace, 1949), Boston (St. Andrews, 1950), Hoquiam (1953), Centralia (1958), Lakewood (1961), Seattle (Sandpoint, 1971), and Spokane Valley (1982), as well as the Vancouver and Seattle Districts (1966, 1987).  In 1976, Bruce became Director of the PNW Conference Council on Ministries.  He was Dean of the Cabinet from 1989 until he retired in 1991.  
Within United Methodism, Bruce served on the General Board of Higher Education and Ministry; Conference Council on Ministries; Conference Council on Finance and Administration; Conference Board of Trustees; Conference Board of Ordained Ministry; United Methodist Foundation of the Northwest; United Methodist Educational Foundation; Wesley Foundation Board, University of Washington; Wesley Homes Board; Bay View Manor Board; and as a 1972 delegate to Jurisdictional Conference.  Bruce's service in community and wider church agencies included the Compassion and Choices of Washington Board of Directors (2007-10); Board of Hemlock Society/End-of-Life Choices (1992-2004); University of Puget Sound Board of Trustees (1987-91); Washington Association of Churches Board (1976-82); Church Council of Greater Seattle Board (1971-76); and as the Organizing Chair of Lakewood's Greater Lakes Mental Health Services (1962-66).
Bruce and Gretchen raised three children, Howard (1950); Rebecca (1953); and Theodore (1956).  Gretchen pre-deceased Bruce on September 4, 2012.  In addition to their children, Bruce is survived by his brother David, six grand-children (Katherine, Hanalei, David, Melia, Janet, and Mycah), and four great-grand-children.  Bruce and Gretchen's love for family and family gatherings created an extended family that embraced daughters-in-law Martha, Lokelani, and Joanne, nieces, nephews, cousins, brothers- and sisters-in-law, "adopted" daughters, and more.  A favorite activity was an annual celebration of Fourth of July at the family Beach House on Wollochet Bay, which Bruce built in 1964.  Throughout his life, Bruce enjoyed sailing, back-packing, camping, music, building boats, home construction, and fixing anything that needed to be fixed.   Bruce died peacefully surrounded by his children on January 29, 2015. 
A memorial Service for Bruce G. Parker will be held Saturday, February 7, at 11:00 a.m. at University Temple United Methodist Church, 1415 NE 43rd St. Seattle.
Memorial gifts in honor of Bruce G. Parker can be made through University Temple United Methodist Church to support the international mission work of his grand-daughter Katherine Parker, who serves as a commissioned missionary in Nepal with the United Methodist General Board of Global Ministries.  Checks can be made out to University United Methodist Temple with Bruce Parker Memorial Gift in the memo line.  Mail to University Temple, 1415 NE 43rd St. Seattle, WA 98105.  [The church will direct the donations to the UMC General Board of Global Ministries Advance # 15187Z.]
---
Comments
As one of the hundreds (thousands?) of confirmands mentored during his career of service I appreciate meaningful memories of Reverend Parker's warmth, patience and kindness. --David Vandenbosch
---

We were blessed to have Rev. Parker as our pastor at Sand Point Community United Methodist Church. We were guided by his kind spirit, which shines through in this photo. --Mary Vandenbosch
 
---
What a very rich and unselfish life! Thoughts and prayers to the Parker Family. --Laddie Perez-Galang
---