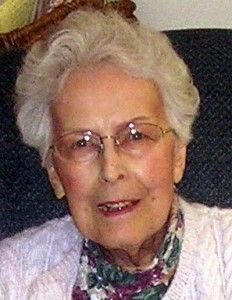 1919-2014
Virginia May Denniston Sandry passed away peacefully on May 15, 2014, with her son Steve at her side at the Evergreen Hospice Center in Kirkland, WA. She had been blessed with 95 years of good health and her clear wits were evident in goodbye chats with loved ones. She was predeceased by her husband of 63 years Thomas E. Sandry, a founding member of the Puget Sound Maritime Historical Society. Virginia was born in Seattle on April 16, 1919, to Cecile Moore Denniston and Roy I. Denniston. When her parents died in the 1930's she lived with her Grandma Moore from whom she learned to be a wonderful seamstress. She graduated from Roosevelt High School in 1936. She married Tom on September 6, 1939, and had two sons, Tom and Steve. She and her husband helped in the Sunday School at University Presbyterian Church where they both were lifelong members and deacons. Together they were part owners and operators of the old Mosquito Fleet steamer the "Virginia V". Her husband once wrote "I love to drive the Virginia Five but I have more fun with Virginia One!" Over the years, she worked as a seamstress, homemaker, special education classroom assistant, served as church deacon and helped with service efforts like Saturday Kitchen for the homeless. She was devoted to Bible study and church committees, enjoyed boating with Sea Scout friends and created adventures with grandchildren. She and her husband were loving friends with many people. After Steve and Tom had left home, Virginia and Tom befriended Bob Fergusson, his wife and son Christian. They also enjoyed a close relationship with their grandchildren's mother E. Sandy Powell and her daughter Elizabeth. In her later years, people have spoken of her kind spirit as she generously expressed God's love and Christian values. For the past seven years, she lived at Ida Culver House and enjoyed many visits and calls from family, friends and dear neighbors. Her lifelong love of Seattle, Puget Sound and the Olympic mountains was always evident. She is survived by Thomas Denniston Sandry and his wife Paula H. Sandry of Tuxedo, N.Y., Stephen Edward Sandry and his wife Jennifer Sumner of Fall City, WA; nieces: Judy (Lee) DeRitter of Mahwah, NJ, Patti Ann Lohse of Everett, WA and Donna (Denniston) Bland of Redding, CA; grandchildren: Gisela Ann Birnschein and Willie Guy Sandry and four great grandchildren.
Memorial service and reception will be held Wednesday, June 4, 2014 at 1:00 P.M. at the University Presbyterian Church, 4540 15th Ave. NE, Seattle WA 98105.Memorials: University Presbyterian Church general fund.
---
Comments
James & Lynn Ronald
Posted May 29, 2014 at 8:25 am
We were next door neighbors to Tom and Virginia for over 28 years. It was our privilege
to have them as such dear and loving neighbors. We appreciate the fond memories they leave with us.
"Peaceful sailing"
Love,
James & Lynn
Bob Ferguson
Posted May 29, 2014 at 5:21 pm
Tom and Virginia took me into their home when I was 19 years old. They have been my PA and Ma ever since. They taught me how to really love, unconditionally. Ma and Pa became my son's (Christian) grandparents, and his kids great-grandparents. When I think of what Jesus taught, I think of them. There is no doubt in my mind where they are now. Heaven is rejoicing! Tom and Virginia will not be forgotten. Their love lives in many of us. We will meet again.
Carol Powell Davis
Posted May 29, 2014 at 8:20 pm
Virginia and Tom were my dad and mom's generation and active in Sea Scouts. I have photos in my parents memory book of all the fun times spent with them and Sea Scouts boating in the San Juan Islands. I'm the next generation, or daughter, and remember them fondly – so gracious and giving and very generous. Smiles Carol Lee Powell Davis
Angie Bartels
Posted June 1, 2014 at 11:23 am
I worked beside Virginia at the Saturday Kitchen for more years than we would like to admit. I was always inspired by Virginia's compassion. Week after week Virginia was there serving with love and never judging people. Virginia saw beyond outward appearances and understood that we each have our own special set of circumstances that brought us together each week. Each of us were clients and volunteers of Saturday Kitchen.
Angie Bartels
Posted June 1, 2014 at 11:25 am
(Continued). I will be forever grateful to Virginia for the spirit of love and acceptance that she brought to Saturday Kitchen. She was indeed an inspiration to us all.
Dale Fitzgibbons
posted 08/04/2014, 9:59 am
Though I never had the honor of a personal acquaintance with Virginia I've enjoyed a treasured friendship with Tom and Paula for many many years. A light has gone out in this family but a cherished memory lives on. I salute a life that was lived long and lived well. The peace and comfort of Our Lord be with you all. 
---
I am very sad today to learn about Virginia passing. She was a grand Lady and I enjoyed my visits with her talking about the old days. I've know her for many years though Tom and my husband Earl. She will be missed. My prayers are with you all. --Dorothy Sugden
---