James Robert Allen, "Bob"
May 23, 1944 - August 15, 2022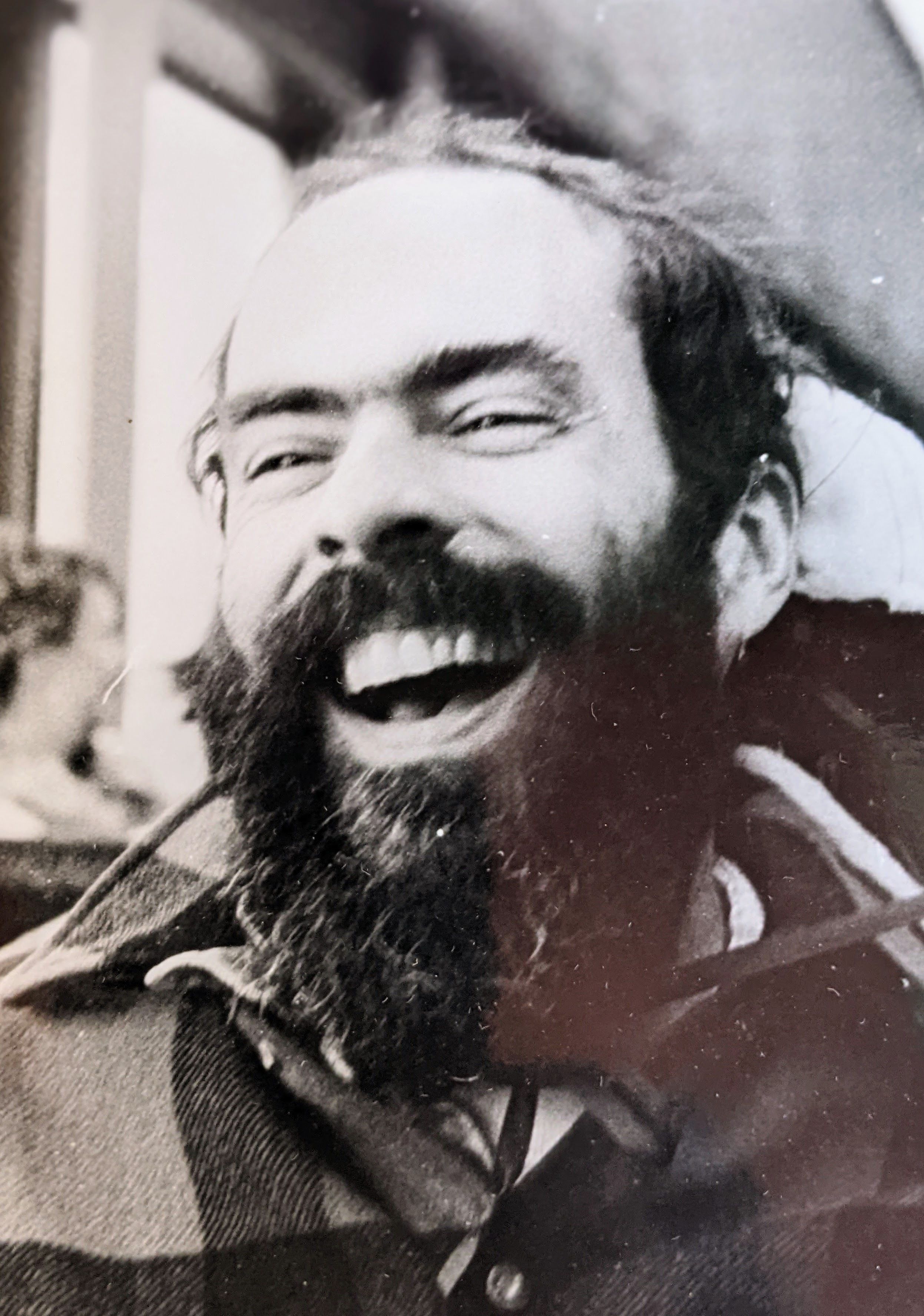 Bob Allen, artist extraordinaire, loving husband and coparent, and friend of many passed away peacefully at home with his husband by his side after a long struggle with Parkinson's disease. He was 78.  
Bob was born in Evanston, Illinois, but moved to Burlingame, CA as an infant along with his parents, Cordelia and Milton Allen, and his older sister Carolyn. Bob graduated from Serra High School in San Mateo, CA in 1962 where he started his seminary studies. He continued at St Patrick's seminary but issues around his gay identity and also his interest in art caused him to take a leave of absence and take art classes at San Francisco State University. This also led him to take a year abroad, studying art in Florence, Italy and traveling to the Soviet Union and Israel. His journals of poetry and drawings from that era are moving and beautiful. Bob's Mom and favorite Aunt moved to Tacoma in the late '60's and Bob decided to give the seminary one more year at St Thomas Seminary in Kenmore, WA, before finally deciding on a different path. He became a Metro bus driver in 1970 which allowed him to rent an art studio and start probably his most productive artistic period, specializing in kinetic sculptures and also Barbie dioramas. Bob is probably most famous for his "Aureolator" a beautifully crafted machine that splits sandwich creme cookies to music which was featured in a couple of newspaper articles, including a feature in the Seattle Times magazine about NW inventors in 2002. Bob also invented several electronic kaleidoscope-type kinetic sculptures that he called "Lumiscopes" that came out of a kind of personal science fiction scenario that he wrote about with a touch of humor, playfully poking fun at humanity's search for intelligent life in the universe (while often displaying a lack of intelligence on our own planet or recognizing that of fellow creatures such as Orca whales). 
In 1980 Bob met his future husband Lyle, whom he married in a wonderful ceremony on Whidbey Island (Langley) in the summer of 1984. During this time, Bob also started working as a draftsman for Hatfield & Dawson, a small company of radio engineers, using his natural artistic talent and also newly acquired computer drafting skills. On the side, Bob began building a sailboat, the Harriet Spicer, named for his favorite Aunt, which he completed and launched in 1986. Building this traditional plank-on-frame small ship, known as a Seabird Yawl, was a huge accomplishment that he wrote about in an article for Classic Boat Magazine, and which provided many years of fun and sailing adventures. Bob was a lifetime member of the Center for Wooden Boats and was famous for his humorous narrations of the "Quick & Daring" boat race at the annual wooden boat festival on Lake Union.
In 1988, Bob became the co-parent of a wonderful son, Matiah Shaman, with Lyle, Donna, and Chris. The family was featured in a book published in 1995 about lesbian and gay families entitled "Making Love Visible." When Bob was 50, his interest in flying got rekindled, and he obtained his private pilot's license and greatly enjoyed taking friends and family for scenic flights and "$100 lunches." He also obtained his commercial and instructor's licenses and eventually worked part-time as a flight instructor at Galvin Flying Services at Boeing Field. 
In 2014, Bob was diagnosed with Parkinson's disease, which began to impact his life and abilities. He eventually stopped flying but enjoyed being a docent at the Museum of Flight in Seattle. 
If there was one defining feature about Bob, it was his sense of humor; from the time any of his family or friends can remember, Bob was simply a crack-up, always playing games and practical jokes as a youngster, and being an amazingly fun and loving person with family and friends as an adult. He was also a gifted, creative, and versatile artist, with pieces ranging from his beautiful hardwood kinetic sculptures, to Barbie dioramas having a touch of satire, to pen and ink drawings, beautiful car murals, and several self-published books such as: The Essential Airplane (about the theory of flight), Trees and Leaves and Other Things (poetry), and A Park for Tashkent (journal of experience on peace park project). 

Bob is predeceased by his parents, Cordelia and Milton Allen, and sister Carolyn Primc. He is survived by his husband Lyle Rudensey, son Matiah Shaman, and grandchildren Nova and Leo Shaman. Bob we love you and miss you so much!

A memorial celebration of Bob's life will be held at the Center for Wooden Boats on September 17th at Noon. Remembrances in his honor may be made in his honor to The Center for Wooden Boats or The Rainier Valley Foodbank.
---
Comments
Lyle, this a beautiful synopsis of a wonderful life well lived! Thank you for sharing this.

Rick Spicer
---
Bob. I feel so privileged to have met you. You were one of my most favourite people that I knew in Seattle for the short time I was there. I believe we are better for having known you and I feel so sad that you have left us. Thank you for leaving us your art. You will be missed.

Mary Charteris
---
They don't make 'em like you anymore Baba. I was always amazed by your work, and equally in awe of the love and excellent care Lyle gave you until the very end. Rest in peace.

Lissa (wife of Matiah, mother of Nova and Leo)
---
Sending love to Lyle, Matiah, and all of Bob's family and friends. What a beautiful tribute to a life well lived.

June BlueSpruce
---
Bob you honored us with your friendship. We will miss your sweet soul and always be grateful for the time we shared.

Maude and Tom
---
Bob and I met each other in 1963 at St. Joseph's Catholic Seminary in Mt. View, California, and found in each other equal partners in silliness and crime against the established order. Later I visited him when he was in school in Florence, Italy. After he moved to Seattle, our connection changed. I'm so glad that he had such a happy life with the family he always wanted. Peace and love to you, my old friend.
- David Sunseri
---
I just learned of Bob's passing so I'm a bit late to the celebration. I'm going to relate a secret love affair of Bob's. We were both bus drivers for the Seattle Transit System. We'd drive during the morning and evening rush hours with a long break in the middle. Bob wanted to sock away some money and hoped for more hours. He learned that there were open day long shifts on Trackless Trolleys. That's what they were still called in 1970. Bob absolutely fell in love with everything about them. To him, they were kinetic sculpture on wheels. He talked me into learning them. He loved that they'd been on the road since 1940, hauling war workers to Boeing and the shipyards. He loved the accordion doors, made of wood, the paint peeling off. The huge steering wheel. The foot pedals, brake and power, were the size of snowshoes. And the noises! Bob could rhapsodize on the series of clacks as power was applied. No computers involved, something called the "chopper" regulated the application of electricity to the huge electric motor. He invited me down to Atlantic Station to talk me into trollydom. He opened the panel at the rear of a 1939 Pullman trolly. He described it as looking like Frankenstein's lab. 
Bob was so tall, that he had to adjust the seat as low as possible. He had to be down there in order to see up through the windshield to view the overhead wires. You had to see the switches overhead in order to turn corners. 
I could go on and on about Bob and the Trackless Trolleys, but they were just a small period in a wonderfully interesting life. It's been fun remembering his enthusiasm. Blessings to his family. 

Jim Bowman
---