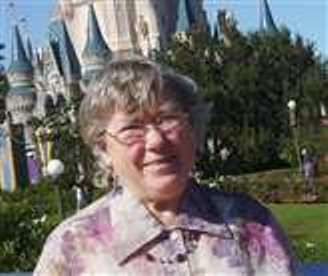 In Loving Memory of Barbara May Rogers
Jan 2, 1939 – Sept 25, 2014
Barbara was born in Milwaukee, Wisconsin to Irene (Keller) and Alburton Gray on Jan 2nd 1939.
She had a real 'love of learning' graduating from St John Cathedral High School of Milwaukee in 1957 and attended Olympic College of Bremerton, WA during the early 70's. A highlight was a trip to New York City and Washington DC with her high school band as a trumpet player where they placed 1st in a competition. Barbara's love for music was evident in her voice and when she played the piano; which she was privileged to do for her congregation of Jehovah's Witnesses in Bremerton, Washington 1974-1979.
Barbara's many talents and interests included sewing, camping and fishing as a young lady, traveling, floral arranging (including the weddings of her children and several grandchildren), cheering on her grandchildren's activities and performances, natural remedies and solutions to health issues, meticulous math (accounting and bookkeeping) and learning new languages.
Barbara was baptized in symbol of her dedicated love to Jehovah on Jan 28, 1973. That love was evident in her cheerful smile, warm heart, twinkling eyes and giving spirit. Her love for Jehovah gave her purpose and strength in her bonus years to be a fulltime teacher of the Bible; sharing her hope in Jehovah and His purposes.
Toward all who knew her, she had a ready and cheerful smile, was compassionate, faithful and loyal.  She was strong minded and independent; giving her strength to become a 'bionic woman' surviving heart stents, new heart valve, a stroke and 2 knees replaced and finally succumbing to the coward –cancer on the evening of Sept 25th 2014.
Barbara is preceded in death by her parents, brothers: Donald, Alburton Jr, Dennis and sister, Jacqueline.
She nurtured 4 surviving children: Christine Jenson (Philip), Daniel Rogers (Anna), Peter Rogers (Bonni) and Gary Rogers (Lisa).
She had much joy being a grandmother to 9 including Corina Cox, Jason Rogers (Raquel), Jessica Rogers, Chantal Thornburg (Joshua), Philip Jenson, Joshua Rogers, Taylor Rogers, Catherine Jenson and Serenity Frank (Nicholas).
Great-Grandma to these 11 children was amazing: Quindelle (22), Javan (15), Wyatt (8), Boston (7), Elizabeth (6), Ayden (5), Daphne (3), Elliana (2), Chloe (1), Rileigh (5mon) and Blake (1mon).
                                                          Memorial Service—Saturday, Oct 4, 2014  3:30 pm
                                                                The Kingdom Hall of Jehovah's Witnesses  
                                                          12400 Central Valley Rd NW, Silverdale, WA 98383
Reception to follow—Poulsbo Eagle Lodge   4230 NE Lincoln Rd, Poulsbo, WA 98370
"Beloved ones, we are convinced of better things, things related to salvation…For God is not unrighteous so as to forget your work and the love you showed for His name by ministering and continuing to minister to the holy ones…show the same industriousness so as to have the full assurance of the hope down to the end…be imitators of those who through faith and patience inherit the promises…we who have fled to the refuge may have strong encouragement to take firm hold of the hope set before us. We have this hope as an anchor for the soul, both sure and firm."  Hebrews 6:9- 19
During this time, we have sincerely appreciated every act of kindness and expression of sympathy. In lieu of flowers or gifts, donations can be made to Jehovah's Witnesses. The address is available at www.Jw.org. All your thoughts and prayers will always be remembered. Thank you.
---
Comments
I will always be proud to say that Barb was a dear and faithful friend to me over many years. She was my buddy in band and we shared many happy moments together during those long walks down steep hills to get to practice the new Field Show on the shore of Lake Michigan. We spent many a weekend tooling around in her dad's car (she was the first to get her driver's license); those were the days when we could ride all night on 50 cents of gas! We helped each other during hard times as new mothers learning how to guide our children; we shared many a smile and many a tear, but always together. I miss my friend but know I will see her again some day soon and look forward to that time. Because of her love of the Jehovah Witness lifestyle, I am now having bible studies by some wonderful Jehovah Witnesses here in Milwaukee, and my love of the bible is growing daily. Thanks Barb! Love and prayers to all the Rogers family. --Sophie Burgos
---
I miss you sweet mother. We had some special times I'll never forget. Your son, Gary
---