Kitra Garrett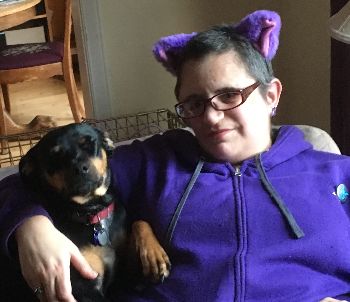 In the spring of 1979, Letitia Kymm Opson meaning Joy and Love was welcomed to this world as the child of Laura Opson. She was a treasured first granddaughter to Merrillee Opson (Troutman).  As an adult, Letitia chose her new name, Kitra Dunsmore Garrett as a tribute to people she grew to love.
As an infant, Kitra was first diagnosed with cancer (Retinoblastoma) and bravely faced medical challenges in overcoming this disease. The first gene for cancer was discovered because of Kitra and gave rise to saving countless children from the same treatments she underwent. With the ability to identify this gene, medical treatment today is rendered sooner saving vision and lives. 
In 2018, Kitra was diagnosed with another cancer (Lieomyosarcoma), she again underwent robust treatment with courage until finally facing her death with grace and clarity on December 1st, 2018.
In her waning days, her family held constant vigil at her bedside including her mother Laura Opson, her sister Allison Opson-Clement, her brother Rex Opson-Clement and her stepfather Albert Clement.  She was also comforted by her fiancé Andy Humble and lifelong friend Arleigh Stein.
Kitra is remembered for her kindness, for her love of babies, her love of all things purple, her love of her pets and her willingness to help anyone who came to her. She is remembered for her generosity.  She is remembered for the good advice she gave when asked, and her ability to say the right thing to those who needed warm words and a hug. She brought comfort to those who sought her out, she was always there for friends.
Kitra, never to have children of her own, acted as doula for her stepdaughter, Annie and was always ready to cuddle a little one. She took great pride in her grandchildren and children of her friend.
She was a human, as she would often say, an 'adorkable' human, She loved all things Narnia, fairies, glitter and costumes, wearing kitty ears when her chemo hair was just growing back and she was in-between hats.  She had an understanding and deep regard for the Magics of the Earth, and she was firmly based in the traditions of doing to others as you would have them do unto you.  
Since her passing, her family and friends have expressed their joy for knowing our girl and what a loving giving person she was. Her memory will always be a blessing. A formal memorial service in her honor will be held in the spring of 2018 with location and details to follow.
Remembrances may be made to: Ben Towne Center for Childhood Cancer research, https://www.seattlechildrens.org/research/centers-programs/childhood-cancer/
---
Comments
Miss you forever love. Goodbye and Hello as always.
Andy Humble
---
Kitra will be in our hearts and memories. She made our kids laugh and was one of their favorite babysitters. We were lucky to have her touch our lives.
All the Angells send their love to the whole family.
    
Sarah Angell
---
Sweet Kitra, your beautiful and kind spirit has touched so many people. You had s heart full of love for so many people and animals too. My heart aches to lose you but I know it's not goodbye Until we meet again
Love and miss you
---
May your memory be a blessing. My love goes out to Laura, Allie, Rex and all who know and love you. Their hearts are surely broken.
    
Kathy Reid
---
You'll be missed my sweet, gentle friend but you will live on in our hearts.
    
Debbie Link
---
I will miss you until my last breath. See you again, my friend. I'll bring some new faerie wings...purple, of course <3
    
Anaya
---
My goddess in avalon.... no words can Express my sorrow... but I am comforted knowing you are free ... to jump and play and be your magical beautiful self.
Denise Bowman
---
Dear Laura,
My thoughts and heart are with you and your family. I had no idea you were all going through such difficult times. I send you all my condolences and love.
    
Piyale
---
Dear Laura, I am so sorry. I had no Idea. If there is anything I can do, please let me know. Kathleen
    
Kathleen Alvarez
---