George Gelernter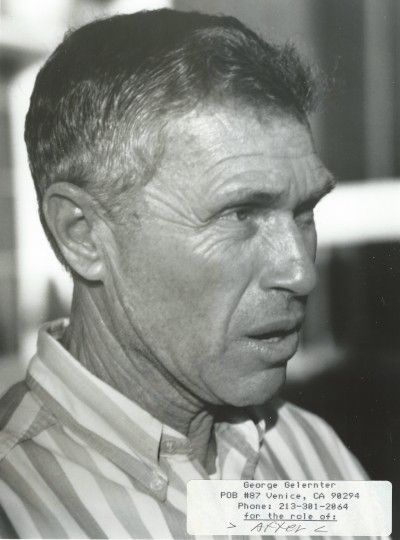 George Gelernter, actor, playwright, journeyman plumber, activist and voracious reader, particularly of history, politics, film and theater, died Sunday November 11 in Seattle. He was 85.
George was born Gershon Ulysses Gelernter, on Oct. 29, 1933, in Orange, New Jersey. His parents Matthew Gelernter and Ada Goldberg Gelernter were part of a large second-generation Jewish American family that settled in New Jersey, both sets of grandparents having fled persecution in Europe.
A genealogist traced the Gelernter family history back to 1581; their earliest known relative Zachariah Mendel was chief rabbi of four large Jewish communities in Poland. The family had migrated originally from Germany. Gelernter, which means "The Learned One" in German, was an honorary title.
Matthew owned a fish store and had a beautiful voice, often being called upon to sing during the High Holidays. Ada played the lead in major little theater productions at the Young Men's Hebrew Association, directed by Dore Schary, Moss Hart, and other local boys who went on to become major theater and Hollywood film moguls. George inherited his parents' passion for music and theater.
But the driving force in his parents' lives was their commitment to making the world a better place. Amid the Depression, they saw an avenue to that goal in joining the Communist Party USA. They had their two children, George and Judith, join the Labor Youth League.
Because of George's health, the family moved from New Jersey to Tucson. Facing strong anti-Semitism there, they decided to move to a place with a larger Jewish population: the Fairfax area of Los Angeles. George graduated from Fairfax High School, where he was a champion debater. He was extremely bright and intellectual. He became a plumber because his parents expected him to join the working class.
(George's father would eventually quit the Communist party after the truth emerged about Stalin; his mother died not long after those revelations.)
At 19, George married Elaine (May York) Quan. They had daughter Carey before divorcing.
He migrated to counterculture Venice Beach in the freewheeling Sixties; was a Venice Free Theater founder and actor; studied acting and writing, including at the American National Theatre and Academy, Desilu Workshop, and with Lee Grant; joined the improv group "On Guard America"; and acted in many theaters, including the Players' Ring Theatre, Santa Monica Playhouse, and Ice House.
He also began writing plays and screenplays, eventually authoring more than 30.
He was best known for co-starring in "Faith of Our Fathers," an AFI Film Award winner in 1994, and was seen in more than 100 other film, video, and TV productions. His most recent film was "The Other One" – first shot some 20 years ago, the director finally completed it and released it in 2017.  
Diagnosed with Parkinson's disease, George moved in 2010 to Seattle, to be near daughter Carey, son-in-law Jerry Large, and grandson Tao Large. While he missed California, he loved being closer to Tao, taking pride in watching him graduate The Northwest School and Whitman College, and now study for his Ph.D. in chemistry at Stanford University. George became fondly known at the Summit at First Hill, where he lived for seven years before moving last year to Kline Galland Home. In 2017 a staged reading by Equity actors of his play "On the Fritz," directed by Vanessa Miller, had Summit audience members commenting: "It was just like a Seinfeld episode!"
In addition to Carey, Jerry, and Tao, he is survived by sister Judith Reisman, Ph.D., of Virginia, three nieces, extended family and dear friends.
---
Comments
---