Nicolas G. Dalessio
"Nic" "Falcon"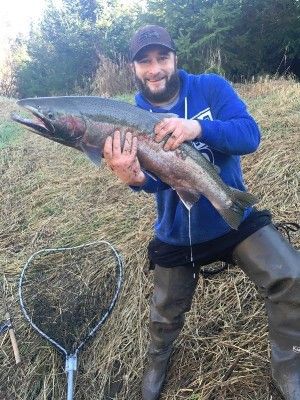 Age 33   Nic passed away in a boating accident while fishing on the Skykomish River.
Born    July 10, 1983        Bellingham, WA
Died    Nov. 19, 2016        Monroe, WA
Resided in Seattle Washington.  Attended high school at Summit K-12.  Attended Renton Technical College and graduated from the Culinary Arts Program.
Nic's main occupation was as a Catering Chef, but he also developed skills in landscaping and home repair. He was looking forward to moving into a different career after being accepted into the Fisheries Management program at Bellingham Technical College, to begin classes this upcoming January.
Nic passed away doing what he loved best.  He had become an avid river fisherman, in search of the elusive steelhead and salmon.  He lived to be out on the rivers of Western Washington, honing his fishing skills.  Nic also loved being with his friends and he had many enduring friendships with people of all ages.  He was easy to be with – having an endearing warmth that others enjoyed and gravitated towards.  In addition to being a champion at the grill and the "smoker" (he loved anything that could be grilled!), Nic's gift to the rest of us was being the best and most loyal of friends.
Nic will be missed terribly by his family and friends.  We have all been blessed by having him in our lives, even for this short time.  He is survived by his mother, Diana Gay; his aunt, Debora Gay; and his grandmother, Lucy Gay; extended family, and many friends who feel like family.  He was preceded in death by his father, John Dalessio and his grandfather, Robert Gay.
A Memorial Service in his honor will be held to celebrate his life (see details below).  
All who knew him are welcome.
Saturday, December 3, 2016
1:00 p.m.
Center for Spiritual Living Sanctuary
5801 Sand Point Way, Seattle, WA  98105
---
Comments
I miss you a Lot Nic. Your a great friend. I and a Lot of others Love you and I think very highly of you. This was unexpected. A Schick to me learning you went Home to Heaven so soon. Until I Am with you in Heaven. I will keep you in my heart and in my memories, conversations. Waiting to see you again is going to be the very hard part. From Kregg Kittelson
---
I would like to express my condolences to the family and friends of Nicolas Dalessio. The loss of loved ones is never easy. Our loving Creator will one day do away with death and mourning. (Revelations 21:3,4) We have the hope of seeing our loved ones again. May the above verses bring you some comfort.
- Marie Mile
---
I am so sorry that this accident happended to Nic -- it was such a shock to both me and Patrick when we found out. We are living in Albuquerque, NM -- and found out through a mutual friend of mine and John Dalessio's. My heartfelt condolences to Diana and her family. Nick left us way too soon, I am glad though that he was living his dream. He will be remembered with love. A big hug to you, Diana.
Maureen Mulvey Doherty
---