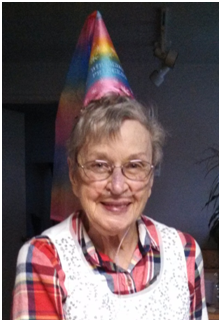 Passed away peacefully on May 27, 2014 surrounded by her loving family. Carol, the youngest of three children, was born on December 24, 1929 to Elise and Ernest Peterson of Avon, Massachusetts. Carol, sister Beverly and brother Pete, grew up on the family chicken farm with her parents, and grandmother and grandfather Hutchison. The children were expected to help with chores that included milking the family cow, candling eggs, cooking and cleaning. Carol was an excellent seamstress and learned her craft by making clothes out of feed bags. In addition to reading, Grandfather Hutchinson taught the game of cribbage to Carol when she was 6 years of age – a game she loved during her many years.
Carol graduated high school at the top of her class in 1947, garnering many achievements in academics and sports including basketball. At age 16, Carol met her future husband, Rodger, at the home of a mutual friend. Carol was going up a ladder and Rodger was coming down the ladder. They married at the Peterson home on June 3, 1949.
Carol's parents gave the newlyweds a piece of land on the farm to build their first home which was completed in 1951. One of Carol's fondest memories was wearing her dad's overalls and laying the floor in their new kitchen one week before the birth of their first daughter, Bonnie.
Seeking a warmer climate and better opportunities for the family, Carol, Rodger and bouncing baby Bonnie moved to the West Coast and settled in the San Fernando Valley where they purchased a house in one of the first tract homes being built at that time. Carol worked as a secretary for RCA and Rodger worked as a milkman and at Hughes Aircraft. In 1955, second daughter Tracey was born. The family remained in "The Valley" for 10 years and in 1961 moved to Santa Barbara where Carol worked as a secretary at St. Mark's Methodist Church and Rodger worked at Raytheon and ultimately began his career with Santa Barbara Savings and Loan. The family then moved to Goleta and flourished.
In 1965, as Assistant Savings and Loan Manager, Rodger's career took the family to Camarillo and Carol worked for a CPA firm. Carol and Rodger became active in civic and community organizations. Bonnie and Tracey attended elementary, junior and high school in Camarillo. The family enjoyed playing golf, outings to presentations at the Hollywood Bowl, movies at Grumman's Chinese Theater, Disneyland, the San Diego Zoo and yearly vacations at the Tumbling McD Guest Ranch in Philo.
Rodger was again promoted and moved the family to Marin County. Carol worked as a secretary for an insurance company and a freelance writer. Being transferred to the home office, Carol and Rodger moved back to Santa Barbara, settling in Goleta. Carol honed her skills playing team golf winning many tournaments. She especially enjoyed her work as a secretary to the husband and wife writing team of the soap opera "Santa Barbara". Her work took her to film shoots in New York, Spain and Jamaica.
In 1986 Carol and Rodger retired and moved to Bothell. Carol enjoyed her work as an Executive Assistant to the Vice President of ATL until she was able to fully retire in 1991. They enjoyed volunteering at Evergreen Hospital, exploring the Pacific Northwest, reading, playing golf and babysitting their one and only grandchild, Kevin. Carol also took pleasure in her detailed handwork and gifted many with her wonderful pieces.
They moved to Woodinville and in 1998 Carol's dear husband Rodger passed away – after celebrating 49 years of marriage.
During their marriage, the first section of the newspaper Rodger would read would be the sports page. Carol never read this section, until Rodger passed at which time she started reading the sports page. And for the last 16 years she loved reading about the Mariners often reciting their statistics– no matter how bad they were.
To be closer to her family, Carol moved to Renton and lived there for several years. After having surgery for breast cancer and diagnosed with COPD, Carol spent her final years living with Bonnie, her husband Kurt and grandson Kevin in Seattle, reading , listening to music and watching her beloved Mariners on T.V. The three generations lived together for five years which enriched all of their lives in many ways. In 2014, Carol was referred by her amazing physician of many years, Dr. Barbara Toriano, to Evergreen Health Hospice Care who provided wonderful support. She enjoyed her visits with Carol, Ann and Rosemarie who provided thoughtful care and many laughs. Carol especially loved and looked forward with much anticipation to her Friday afternoon cribbage games with Hospice Volunteer Moses.
Carol was a bright, sweet and thoughtful person. She loved her family, friends, a good hearty laugh, music, golf, cribbage, a good Starbucks Americano and dark chocolate. Her love, kindness, thoughtfulness, and guidance enriched and enhanced the lives of those around her. All who knew Carol felt honored and blessed in having her touch their lives.
Carol is survived by her daughter Bonnie, son-in-law Kurt and grandson Kevin Gustafson, daughter Tracey and son-in-law Ray Bobo, sister Beverly Young, and many nieces and nephews.
A celebration of Carol's life will be held on June 21, 2014, 10:30 a.m. at Rainer Avenue Church, 5900 Rainer Avenue South, Seattle, WA, 98118.
Carol will be privately interred at Tahoma National Cemetery with her dear beloved husband Rodger. She composed the inscription for their marker while visiting the site recently saying, "Just think, we'll be "hand in hand eternally". Isn't that nice?"
In lieu of flowers, the family encourages donations to be made to Evergreen Health Hospice Care, 12822 124th Lane, N.E., Kirkland, WA, 98034. www.evergreenhospital.org/hospice.
---
Comments
[ Insert Comments ]
---