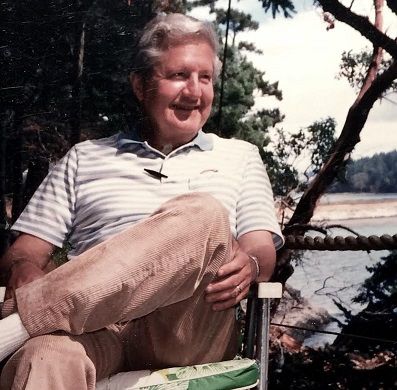 The world lost a little brilliance when Robert Stowe Caldwell passed away on April 18, 2015. Bob is remembered for his humor, generosity, dedication to family, and as a maker of memories throughout his long and full life.
 
Born in China on April 2, 1924 to missionary parents, Bob grew up in the U.S., served in the Navy during WWII, and obtained a B.S. in chemical engineering from Iowa State University and a Ph.D. in solid-state physics from Purdue University before moving to Seattle and launching his 30 year career with Boeing.  Bob was active in the Institute of Electrical and Electronics Engineers (IEEE) where he held leadership positions and served as a mentor for many in his profession.
 
He and wife Joanne enjoyed 42 years of marriage, traveled near and far, and built two cabins in the San Juan Islands that served host to many happy family gatherings. In retirement, Bob found numerous projects to tinker with and enjoyed geocaching with his dog Frekl by his side.  He loved puns and puzzles, bird watching, playing bridge, boating, sailing, kayaking, and tending to his bonsai plants.
 
His intellect, insight, wit, and support will be greatly missed by his family, but his light will live on. He is survived by wife Joanne and her four children; Sharon, Susan, Bob, and Sally;  brother, Ralph; first wife Waneta and three of their four children; Gene, Peter, and Polly; grandchildren; Candice, Mark, Bobby, Amber, Spencer, Elena, Taylor, Dylan, John Henry, Marcus, Alex, Nathaniel, Justin, and Clark; and great grandchildren; Emerson-Jane, Noah, and Andrew.  He is preceded in death by brother, Martin, son, David, and grandson, Nicholas.
 
A private family memorial will be held at a later date.
---
Comments
---