Judith Ann Struss (Judy)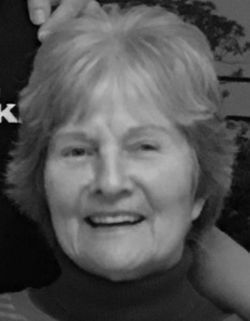 Judith Ann Gorrell was born on October 30, 1941, in Holton, Kansas. She died in the family home on March 6, 2021, from complications related to Lewy body disease. Her parents were Wilbur and Frances Gorrell. She attended public schools in Topeka, Kansas, graduating from Topeka High School in 1959.

While in high school she was honored as the Kansas Betty Crocker Homemaker of Tomorrow. The honor included a trip to Washington, DC, and a college scholarship. She then earned a bachelor's degree from Kansas State University. On January 26, 1963, she married Jon Struss. They had two sons - Jay and Brad. They lived in Kansas, New York, Virginia, Washington State, and Scotland.

In 1973, the family embarked on a big adventure. They moved to Dunoon, Scotland. There Judy enjoyed sailing, running, hiking, traveling, and raising her young family. She earned a second bachelor's degree from the University of Maryland extension. She put her musical talents to work as an active member of the Holy Loch Singers. The group even recorded an album of their best songs.

Judy's life took a tragic turn in January 1978 as she and a good friend set out for a girl's day of shopping in Glasgow, Scotland. En route, they were hit by an oncoming car that had spun and crossed the center median. Judy was hospitalized in Scotland until May when she returned with her family to New York where she was hospitalized until November. That year she spent a total of 250 days in the hospital.

By the end of 1978, she had moved with her family to the Seattle area where she spent the rest of her life. She never let the accident or her physical disabilities define her. She kept living her life and actively raising her family with the optimism and positive spirit she always had. She maintained her independence by driving a wheelchair van equipped with hand controls.

In 1980 she started working at the Boeing company as a tool planner. Her career advanced steadily as she worked in quality circles, personnel, and ethics. She retired from Boeing in 2005 - having worked 25 years. She was justifiably proud of her accomplishments in the workplace and grateful for the opportunities she found at Boeing. Her work allowed her to contribute in spite of her physical disabilities.

In retirement, she found contentment in an old house in Burien with a view of Puget Sound and Mount Rainier. She found joy in her three grandchildren - Colson, Miles, and Lila. She was active as a volunteer at local schools, with her book group, and in a support group of women in wheelchairs.

She is survived by her husband of 58 years - Jon - sons Jay and Brad and daughter-in-law Lynanne, - grandchildren Colson, Miles, and Lila - her sister Beverly Baldwin of El Paso, Texas - her brother Tom Gorrell and wife Diane and brother Jim Gorrell and wife Vicky of Topeka, Kansas - in-laws Mark Struss and wife Kathy of Abilene, Kansas, and Joye Sterrett and husband Joel of Scottsdale, Arizona.
---
---
Comments
---