Edward Lee Mueller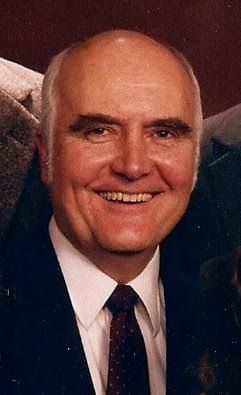 Born  on August 10, 1930 in Kansas City, MO, Edward L. Mueller died on April 21, 2016 in Seattle, WA. He is survived by his four children, John, Michael, Susan and Paul; seven grandchildren, Presten, Adrienne, Claire, Jack Dennis, Christian, Willem and Graham; his former wife, Betty Mueller, and the families of his deceased brother, Bruce N. Mueller of Palm Springs, CA.
Ed spent his youth in Kansas City, and on his Grandparent's small farm in the little town of Neosho in Southwest Missouri.   He and his brother Bruce were raised as Southern Baptists, and looked out for one another as brothers should. Neither of them ever lost the simple, decent impulse, learned as boys, of striving to help others.
In 1946, Ed moved from Missouri to Seattle with his family where he graduated from West Seattle High School in 1948. After enlisting in the Army, and basic training, he was selected to do communication work for the early NSA in Alaska during the Korean War. He attended Seattle University on the G.I. bill.  Ed was so deeply influenced by the ideas and moral teachings of his Jesuit professors to the extent that he converted to Catholicism. He transferred to Univ. of Washington, graduating in 1956 with a BA in political science. Connecticut General Life Insurance became his employment until he returned to the U.W. Law School, graduating in 1964.
Ed clerked two years for Judge Charles Donworth on the Washington State Supreme Court, then worked as an associate/partner at Aiken, St. Louis and Siljeg.  Ed was a partner/shareholder at Carney, Stephenson, Badley, Smith, Mueller and Spellman, P.S., Seattle, WA.  He became a sole practitioner in Seattle, then moving to Santa Rosa CA to work for the Pathways Group, Inc. where he enjoyed a few  years on a small ranch with two horses. His 52 years as a practicing attorney ended in Bellevue where he finished his career at Mueller & Associates, Inc.P.S. At the time of his death he had one of the lowest (oldest) bar association numbers in Washington State. 
Ed defined himself first and foremost as an attorney; however, he also had strong ties to family and community. Living in Magnolia he was a member of Our Lady of Fatima Church, a Boy Scout leader, President of the Magnolia Community Club and lead many drives such as the campaign to have a public swimming pool in Magnolia, acquiring an addition to the Community Center and in encouraging the Port of Seattle to allow cruise ships rather than industrial cranes at Piers 90/91. He spent the years since the mortgage crisis using his legal practice to help people who were in danger of foreclosure or who had been victimized by predatory lending practices.
Please join us for a celebration of Ed's life on Sunday, August 7th at 2 pm at Church of the Ascension, 2330 Viewmont Way West, Seattle, WA. (located in Magnolia Village where 34th West intersects Viewmont Way West. We will welcome his friends and associates. Come share your stories and memories of Ed.
In lieu of flowers please consider a donation to  http://kuow.org/  or
Habitat for Humanity - Seattle-King County
        560 Naches Ave. SW, Ste. 110
        Renton, WA 98057
        (or secure donations online: www.habitatskc.org)
---
Comments
Ed, you were my best friend and deeply cherished for the twenty years I was fortunate enough to have you in my life. I love and miss you every moment of every day. Until we meet again, you remain my valiant hero. Hay hi to Judd and Garvin for me, thanks. xxxxxooooo
- Gwethalyn Jones
---
Ed was a very important person in my life. I found him when I was desperately trying to save my home as a pro se litigant. He generously gave me coaching and helped me with my pleadings. Without his assistance, I surely would have lost my home long ago. I still remember the last legal brief he corrected as he said, "Young lady, it appears you no longer need my assistance as you have become a good lawyer."
In addition to being a good lawyer, Ed was an extremely kind human being (these two qualities don't often come in the same package!) I will miss the long "Ed talks" as I used to call them. Loved having long, philosophical ramblings with him.
God took a good one home. I'll miss you, Ed!
Karen Pooley
---