Russell Gordon Edwards, Jr. (Gord)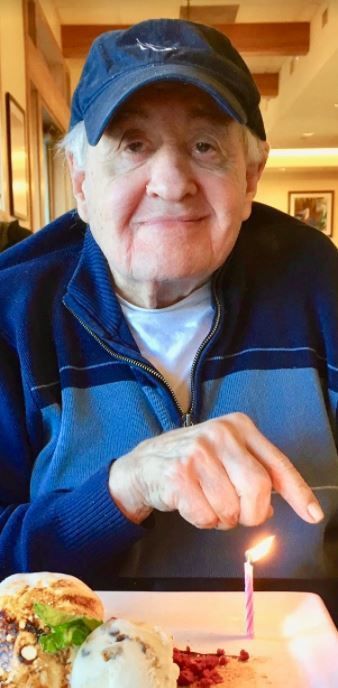 September 27, 1937 – October 1, 2020
Russell Gordon Edwards, Jr. of Bellevue, Washington passed away peacefully on Thursday, October 1, 2020 at the age of 83.
Gord was born in Brockton, Massachusetts to Russell Gordon Edwards, Sr. and Virginia Edwards on September 27, 1937. He was raised in Quincy, Massachusetts with his younger brother Harvey. After the tragic early death of their mother, he and Harvey were raised by their father Russell with the support of a close-knit family of grandparents, aunts, uncles, and cousins. Summers on the farm in South Harpswell, Maine were some of his most cherished childhood memories. 
He obtained his bachelor's degree from Northeastern University and his MBA from the Wharton School at the University of Pennsylvania. Between obtaining his degrees, he had a short stint as a Marine, which he chose when he was required to join military service. Fortunately, he never saw active duty, and the trials of boot camp and the reserves were for him a source of pride and storytelling material.
Gord's highly successful career in the financial industry included employment and partnership at Oppenheimer and Company and many years of managing his own investment firm Higgins and Pine. Many family members and friends were assisted in their lives by Gord's generosity. 
In his retirement years, Gord undertook the endeavor of starting a large lavender farm on Whidbey Island, Washington. Although it was — like so many farming ventures — fraught with challenges, it brought acres of beauty to Whidbey Island and was a testament to Gord's willingness to take risks and live life to its fullest. 
His two daughters, Aurora (née Virginia) and Amy, were the lights of his life. He always found time to spend with them, taking them to performances and restaurants, and even single-handedly building a large tree house on massive posts for them to enjoy with their friends. Participating with them in various outdoor clubs including Girl Scouts brought him joy and laughter. Hiking, camping, river rafting, and trips with his family to many wonderful destinations were some of the activities that reflected his adventurous nature. He summited Mt. Rainier and Mt. Baker in Washington and enthusiastically completed many other local climbs. Gord loved opera, art, fine cuisine, and making people laugh with his fun-loving sense of humor. His kind heart and jovial spirit will be deeply missed by all who knew and loved him.
Gord was predeceased by his brother Harvey and his father Russell Sr. He is survived by his former wife Ruth Edwards; his daughters Aurora and her husband John Davie, and Amy Edwards; his two granddaughters Marisol and Mylie Hargesheimer; his aunt Marilyn Edwards; his niece Jennifer Edwards; his nephew Randy Edwards; loving cousins, especially Ellen Edwards; and many dear friends.
If you wish to make a donation in his memory, please consider memorial tree plantings through The Sympathy Store or a contribution to the Wharton School at the University of Pennsylvania.
Baby Gordon

Virginia (mother), Russell (father), Harvey (brother), and Gord

Gord and Harvey

Gord as a young man

Gord, Russell, and Harvey

Gord, Ruth (wife), and Russell at the Matterhorn

Ruth, Gord, Amy, and Aurora

Gord on top of Mt. Rainier on his birthday with a party horn in his mouth

Gord, Amy, and Aurora snorkeling in Hawaii

Amy, Happy, and Gord

John (Aurora's husband), Aurora, Ruth, and Gord

Amy, Gord, Marisol (granddaughter), and Mylie (granddaughter)
---
Comments
Prayers for peace, comfort and wellbeing to all the members of Gordon's family. Gordon made an enormous positive impact on my life in both professional and personal terms. I am forever grateful. May his memory be eternal.
Rev/Fr Protodeacon George Haloulakos
---