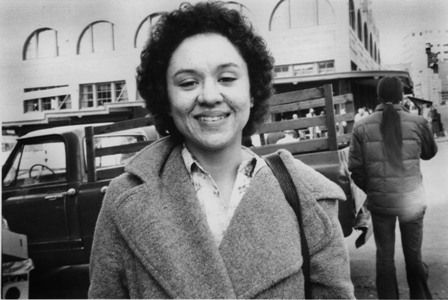 1949-2014
Linda Katheleen Navarro passed away on August 12, 2014 after a lengthy struggle with several debilitating illnesses.  Linda was the much loved daughter of legendary jazz trumpeter, Theodore 'Fats' Navarro, of Key West, Florida, and Rena Clark, of Bellevue, Washington.  Her father passed away in her infancy and Linda spent many of her childhood years in foster care. Linda found a loving family outside of the traditional structure and became an integral part of this family unit, creating decades of memories we will all cherish in her absence.
Linda highly valued justice. She put herself through university, earning her B.A in Political Science and graduated from the University of Washington School of Law in 1980, while raising her son. Linda clerked for Judge Charles Z. Smith and practiced law as a public defense attorney for the Associated Counsel for the Accused in Seattle for many years.  She joined King County Superior Court Judge Michael J. Fox as his bailiff in 1991, working with him until her retirement in 2010. 
Said Fox, "She was one of the best things about my career. Although she suffered much adversity in her own life, and her health and strength were always delicate, she put every ounce of energy she had into her work.   She loved the drama of a well tried case. She could understand the humor and pathos that we see every day in the courtroom".  Judge Fox and all the court system workers remember Linda with much affection and admiration.
Piercingly intelligent and passionate, Linda stood up for the rights of all people throughout her life. We all benefitted from her insightful, clarifying perspectives on poverty, power and race. She gave her wise counsel and loving spirit to many in need. She is especially well remembered as a lifelong friend and advocate of the lesbian and gay community. Her life was immeasurably enriched through the many friendships she made at Tate Mason during the last years of her life.
Everyone who knew Linda extends their arms around her son, Amilcar Navarro, as he continues his journey. They were not only mother and son, but the sweetest of friends.  A small, informal picnic was held August 16th at Madrona Beach with plans for a formal memorial at a later time.
Donations can be made in honor of Linda Navarro to the Mockingbird Society: dedicated to building a world-class foster care system - 2100 24th Avenue S Suite 240 Seattle, WA 98144  
---
Comments
Ah her passing has me choked up here as I sit working at the library. I met Linda while I was working at Left Bank Books in Pike Place Market and we had many wonderful and funny conversations over the years. I was always struck by how strong and resilient she was despite the the many ailments she endured and suffered through. Yes she highly valued justice and also championed culture; she was always very proud of her father and family. Heartfelt condolences to Amilcar and Linda's family. She will be missed. Roger Weaver
---
Ellery/ET Russian
I loved Linda. She came in Left Bank Books every Saturday that I worked for many years. We initially bonded before she had her knee replacements. I remember how vibrant she was after she had healed from those surgeries. I remember her telling happy stories about a trip she took with her son during that time. In general Linda was a warm person with a big spirit. We would mostly talk politics, and chronic pain, and about her dad. She loved Pike Place and she loved Left Bank Books. I am sad to hear that she is gone. But, her spirit is still with us. Miss you Linda!! Much Love!!
---
Through my genealogy research, I was able to locate my cousin Linda. While I didn't have the opportunity to know her as I would have liked, I am glad to have been blessed with the few conversations that we shared. Amid several conversations, Linda imparted wisdom, courage and strength. Rest in peace Linda!--Danielle Navarro
---