Lloyd Alan Anderson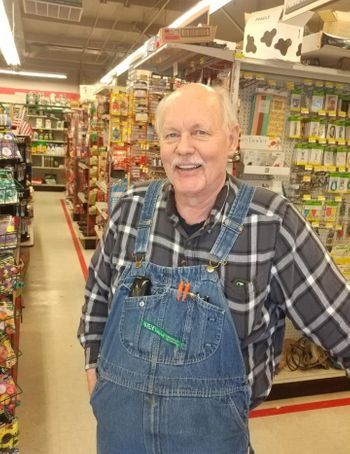 There will be a celebration
9/18/2021
V.R. Lee community center
221 S.W. 13th Street
Chehalis,  WA. 98532
Please wear your best flanel!
There will be BBQ,  bring your fondest memories. 
RSVP by 9/10/21.
To a.simmonds420@gmail.com
Lloyd Alan Anderson, most recently of Chehalis, WA, passed away in Seattle on May 26, 2020, after an extended illness due to multiple medical issues. Due to current circumstances, his family was unable to attend him, but he was held in the thoughts of his family and friends during his illness. Lloyd is survived by his brother Lee (Connie), daughters Laura, Kristina and Sherri, sons Sean (Sarah) and Ryan, and several grandchildren, nieces and nephews. 
Lloyd was born May 8, 1946, to parents Eunice and Earl "Andy" Anderson. He spent his early years in Adna, WA, until 1955 when the family moved to North Seattle. Lloyd graduated from Ingraham High School in 1964, after which he went on to study political science at the University of Washington. In 1965, he joined the US Air Force Reserves and served close to seven years, including two years in active duty as a baker at McChord AFB. Lloyd remained famous for his baking throughout his life, especially his chocolate birthday cakes and cinnamon rolls. 
After his military service ended, Lloyd embarked on what would become a long-term career in hardware sales, not the computer kind, but the hammers and screwdrivers kind. First working for his dad's hardware store, then moving onto JC Penney's, Jensen Bird, and eventually spending more than 20 years managing Hardwick's Hardware in the University District. If you needed a tool, Lloyd was your guy, and the more esoteric it was, the more fun he had finding it for you. 
After his children were grown, Lloyd decided the "big city" was not for him, and returned to Chehalis, where he worked at Sweeny's Ace Hardware, and lived until his passing. His children remember him fondly for hours spent coaching their teams, fixing their cars, summer camping trips, and his uniquely Lloyd way of giving advice. 
A funeral will not be held at this time, but a celebration of Lloyd's life will be planned in the future. In lieu of flowers, donations can be made to the University of Washington Medical Center.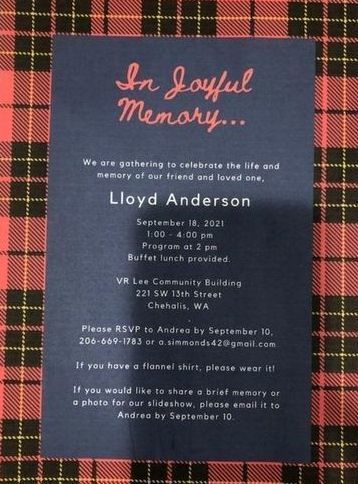 ---
Comments
---
That's my Dad, and I love him.
Laurie
---
Love and miss you Dad!

Ryan
---
Wonderful pictures and sharing about Lloyd. Wish I had experienced a slice of that chocolate cake!

Stacy
---
Hey dad! I miss you and I love you.
Love u grandpa. Think of u everyday-Karlee
Miss you and love you grandpa. -Kyla
    
Kristina Dickinson
---