Allison Katzman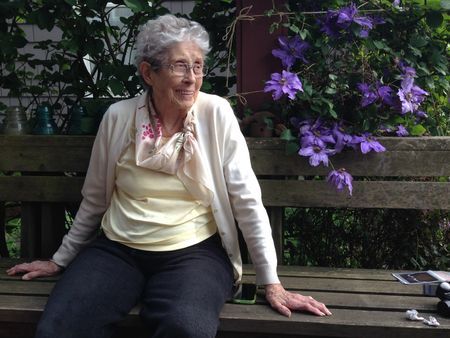 On February 25th 2020 Allison Katzman passed away surrounded by the love and care of her family and friends.  Allison was born Grace Allison Wood January 25, 1925 to parents Grace Allison Wood and Thomas S. Wood in Rogue River, Oregon.
Allison grew up in Seattle, WA attending John Marshall Middle School, Roosevelt High School, and she worked at Sand Point Navel Air Station during World War II helping to house officers as they traveled through the Pacific theater. As the war drew to a close, Allison moved to Chicago where she had earned a place at the prestigious Art Institute of Chicago. There she was able to achieve her dream to develop her artistic gift and fulfilled her dream of becoming a working artist. The Art Institute provided her with many lifelong friends and it was there that she met her husband Robert Katzman. 
Her creative and professional life included opening a ceramic studio, working for Richard Rush Studios primarily on exhibits for the Chicago Science and Industry Museum and as a freelance contractor she created window displays for various businesses. Her experience with display work continued as she developed the Holidays Around the World exhibit for the Continental Bank of Chicago for 21 years.  She imagined and built large paper Mache' figures that represented the diversity of celebrations from cultures around the world.  Her talents led to a successful career for over 50 years as a toy designer for Marvin Glass & Assoc. and also the Meyer/Glass toy design firms in Chicago plus years of being a freelance designer.  One of her best-known designs is the beloved Blythe doll with its unique eye-color changing mechanism. Allison has over 30 design patents in her name throughout her career.
Allison was a pioneering workingwoman who balanced family and career through the 1950s, '60s and '70s.  She was a loving mother, wife, grandmother and friend.  There are many family memories from time spent on the McCormick Seminary / DePaul campus, the Fullerton Ave. beach, Lincoln Park Zoo as well as many family trips visiting friends. As Allison aged she moved from Chicago to Evanston and eventually home to Seattle where her daughter Abby Katzman resides. Her homes were always a welcoming place for family and friends, and her joy as a host and a cook were legendary.  Allison worked as a visual artist throughout her long, busy life with favorite subjects being Pondside gardens, Michigan beaches and The Cascade Mountains.  She connected with the beauty and mystery of the natural world and it gave her strength and motivation to create and live each day to the fullest.
Allison is survived by her daughter Melissa Katzman Braggins and son-in-law Ted Braggins of Rhinebeck, NY; her son David Katzman and daughter -in-law Amy Lowe of Chicago, Ill; her daughter Abby Katzman and son-in-law Ray Woodhouse, her grandchildren Emily and Katie Braggins, Jesse Katzman and Allison Woodhouse as well as a niece, nephews and many loving friends.
In lieu of flowers the family requests donations be made in Allison Katzman's memory to one of the following organizations:
H.O.M.E, Housing Opportunities and Maintenance for the Elderly
https://www.homeseniors.org Phone (773) 921-3200
Washington Talking Book & Braille Library
https://www.wtbbl.org Phone (206) 615-0400
KUOW-FM (National Public Radio Station in Seattle)
https://www.kuow.org Phone (206) 221-2501
---
Comments
To all of you, this was a perfect tribute for such an innovative, talented and actualized woman. It was inspiring to read. I adore the last picture!
Sending love to everyone, Margaret Lesser
---
So great to the photos. Really splendid! Thanks for sharing those.
    
Rick Barnes
---
How wonderful to have knows and worked with Allison for over 23 years. And I only met her when she was 72 years old. How fortunate. I loved all the pictures. Peace to all of her family.
Kathleen Kendiorski
---