Arvada Elvira (Dottie) McFarland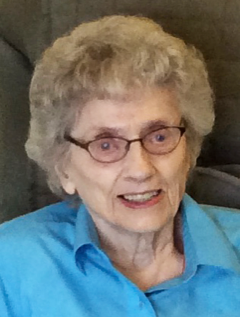 Arvada passed away peacefully on June 20 at age 99. She was born on May 8, 1921 and raised on the Hjalmer family farm in Rosholt, South Dakota with her six siblings. 
She moved to the Seattle area for college and graduated from the University of Washington with a teaching degree. She then headed over seas to teach children of military families stationed in the Philippines and Japan. She returned to Seattle to continue teaching and then married Charles McFarland. They raised their three daughters in Kent, WA. After her teaching career she found a new interest in selling real estate, which she continued into her 70s.
She enjoyed cooking and hosting dinner parties, reading the newspaper front to back every day and talking politics. She was an enthusiastic fan of her beloved UW Husky football team and enjoyed watching the Mariners.
Arvada was preceded in death by Charles in 1997. She is survived by their three daughters: Sara McFarland of Hillsboro, Oregon; Carrie Greene (Tim) of Trout Creek, Montana; Julie Zaballos (Ken) of Burien, Washington; grandchildren Paul Greene, Daniel Zaballos and Wendy Zaballos, and great-grandson Jaxon Greene. Also survived by two brothers, Wesley Hjalmer (Seattle) and John Hjalmer (California).
Arvada lived in several assisted living facilities over the the years and the family would like to thank her numerous caregivers for all their excellent and attentive care. There will be no service at this time. Memorial contributions can be made in her name to Northwest Harvest (www.northwestharvest.org)
---
Comments
---