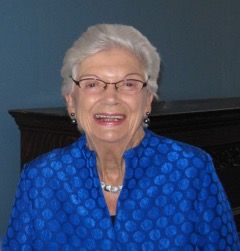 Ann Macdonald Jack; June 4, 1928 – November 4, 2015. Ann was born and raised in Newmains, Scotland to Robert and Helen Macdonald. Ann married William Jack in 1948, and had two children, Moira Elizabeth Jack, and Rhona Margaret Jack, both born in England. In 1957, Ann and family immigrated to Canada, living in Newfoundland and Birch Hills Saskatchewan. They made their way to the United States in 1960 where Ann's husband pursued training in orthopedic surgery. 
Ann lived for many years in Miami, Florida, raising children and working in administrative roles. She moved to Seattle Washington in 1990 to be near her daughter and grandchildren. She enjoyed reading immensely, and kept a lifetime list of books read and books to read, particularly enjoying British mysteries, historical fiction, and nonfiction. If she did not have a book in her hands it was a crossword puzzle. She was a staunch supporter of the public library, as well as the public transit system. She enjoyed film, looked forward to the annual film festival each year, and took pride in knowing the final Jeopardy question. 
Ann lived in many places in Seattle. She loved her friends at Northhaven, where she found a loving and welcoming community. She lived with her daughter for 1½ years prior to her death, and they enjoyed that time together. 
Ann was preceded in death by her brother, Jim Macdonald, husband, Bill Jack, and daughter Moira Jack. Ann loved her family deeply, and even though far away, kept in touch with and cared for many relatives in Scotland and Canada. She missed them all greatly, and exuded warmth to all she met. In Seattle, Ann leaves her daughter Rhona, grandchildren Dane and Adrienne, and great-grandchildren Jacob and Isabella. She wishes them all a good life, and we all wish her peace.
In respect for her wishes, no memorial will be held. If desired, donations can be made in her name to www.solid-ground.org, a local non-profit that battles homelessness and poverty in Seattle.
---
Comments
Rhona, I was sorry to hear the news that your mom passed away recently. In reading her obituary, I wish I could have known her. I love that she was a major supporter of libraries and public transportation. I would like to have consulted her about the books she read. She seems like she had a wonderfully full life but it doesn't detract from the sadness of losing a mother.
Jan Hamovitch (formerly, Garretson) PKU Clinic
---