Peter William Goddard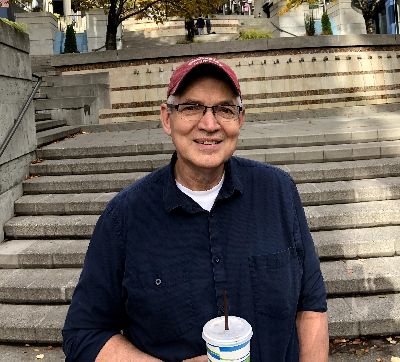 Peter William Goddard was born on October 12, 1954 in Denville, New Jersey to Herbert Goddard and Gertrude Alefeld Goddard.  After spending his childhood in New Jersey, Pete attended Lenoir Rhyne University in Hickory, North Carolina, graduating with a degree in sociology in 1979 and a set of lifelong friends.  After graduation, Pete returned home to NJ to work with the Lutheran Synod as a youth staffer for two years. He then obtained his Masters in Social Work from the University of North Carolina Chapel Hill in 1983, and with it, more friends.
Deep friendships and genuine human connections would be a central theme of Pete's life.  From the beginning, he dedicated his career to helping people, most especially children and people in crisis.
After obtaining his masters degree, Pete spent 15 years working as child therapist in North Carolina, first for Gaston County Public Health, then Child and Family Development. In 1997, Pete moved to Seattle where he would eventually open his own child and family therapy practice.  Many friends called Pete a "kid-whisperer." His gentleness and genuine respect for children, aided by his love of tall tales and playful nature, made him able to connect with children of every age and situation.  Though Pete did not have kids of his own, there are doubtless dozens of kids across the country who lay special claim to Pete as a pivotal figure in their lives.
A further testament to his well-rounded nature, Pete was also a master woodworker and carpenter.  A tinkerer since childhood, he built and remodeled several homes in North Carolina and was a long time volunteer with Habitat for Humanity.  While maintaining his therapy work, Pete also ran his own woodworking and carpentry company in Seattle. Countless homes throughout the Seattle region evidence his skills as a craftsman, and dozens of friends cherish memories of hours spent with Pete tackling a project in their homes, or watching him make something beautiful in his remarkably outfitted garage.  Pete was also a talented singer, and performed with the Seattle's Men's Chorus for 20 years.
It was often said that Pete never met a stranger.  Everywhere he went, his curiosity and ability to connect with others led to friendships and adventures around the country and world too numerous to count.  Always happy to lend a hand or an ear, Pete poured his heart into his relationships and prioritized spending time in community. For many years, Pete volunteered at Calumet Lutheran Camp in New Hampshire.  Pete loved the Calumet community, and developed many lifetime friendships through his time there, where he was known for his kindness, humor, talent, and good-natured pranks on other staff and campers.
Pete surrounded himself with people he loved and loved them without limit.  His generosity with his time and his talents was unparalleled. He was the person to call in an emergency, the one who would drop by homemade cookies or bread just because, the one to help you figure out a hopeless home improvement venture, and the one to take the kids to the park and play just because it was sunny.  He loved playing cribbage, tinkering with machines, meeting with his Tuesday night men's group, walking his dog, taking road trips, looking at the stars from his hot tub, spending holidays at the beach, napping in his hammock, smelling (but not drinking!) coffee, singing with the chorus, telling stories (some of which were true), and most of all being with his beloved community of friends to which he had given so much.
After a short but aggressive bout with a rare form of kidney cancer, Pete passed away peacefully at home on December 26, 2018, surrounded by friends and his beloved miniature Australian shepherd, Tillie.  He is survived by his brother Ron (Cathy) Goddard, his sister Christine (Harry) Gibbs, his nephews David Goddard, Stephen Gibbs, and Sean Gibbs, his niece Lori Lamb, and a community of friends and "chosen family" too large to name.  Though his time on earth was far too short, he unquestionably made the world better from being in it. Those of us fortunate enough to know and love him will miss him deeply, and strive to honor his memory by making time for friendship, for giving, and for play.
---
Comments
Pete was the Youth Director at my church in Hickory when he was at Lenoir-Rhyne. Then, we reconnected at UNC when he was getting his MSW and I was an undergraduate. I was so sad to read of his death in the Carolina Alumni Magazine. I have such fond memories of him. God bless and give him rest.
Alan N. Yount
---
One of my sons saw Pete during high school. I felt it helped my son (and me) tremendously. It is some years later now, and my son said one day, "Mom, you know, Pete really helped me." I tried to reach out to Pete to thank him, and was so sad to learn that he passed away. He really had a way with people.
Susan Veals
---