Masu Sasajima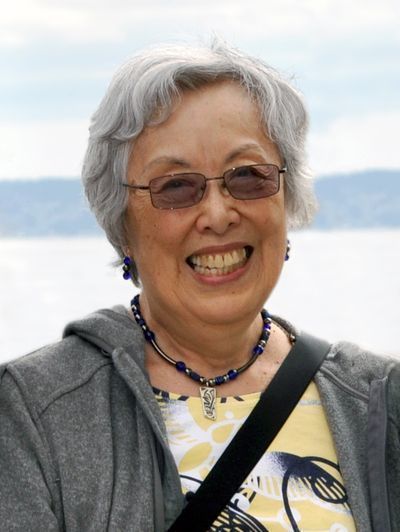 Masu Sasajima, born July 23, 1937, died July 31, 2021. Preceded in death by father Shigeru (Yamagata-
ken) and mother Masu Uemura (Kumamoto-ken) Sasajima, beloved Shizue Ishizaki (Obasan), siblings
and their spouses and Winfred Klink, sisters Helen S. Kaplan (Irving), Mary Sasajima, Florence Sasajima-
Klink (Winfried and son Winfred Klink), brothers John (Bette Newton) and Mitsuya (Delores Gardner).

Attended elementary schools in Brooklyn, NY, Berlin, MD and junior high in Berlin. Graduated from
Erasmus Hall High School, Brooklyn.

Received her BA from Hunter College and MA from T.C. Columbia University, NYC. Studied for a
doctorate at the University of NC, Chapel Hill. Also took management courses at Harvard University and
from the National Academy for Voluntarism in VA. Received the Associate Risk Management
designation (ARM}. Employed in educational research at the City University of NY, Educational Testing
Service and Harvard University Graduate School of Ed. Also worked at Education & World Affairs, NYC;
United Way of America, VA, United Way of King County, Seattle and retired from Mutual of America Life
Insurance Company, NYC as a Risk Manager and officer. Volunteer activities included Boards and
committees of the New York Chapter of the Japanese American Citizen League; New York's Self-Help
Community Services; Seattle's Newmark Towers condo association; and other volunteer activities at
English-in-Action, NYC and Seattle. Volunteered in Seattle at Senior Services; Seattle Art Museum; Asian
Counseling & Referral Service; Ventures, Inc., and docent at the Holocaust Center for Humanity. Travel
included trips to various states and to Caribbean islands, Europe, the Scandanavian countries, China,
Japan and Israel. Most treasured were the many long term friendships of over 40 years and the newer
ones scattered across the U.S. in Italy and Japan, happily established often over many ethnic and
American meals including Japanese, Chinese, Jewish, Puerto Rican, Southern soul food, Spanish,
Portuguese, Mexican, Southern, California, Indian, Irish, Pakistani, Philippine and other cuisines. She
loved reading mysteries, science fiction, novels non-fiction nurtured early with family members reading
to her as a child; music from jazz to classical and memberships at Benaroya at museums such as NY's
MOMA and the Metropolitan Museum, Seattle's SAM and Seattle's Holocaust Museum. Survived by
nieces Tara Briggs (Rick) and their children, Nicole and Molly, Kim Sasajima (Deborah), Jill (Danny)
Napolitano (and their children, Nicholas and Dominic), and nephew John C. Sasajima (and his children,
Eylie and Max.) Interred with her family in a columbarium in MD.

In lieu of flowers, donations may be made to the Asian Counseling & Referral Service, the Holocaust
Center for Humanity, both in Seattle, The Scholarship and Welfare Fund of the Alumni Assoc. of Hunter
College, the Nisei Student Relocation Commemorative Fund or the United Negro College Fund, Inc.
---
Comments
A very big loss for the Holocaust Center, the world and me. Masu and I talked, wrote and hugged, and I will miss her sensitivity, serenity, humor and caring. We solved world problems between us. Earlier this year she wrote, "Perhas we should teach analysis and logic in our school systems." Love, Masu.
-Beatrice Metzelaar
---
My name is Jean Hibino and on behalf of the board of directors of the Nisei Student Relocation Commemorative Fund (NSRCF) scholarship fund I extend the board's deepest sympathies and condolences to the family and many friends of Masu Sasajima.
The first time I met Masu was at the Fund's 1996 scholarship awards ceremony in New York City. She was so struck that a group of Nisei (second generation Japanese American) would start a scholarship fund 1) to honor the group that helped them get out of the WWII concentration camps so they could finish their college educations; and 2) to "pay it forward" by awarding scholarships to Southeast Asian high school seniors. She attended our award ceremonies across the US when she could, and remained a dedicated and enthusiastic supporter for the rest of her life. It is so appreciated.
Through the ensuing years, Masu emailed, a lot. It seemed she would think of an idea or have a question (or 2 or 3) and out of nowhere an email to me would arrive with her questions, suggestions, and advice about how the Fund was doing, what it was doing, where it was going. I last visited Masu in the fall of 2019 when the NSRCF awards were in Seattle. While no one saw the impending pandemic coming that canceled the awards ceremony the next May, I so appreciated the time I had with her.
On the occasion of the NSRCF's 40th anniversary last year, Masu contributed a few words to our newsletter - a congratulations to the Class of 2020. In part it read, "My father always told us that learning never ends and we were enriched by our love of reading, but also by the diversity of family friendships and other people from other racial, ethnic, and religious backgrounds. My older sisters were not able to continue their educations after the war because of family circumstances, but my younger brothers and I were the recipients of their sacrifice. This taught me to give to others who struggle for an education, not unlike the Nisei founders of the NSRCF."
As I find myself saying much too often lately, "Here's to the Greatest Generation." Thank you Masu.
-Jean Hibino
---