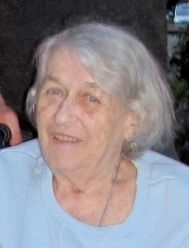 Audrey (Hopfensperger) Morgan, AIA Emeritus.
Born October 19, 1931 in Neenah WI. Died November 6, 2014 in Seattle WA. She moved to Appleton WI in 1940 and to Albany NY in 1947 where she graduated from the Milne School in 1949. She then attended the University of Washington College of Architecture (B.A. 1955), Seattle WA. Her architectural career began in Seattle, working for a number of firms prior to starting her consulting practice in 1983. She had projects in 27 states from coast to coast, Alaska to Florida. Over the years she developed a specialty in health care architecture; she served on the State of Washington Technical Advisory Groups to the State Building Code Council for Barrier Free Design, Non-Residential Buildings, and as Associate Member of the State Fire Marshall Group. Audrey was licensed in Washington and Oregon, and was a participant in the health care regulation process for both states; a contributor to the document "Guidelines for Construction and Equipment of Hospitals and Medical Facilities", and co-editor of the document "Design Considerations for Mental Health Facilities". She was a member of the American Institute of Architects (AIA) and its Academy of Architecture for Health; also a founding member of the Pacific and Northwest Region Architecture for Health Panel.  She retired in 2007.
She was a member of Girl Scouts of America (GSA) for 50+ years and served Totem Council as a member of their Property-Finance Committee. When her children were growing up, she was a Girl Scout troop leader for Brownie and Cadette Scouts and a trainer of troop leaders. She also taught counselor in training (CIT) and leader in training (LIT) courses for high school Senior Scouts. 
In 1990 Audrey and her partner, Prentiss Bement (deceased), moved to a home on the canal in Ocean Shores WA. She served on the library building committee and the Galilean Lutheran Church retreat center building committee. They enjoyed reading, playing Pinochle, swimming, beach combing, sailing, camping, and traveling across the USA in their VW camper van, visiting friends and relatives along the way.  Audrey lived a full life, maintaining her independence throughout.
She is survived by her children, Diana Hansen (James), Nancy Morgan, Susan Heiner (Brian), and Michael Morgan (Joanna), all of Washington.  Also survived by 3 grandchildren, Robin Heiner and Gregg Heiner, both of Washington, Karl Heiner (Sara) and her cherished great granddaughter, Emma, of Idaho; sisters Patricia Reis (William), Jolene Kussmann (Roger), and brother Andrew Hopfensperger (Roseanna), all of Wisconsin. Memorial services will be held Sunday, November 16, 2014,12:30 pm at St John United Lutheran Church, 5515 Phinney Ave N, Seattle WA, and Tuesday, November 18, 2014, 1:00 pm at Galilean Lutheran Church, 824 Ocean Shores Blvd NW, Ocean Shores WA.
Memorials, if desired, may be pledged to Galilean Lutheran Church in Ocean Shores WA, or St John United Lutheran Church in Seattle WA.
---
Comments
---