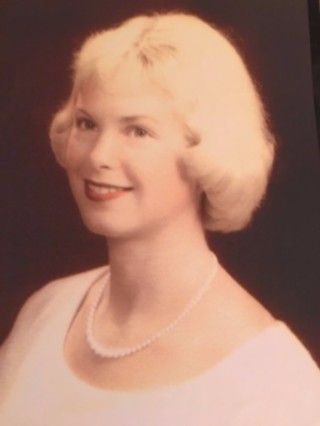 Gail (Dickson) Marioni, 81 died at Harborview Trauma Center from injuries in an automobile accident on December 22nd, 2015. She was born at Virginia Mason Hospital on December 17, 1934, grew up in Cathlamet, Washington on the Columbia River, was educated at Whitman College in Walla Walla, Washington and began an elementary school teaching career in Mountain View, California. There she met and married Don Marioni and they raised four children while he worked in the aerospace industry in Los Angeles and Sunnyvale, California. They resided mostly in Los Gatos CA where she was active in civic and school affairs, The Jaycettes and many social events. She was a Rainbow Girl, an Alpha Phi and a charter member of the Los Gatos Wine Group.
She is survived by her children: Lisa (& Tony) Fyrqvist of Friday Harbor WA, Laura (& Jay) Stewart of Mt. Vernon WA, John (& Yuno) Marioni of Aptos CA and Mark (& Wendy) Marioni of Los Gatos CA, a sister Julianne Schreiner of Camas WA and by her husband Don of Port Townsend. She is survived also by six grandsons, six granddaughters, three great grandsons and 2/3rds of a great granddaughter. She was predeceased by her parents and a brother in Longview WA.
After retiring to Port Townsend in 1986, she was an active volunteer on many committees of the Kala Point Owners Association as well as at Jefferson General Hospital, Fort Worden, Grant Street School, most of the Port Townsend Film Festivals and 23 years at the Visitor Information Center. 
She enjoyed hiking and tennis early in retirement and liked spending time traveling and at reunions with her childhood playmates from Cathlamet. But most of all she focused on helping to guide the growth & development of her loving grandchildren. 
She will long be remembered as a sweet, strong, helpful, compassionate and joyful presence to all people.
Her final wish was to have her ashes scattered into her beloved Columbia River from mid-span of the old bridge between Cathlamet and Puget Island; this will be arranged at the convenience of family and friends next spring.
---
Comments
Don I was so sorry to hear of Gails death. I was happy to be able to know what she was like through the lovely obituary you wrote. Pete and I offer our condolences and will pray for you and your family at this sad time. A mass will be offered in her memory by the Maryknoll Fathers.
Jaye Yorio
---