Joanne Louise Terry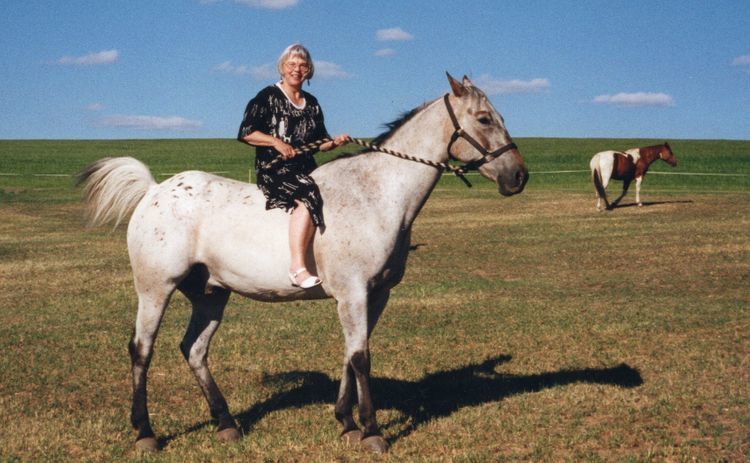 Joanne stepped out of this life on January 28, 2021, age nearly 90, three weeks after a fall at her home on San Juan Island. She was born in Havre, Montana, on Feb. 25, 1931, to John Hartwig and Karin Louise May. At age five, requiring extensive orthopedic surgery, she spent six months at Shriners Hospital for Children in Spokane. Her mother, having left a difficult marriage back in Montana, resettled herself and Joanne in Wilbur, Washington. Louise eventually remarried a Wilbur wheat farmer, Jacob Walters, who adopted Joanne.
Like most farm children Joanne was called upon to work on the ranch. She learned in her early teens to operate a tractor to pull the combine, drove wheat truck during harvest, and milked the cows. She became adept with a shotgun. A real cowgirl, Joanne developed a lifelong love of horses, training them, and often rode bareback. She once won a jumping event by choosing to compete bareback. In 1948 she was voted Rodeo Queen by the citizens of Wilbur. Joanne earned her airplane pilot's license just after reaching age 16, making solo flights to distant towns for farm machinery parts.
In 1949, she went to Whitworth College in Spokane, majoring in Home Ec. There she met and married her first husband, Randall Hucks, in 1951. After the birth of their first child, Diane, they moved from Yakima to Creston. In 1955 their second child, Bill, was born, and in 1960 they moved to Port Angeles. As well as a mother of two young children and homemaker, Joanne worked to supplement the family income—as a bookkeeper, and taught sewing for Singer Sewing Machine Co. during their Port Angeles years.
In 1964, the family relocated to Seattle so that Joanne could return to college. She attended Seattle University and the University of Washington, specializing in Nutrition. During this time, the marriage ended in divorce. She then became a sewing teacher at Holy Names Academy in Seattle, and later a counselor and teacher for Re-evaluation Counseling.
In 1967, she married her second husband, William J. Terry. Bill Terry, who had been in the 10th Mountain Division in WWII, introduced her to skiing and sailing. They bought property on Johns Island, building a summer cabin in 1967. Bill also introduced Joanne to foreign travel in Europe and Mexico. They sailed with friends in Scandinavia, and the French canals. During this time Joanne became involved with Hospice, initially as a volunteer, and later as an employee of Group Health in Seattle as their first Hospice Volunteer Coordinator. After Bill Terry retired, they built a house on San Juan Island, at Cattle Point. Two years after the house was finished, Bill died of cancer, in 1993.
Four years later she met her third husband, Thomas Metke, marrying in 1999. Tom and she continued traveling, adding Thailand, Cambodia, Croatia and the Bahamas to her life list. When Tom retired in 2008, they took up RVing, spending winters in the southern California desert.
Joanne was a prolific artist and craftsperson: painting in oils and watercolors, sculpting, wood carving, pottery, basketry, sewing, knitting, and photography. She won many ribbons at the San Juan County Fair, and a $500 prize from the New York Times for one of her photographs. She was also a talented musician and singer. She played the church organ as a teenager, African marimba as a 15-year member of Kubatana on San Juan Island, and sang soprano with San Juan Singers. And she loved to dance.
She had an abiding love for animals, domestic and wild. In her retirement years, she washed shorebirds after an oil spill on the Washington Pacific coast; volunteered for an eagle study with the Washington State Dept of Wildlife; and at Wolf Hollow Wildlife Rehabilitation Center on San Juan Island.
Joanne's zest for life and love of people won her innumerable friends throughout all her years. She was admired by her friends for her pervasive positivity. One friend wrote, "She was always true to herself and lived exactly as she decided to live...She never held a grudge." Another lifelong friend wrote, "She was my very first truly real friend and mentor." A family member wrote, "It's hard to imagine Joanne being gone. Her smile, her laugh stick with me, her kindness—her love of chocolate!" She was dynamic, an accomplisher, a force, and inspired so many. The well-being of her family was always centrally important. She will be missed terribly.
Joanne is survived by her husband Tom Metke, her younger brothers, Ted Walters (Roma) and Tom Walters (Karen), her children Diane Hucks Berger and William Hucks (Dana), her stepchildren Scott Terry (Sharon), Vanessa Terry Sorensen (John), Martin Metke (Noriko), and Ian Metke (Jasmine), and many grandchildren, step-grandchildren and great-grandchildren.
Remembrances may be made to Wolf Hollow Wildlife Rehabilitation Center of San Juan Island or the Shriners Hospital for Children of Spokane.
---
Comments
Joanne-thank you for being part of my life and giving birth to one of my best friends. You were an inspiration- a loving and supportive adult in my younger life that I needed. You listened and provided a safe and beautiful environment for me to be part of. You encouraged personal growth by providing calmness and caring. Thank you many times over for your love and support. Kisses to you. Love, Shawn

Shawn Kibler
---