Joan M. Whitney
(1930–2023)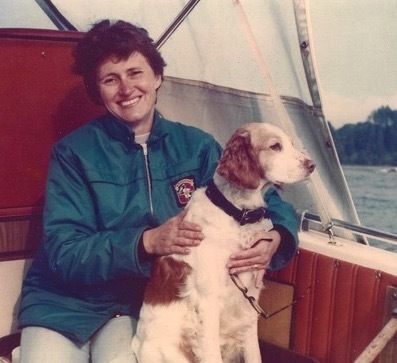 Joan Patricia Melvin Whitney, 93, was surrounded by family as she died of complications from Alzheimer's Disease on October 4, 2023. Joan was born in Des Moines, Iowa, in 1930 to John and Clara (Mackey) Melvin. She was the baby of the family, doted on by her older brothers, Ed and Bob. One of Joan's last intact memories was driving her father to work when she was fifteen years old. She was a brilliant student -- valedictorian of her high school class, class secretary, president of the Girls' Club – but she also liked to have fun. Her high school yearbook entry referred to her as "Melvie," and stated her dream for the future: "To have more fun, more friends, more days in a weekend." She went on to study at Drake University. 
While at Drake, she met her first husband, Bill McConaughy. They moved from Iowa to Sioux Falls, and then settled in Mercer Island. Joan and Bill had three children (Rick, Ben, and Sue), before they divorced in 1959. Joan then took up as an administrative assistant at Boeing. While there, she met the love of her life, Bob Whitney. She and Bob married in 1966. They blended families together, raised and sent all the kids off to college, and then as empty nesters moved to the Long Beach Peninsula in Southwest Washington. They shared a common love for ocean and river fishing, world traveling, and spending time with family. They were married 50 years before Bob preceded her in death in 2016. Joan is survived by her children Rod Whitney, Rick McConaughy, Terri Davis (Shannon), Larry Whitney (Gena), Ben McConaughy (Dawn), and Sue Bronson.  
Joan relished her role as a grandmother, referring to one season when three were born as a "bumper crop." Ultimately there were thirteen: Stephanie Stevens (Alex), Erica Whitney, Stacey McConaughy (Thomas Baron), Christopher ("Ed") McConaughy, Colin Davis (Diane), Evan Davis (2022), Nikki Martin (James), Madeleine Whitney, Kate McConaughy (Stephen Glauser), Joe McConaughy, Christina Beel (Kyle), Patricia Bronson, and Terry Bronson (Dee). That brood has (so far) produced eight great-grandchildren. Joan loved hosting the kids at the compound where she and Bob lived ("Camp Leo"), taking them fishing, and spoiling them with their favorite foods. 
Joan had a soft spot for animals. Eli Whitney, a Brittany spaniel, was her favorite. Eli accompanied Bob and Joan everywhere, from fishing to parties, following human conversations like he understood everything that had been said. She always had a miniature dachshund in the mix, too, usually with a ready dog bone in her coat pocket. 
Joan was an active volunteer at Mercer Island Youth and Family Services. She took special joy in working in the thrift shop. Joan loved to fish and was competitive about it. She required that the ship's log separately account for how many fish she caught (those caught by others were reported cumulatively). It was always fun to watch her when Captain Bob started bossing people around on the boat. She threw him more than one one-fingered salute as he barked at her, or one of the kids or grandkids. In her rich life she visited nearly 100 countries, garnering postcards from each to prove it. She loved to sew, including outfits that she wore on formal nights while cruising, repairs to upholstery, and dresses for the granddaughters. 
Joan will always be remembered for her gracious manner and the twinkle in her eye. But she also had inner strength. That strength helped her overcome multiple battles with cancer, her fifteen-year struggle with Alzheimer's, and other challenges of her life. Her grace was omnipresent and beautiful to watch. 
A private memorial will be held at Mercer Island Presbyterian Church. In lieu of flowers, donations to the Alzheimer's Association (https://www.alz.org) would be greatly appreciated. 
http://act.alz.org/site/TR?fr_id=17194&pg=personal&px=23233313
---
Comments
---