David Huston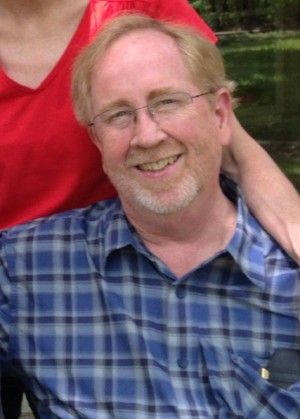 David's spirit came to rest on December 2, after a battle with cancer.
David was a deeply caring and gentle soul who used his keen eyes, spirit, and mind to recognize the uniqueness of each person and their special gifts.  He often helped folks to see these gifts in themselves for the first time, making a tremendous difference in many people's lives.
David accepted people without judgment and made each person's vulnerability, including his own, something to be tended to, honored, and respected.  His endlessly navigating through his own vulnerability made him more human, more real, and profoundly compassionate.
David was a man of many talents. He was an artist, a musician, a craftsman, an engineer, a philosopher, a therapist. He created a home that was a lovely combination of warmth, beauty, and order.
There was a way that David was very stubborn, but only because he cared. When something didn't feel right to him, it was usually because he perceived that something wasn't, in fact, quite right. And with patience, he would wrestle with the problem until he could find a way through to a better solution, in a very appropriate and grounded way.
When he laughed, the room would light up. He brought the true light from the deep dark he knew too well. 
He is survived by his wife, Sarah, and son, Thomas.  Both loved him dearly and always will.
His tender-hearted spirit, keen eyes, playfulness, and deep presence will be sorely missed by many.
---
Comments
---
Beautifully said!

Randi Rohde
---
Two Very Sweet Souls lived in that house on 41st Ave SW. We are so saddened by David's passing but want to acknowledge at least a couple of the many Gifts that he gave to all who knew him during his time on this Earth. One was the courage to endure, and deal, with so many difficulties, particularly over the last many years. Sarah has likewise endured those difficulties and throughout all of it, they both showed a devotion to each other that was as beautiful as it was astounding. We give thanks for having been part of his Life. Sincere condolences to Sarah and Thomas, as well as the Huston and Johnson families.

Alan Calkins and Sharon Lamme
---
Your family was so spiritually intuned. It gives all of us strength.

Rich Kovar
---
Oh Sarah. My heart goes out to you and your family. He was so caring and really left a huge impression in my heart reading his blogs when you were going through terrible times. Please if there is anything I can do for you and your family let me know.
You are so special to me and am so sorry for your loss.
Susana Tantico
---
Sarah and Thomas,
No words can express the sadness I feel for you both. Please hold on to each other. My love and condolences.
Dawn Fabian
---
Sarah, words fail me, as they must. I came to know David during your times of trouble. Reading about him here only reinforces what a wonderful person he was. I know that this is a time of deep sorrow for you and your family. You have my love and sympathy. Take good care. In the unlikely event there is something I can do, you have only to ask.
    
Gary Fadling
---
Sarah, I am so sorry for your loss. You're in my thoughts and prayers ... please take care!

Thao Vu
---
Truly sorry for your loss. Please, know how much you are loved and how deeply your loss is felt by all. Sending my heartfelt condolences to you and your family and whishing you strength to sustain you through this difficult time. You are in my thoughts at this sad time and always.
    
ChauT
 
---
Dear Sarah,
I am so terribly sorry to hear about your loss. I wish I had a magic wand that could make things better for you, but unfortunately, in this human experience, we are meant to endure, to survive through these challenging experiences, to little by little heal and find a "new normal" and learn to smile again. I am sending you, and your son Thomas all my love. May you both find strength and comfort on each other.
Please, should there be anything at all that I could do to help, let me know.
    
Francisco Alfaro
---
Sarah and Thomas, I am truly sorry for the loss of David, a loving gentle soul. He touched my life so deeply, not only in listening but in always sharing and caring. The world is a better place because of him and his love for life. Sending my love and prayers of comfort and peace to you both and all who loved him. His compassion and love will be in my heart always. My deepest condolences.
Amy Veatch
---
Sarah -
Sending you and Thomas love during this time of unimaginable loss. I'm remembering how your face would light up when you talked about your husband. It was obvious the love and affection you had for him and what a wonderful close family you both created. May you find comfort in the love that your community has for you and Thomas.

Debbie Campbell
---
Dear Sarah - I am so sorry for your loss. The beauty of the tribute you wrote for David communicates the profound loss his passing has created but also how far reaching his light will continue to shine through the noble way he lived.
May his compassion and brilliance always inspire and comfort you and Thomas.
My thoughts and prayers are with you.
- Mary Curiel
---