Harriette Pauline Bach Kollman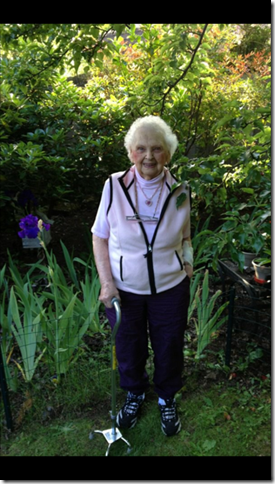 Harriette Pauline Bach Kollman passed away July 9th,2016 at the age of 98 surrounded by her loving family.  She was born on June 10, 1918 in Sioux Falls, South Dakota.  Her parents were Bernie C and Pearl Bach.  She grew up in Hurley on the family farm (where she learned to drive a tractor but not a car) graduated from Hurley High School, and went to two colleges in Minnesota studying both theology and secretarial skills. In 1940 while attending college, Harriette met the milkman, James A. Kollman, who asked her out many times before she finally agreed.  Harriette had told the story of him being "quite the Romeo"!  Her reputation of being the brains was also accompanied by quietly being the brawn.  She had a right hook and a temper and was not afraid to use it in her formative years thanks to her dad and brother.  That being said,while sweet, she was no pushover.  Harriette later married the love of her life on Memorial Day, May 30, 1940 and then moved to Seattle, Wa from Minneapolis, Mn. in 1943.  Harriette started to work for Boeing while her husband served in the US Army during WWII, and eventually she became the first female computer programmer.  She retired in 1981 after 27 years. 
 
She enjoyed reading books,crossword puzzles, word searches, computers and studying Geneology.  Her favorite place to be was working in her yard, beautifying the garden while her husband sat in his lawn chair enjoying the sunshine, a cocktail, reading her the newspaper, entertaining her and offering his companionship.   He wasn't as enthusiastic about yard work but always accompanied her outdoors, did the clean up and hauling away of the debris, you can see this was a match made in Heaven.  She missed that the most after his passing. 
 
Harriette and Jim had five children whom they were very proud of.  This went both ways and she was admired by everyone that knew her. She was truly one of a kind, never an unkind thing to say about anyone, (except maybe a politician!).  Her favorite charity was St Judes which she donated to frequently.
 
Harriette is preceeded in death by her son's, Charles E in 1945  and James W in 1977, as well as her husband James A Kollman in 1989.  She is survived by her loving children Shelley, Joe (Sandi), and Jenny (Dave); her grandchildren Jennifer (Brian), Joe (Amber), Jill (Eric) ,Brian (Catrina), Jimmy (Tanya), Tony (Melissa) and Dyana; great grandchildren Hailey, Zach, Hannah, Kaelyn, Austin, Amelie, Annalee, Johnnie and Derek.  She will be greatly missed by all for her intelligence, unconditional love, humor, and many entertaining stories.  Her surviving fur-baby Rascal will miss being spoiled, sitting on her lap, and sharing her food!
---
Comments
My husband and I will always love and miss my Mother.
Jenny Marceau
---
Mom thank you for raising me! Your a hard act to follow but will due my best to hold to what I have been taught by you and Dad ❤ ❤ Miss you but the heart never forges your love ❤ As you always ended phone calls "Bye for now". Bro and I always chuckle on that one and try to remember that when we talk.
Shelley Your Daughter
 
---
Please except our sincere condolences of your families loss of Mrs. Harriet Pauline Bach Kollman. May the promise found in God's word at John 5:28,29 bring you comfort and peace during this difficult time of grief.
Mrs. Williams
---
To the best mother-in-law anyone could ever have. You will be missed.
Leona Paget
---