Richard S. "Dick" Zahniser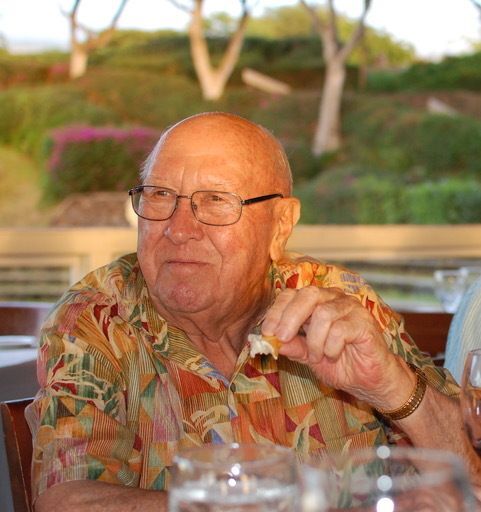 August 7, 1921 – October 25, 2022
Born to Richard and Ida Zahniser outside of Emigrant, Montana, Dick spent his early years on a ranch near Grass Range, MT.  Dick's family moved around Montana, with Dick graduating from Billings High School at the age of 16.   
After his father's untimely death in 1939, Dick and his mother moved to Seattle, WA, so Dick could attend the University of Washington. In April 1943, he was called in to the Army Air Corps and serving in the Pacific Theater. 
He returned to UW to complete his degree in 1947, went to work for Consolidated Freightways in Portland, OR, and married Mary Jane Sherry, his partner of 57 years. They raised children Julie, Rich, Jim and Tom, in the Raleigh Hills area.
In 1972, Dick moved to Seattle, purchasing Transport Equipment Co.  He and Jane joined Broadmoor Golf Club in 1975, where Dick was on the board of directors and elected president in 1982. 

Dick and Jane loved the waters of the Pacific Northwest, notably participating in the Alaska Cruiser Race from Nanaimo, B.C. to Juneau five times under the banner of the Seattle Yacht Club. 
In 1990, they became snowbirds, and joined the Tucson Country Club community. Until Jane's death in 2004, they enjoyed the best seasons of the desert and the Northwest. 
In 2005, Dick moved to Horizon House, a Seattle retirement community, where he resided for 17 years and celebrated his 101st  birthday.  Dick's family is deeply grateful for the care and dignity of the Horizon House staff, especially the nurses in the assisted living unit. 
Dick is survived by his daughter Julie, sons Rich (Cheryl), Tom (Suzanne) and Jim (Jennifer) as well as ten grandchildren and four great-grandchildren.  Following a private memorial service, Dick will be interred in the pioneer cemetery in Grass Range MT, alongside Jane.
---
Comments
---