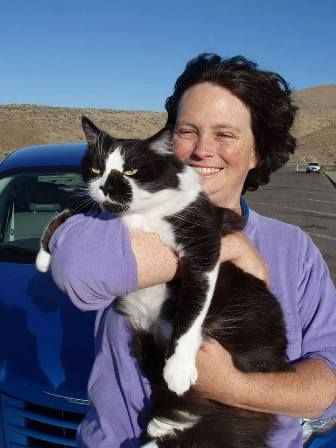 Heather Shantih Kmitta was born in Los Angeles, California, on September 30, 1971, and passed away on January 4, 2015.  She was our sweet flower of peace that grew into one of the most loved friend of so many people.  She grew up in Hermosa Beach, California, a couple blocks from the beach and loved building sand castles with her father.  At age 12 her parents moved to the Seattle area and she lived in a house in Burien.  She went to Kennedy High School, then a year at Western Washington before leaving school to figure what she wanted to do.  She loved animals from our dog Malia that she had in Hermosa to her many other furry dogs and cats.  She went back to school at Loyola University in Chicago and stopped just short of a degree in Sociology.  She returned to Seattle to work at a veterinary clinic.  She later worked for the Episcopal Diocese of Olympia for several years before she went back to her love of pets working as a veterinary technician.  She was involved in so many groups:  cat shows, her work on the vestry at St. Paul's Episcopal Church, animal rescue groups, First Nation Ministry, the people at her work, and so many more we don't even know.  She always had a smile with a true caring for people and will be deeply missed by so many people whose lives she touched.  She is survived by her parents Tom and Melinda Kmitta and her sister Mariah and her partner Becky.  She was also Melinda's best friend who loved going to plays and on trips with her.  She has left such a hole in our heart and left us wondering why someone so loved with so much to give would be taken so soon.  A celebration of her life will be held at St. Paul's Episcopal Church on January 16 at 2:00 pm.  St. Paul's is at 15 Roy St, Seattle.  A reception in the parish hall will be held immediately after the service.  Limited street parking is available on the streets surrounding the church and a parking garage is approximately three blocks east. In lieu of flowers, donations may be made to the First Nations Ministries (www.ecww.org/first-nations-ministries), the Community Cat Coalition (animal rescue group at www.communitycatcoalitionwa.org), or the Seattle Animal Shelter (www.seattle.gov/animalshelter).
---
Comments
Praying for you guys. RIP Heather --Steve Joseph
---
Dear Tom and Melinda, the obit is most beautiful and I will make a donation to the Seattle Animal Shelter in Heather's name. Tom will be at the service as I am not able to come up at this time. It goes without saying, we are both so deeply upset at your loss. When you are feeling a little better, please get in touch with me for old time's sake and may you feel the comfort and peace that time does allow. --Suzanna Byrne (Tom's mum).
---
I want to let Heather's family and friends know how loved she was. I met Heather through her involvement with the Community Cat Coalition and various cat shows. The first thing you noticed was her blazing smile and then the cat she had tucked under her arm. The world is dimmer without her in it. --Penny Bayman
---
Dear Tom and Melinda, I knew Heather through her involvement in the Cat Fancy. This picure is how I remember her - with a mega watt smile on her face and a cat in her arms. She was one of the most genuiniely pleasant and unfailingly sweet individuals it has even been my pleasure to meet. When I heard the news, I was devastated. The post above is completely accurate - the world is certainly a dimmer place without her in it. My heart and prayers to her friends and family. -- Keri Chapman
---
Melinda and Tom, A parent should never have to bury their children. Those were my dad's word when I lost my brother. I pray you find peace in knowing that Heather was a wonderful person and loved by many. She touched everyone she met. I got the opportunity to meet her in Orlando. The world is a quieter place without her. --Michele Nicklas
---
I taught Heather when she was a student at Kennedy High School. She was indeed a "sweet flower of peace," one of the most kind-hearted, gentle, caring students I have known. I am so sorry to hear of her passing. Tom, Melinda, and Mariah, please know that you are in my thoughts and prayers. --Judith McDonald
---
Dear Tom and Melinda, My husband Bob and I were so fortunate to know Heather, especially working with her as volunteers at Borders Books one Christmas Eve wrapping presents to raise funds to fund medications for pets who otherwise would be unable to afford them. She is and will be truly missed. We will send a donation in her name to Seattle Animal Shelter. --Pamela Peterson
---
An Animal Angel Heather was. Her BEAUTIFUL smile was her soul shining thru for all of us to remember the true meaning of this life. We have not the answer's why she had to journey on. But in my heart I believe God needed her to cross over the Rainbow Bridge to His animal sanctuary to care for all His creatures. Community Cat Coalition will miss her SO much! But we shall see Heather again in that next journey. --Deborah Marlott
---
I knew Heather through activity with the Episcopal Diocese of Olympia. She was always knowledgeable, helpful and friendly. I told her I was sorry to see her move on but understood her devotion to animal care. I am saddened now by her death. I will have you all in my heart and prayers. --Warren Guykema
---
Words just cannot express how sad I am for you all. I don't think I have ever seen anyone with such a brilliant smile and every photo is just so genuine and her love just shines through in each one. Her middle name was so appropriate for her. God Bless you and just hope somehow you can find some peace and comfort through this terrible time -- "Aunt" Susie
---
I didn't know Heather well, but whenever we met she was sweet and kind and so loving with our boys. Your family is in our thoughts. --Jill Carnell Danseco
---
Dear Tom and Melinda, I can only imagine your grief, to lose a child and such a sweet soul of happiness that Heather was. It's so hard to think of her as gone. My heart hurts for all who knew her, but especially for you. I wish you peace. -Lyssa Paull
---
Dear Mr., Mrs. Kmitta, Mariah, Becky,and family, My thoughts and prayers, and those of my family, are with you during this difficult time. Although I haven't seen Heather since Mariah and I hung out in grade school/high school, I remember her as an animal lover, soft spoken and kind. All my Best, Jaime (Rispoli) Roberts
---
Dear Melinda, Tom, Mariah & Becky, I can't begin to know what you're going through. The death of a child is beyond my comprehension. I knew Heather through Purrfect Pals & always enjoyed seeing her. She was a very special person & shall be greatly missed by all the humans & cats who crossed paths with her. Know that I'm thinking of you all with much love & sending you healing thoughts & prayers. --Beth Schlansky
---
Dear Tom, Melinda, Mariah & Becky, I am so sorry for your loss. Heather was definitely one of the good ones. It doesn't seem like I've known her and all of you very long, but looking back over my pictures, it has been quite a while. And I have lots of good memories to look back on, but I will miss Heather terribly. She was a great walking coach, good friend, awesome animal counselor and all around fun person to be around. Sending you love and peace in this time of need. --Judith Herman
---
Dear Tom, Melinda, and Mariah. I'm in shock and can't believe the anguish you all are experiencing. I'm so very sorry for your loss, I struggle to find words. Know that I am praying for your family. Heather was a very nice person. Love, Claire Sutcliffe
---
I graduated from Kennedy High School with Heather. She was a good kid back then and I reconnected with her after our 20th reunion, as did several of her classmates. I am very glad that I did. She hadn't changed. She was still the happy, positive person that she was as a teenager, but without the burdens of high school. It seemed to me that she felt truly free to live her life the way she wanted, and she did. The church was packed with people at the service today and it was great to see how many lives she had touched. She touched mine, too, and I'm a better person for having known her. I am truly sorry for your loss and I pray that you are comforted by the fond memories you have of her and please know that the world was a better place because she was in it. --Tad Doviak
---
Oh Heather. You were such a great friend and so much fun to be around. You could always make me laugh and smile and you shared my love for the irreverent. Who else would suggest getting our cats married at Voodoo Doughnut??? I will always cherish all those years of cat show adventures. When we were road tripping together we rarely even had music on as we'd just talk, talk, talk! We were supposed to be cranky old ladies together at cat shows in our 80's! Tom, Melinda and Mariah - you are all such sweet and wonderful people and I was blessed to be such pals with your daughter ((((HUGS))) to all of you. Love, Laura, kitties Café Mocha Valencia, Mercy Mercy Mr. Percy, Penelope Princess Pumpkin and Stellaluna and Captain Morgan Black the Newf --Laura Holland
---
My deepest sympathies to Heather's family. I cannot even begin to imagine how you are feeling. Know that you helped to put an amazing person on this planet- because of the that many people's lives have been changed for the better and so has the world. I will miss seeing Heather's face in the show hall, but will always think of her fondly while there. --Amanda Barry
---