Kathryn Joan Ramm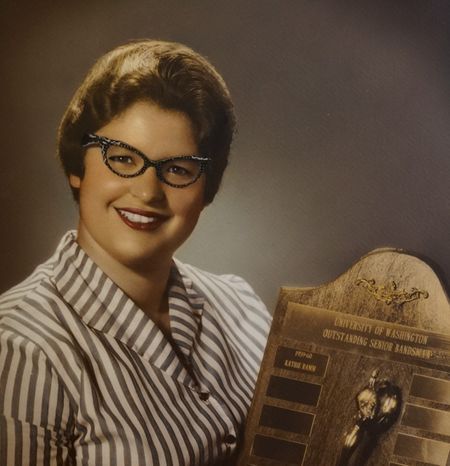 May 27, 1938 - April 21, 2020
Kathie Ramm, 81, passed away April 21 at Swedish Hospital in Seattle due to complications of diabetes. She was born in Bremerton, WA to John and Emmagrace Ramm and graduated from Bremerton High School in 1956. She went on to the University of Washington to major in music.
When Kathie was in 7th grade, the band teacher walked in to her Study Hall and told the class that the band needed a drummer. He asked if anyone was interested. Kathie's hand shot up, as she was quite bored, and that was the beginning of her life-long career of professional percussionist and teacher.
She began lessons immediately in Bremerton and later, in her teen years, traveled to Seattle every Saturday to study with Randolph Baunton, principle percussionist of the Seattle Symphony Orchestra for many years. While at the UW, she was a member of the Husky Marching Band and traveled with them to Pasadena when the football team went to the Rose Bowl in 1960 and '61. Marching in the Rose Parade was a highlight for her. When she was a senior, her accomplishments as a band member were so remarkable that the UW Band created an award for Outstanding Senior Band Member. Kathie was the first recipient of that award. 
Kathie had a rich professional and teaching career. For many years, she played as an extra percussionist with the Seattle Symphony Orchestra and the Seattle Opera and Pacific Northwest Ballet Orchestras. She enjoyed her tour to Europe with the Symphony, played for many Wagner Ring cycles, Nutcrackers, and played at the Peter Britt Music Festival in Jacksonville, OR for many summers.  During a time when there were many negative attitudes about women as percussionists, Kathie, being every bit as skilled as many of the top players of her generation, was one of the first women to break into this male-dominated field.
As she made her mark as a player, she had an even greater impact through her teaching. Seattle, in many ways, was for decades the epicenter of percussion study and performance on the West Coast. Kathie was the matriarch of percussion education not only in Seattle, but throughout the entire Northwest for over 50 years. Dozens of her students went on to study music in college and beyond. Many of them found professional careers, playing in major symphony orchestras around the world.
Kathie taught and played as long as she could. Many of her students became good friends, as she not only taught them how to play well, but about life and how to live it with passion, honesty, and good humor. And all of her students, wherever they went, used proper grammar because of her correction. In fact, as the paramedics were about to take her to the hospital, she corrected the grammar of the one who said, "How long have you laid here?" "Lain," she said. At that moment, she didn't know exactly what was happening, but she did know bad grammar when she heard it.
Kathie loved to laugh and have a good time, and she was always able to make those around her laugh. She was a unique person, larger than life, and if you met her, you would remember her. You knew her opinion about most things, from sports to fashion to food, and especially music. She enjoyed family get-togethers, was a great cook, had an artistic eye, loved to play games, do crossword puzzles, and followed the Seattle sports teams closely. 
Kathie had a life-long faith. As she got older, it became more important and real to her. Her Bible has Post-It notes stuck all through it, marking passages that meant something to her. We know that, through her faith in Jesus, that she is with her Heavenly Father.
Kathie is survived by her 2 brothers, John (Patti) Ramm of Poulsbo, WA, Bob (Beth) Ramm of Bremerton, WA, and her sister Barbara (Rich) Jayne of Cle Elum, WA, nephews, nieces, and cousins. She was preceded in death by her parents, sister Virginia, and great niece Jenna Farley of Bremerton. 
Remembrances in Kathie's name may be made to MusiCares.
A celebration of Kathie's life will be held at a later date when people can gather.
---
Comments
Kathie was one of a kind. She always left a lasting impression with everyone she came into contact, whether it was in the music business or anywhere else. She has been one of my closest friends for over 50 years and her passing will leave a large empty space in my life.
Jerry Oram
---
What a special friend Kathie was. From our college years forward, she remained in contact. I remember her fondly and will miss her.
Bruce Caldwell
---
Kathie was a huge influence on my personality, especially my sense of humor. She was more than a teacher. She was one of the most inspirational friends I have ever had. There are so many of her Kathieisms that I have adopted into my my schtick. I don't know that she is equaled in that way by any other person I've known in my life. She was such a one-of-a-kind original and I treasure everything I learned from her. So many years studying with her as a teen and in College, going to the 13 Coins, the Dog House to eat the Bob's Special and play pinball, playing kill at her house after she cooked pan fried boneless chicken thighs in Alfredo sauce, getting to play concerts together professionally, going to California together and having one of the most fun trips I've ever had. That's just a start. I'm so glad I was able to see her at her 80th birthday party and last Summer when she took me and my family out for lunch on my birthday. I will live the rest of my life thinking and remembering everything about her with the fondest memories.
Kevin Boyd
---
We were lucky to know Kathie! Her love of music and rabbits and great sense of humor.
We will miss her!
Ove & Peggy Hanson
---
I met Kathie through friends (including my future husband, George) playing in the Britt Festival Orchestra. We also enjoyed Kill game evenings, great meals, raucous sports watching and her immense good humor. A Bunny magnet from her has graced our refrigerator for 40 years. After we moved east, her birthday and Christmas cards always ended with "Send pictures!" And we did. George and I will miss her rare style of friendship.
- Debra Trudeau
---
Kathie was one of the people I always looked forward to seeing at the Britt Festival...never Forget her reciting "little miss rotten gut " at Bella Union or J'ville Inn. One of a kind !!!!
- Jack Herrick
---
Kathy has left deep bunny tracks in my life.
She was my percussion teacher and friend and made sure I was properly trained in the art of percussion! Or else! How thankful I am that I was fortunate to have known her.
Her influence and training has gone on through me to my students.
Like a pebble thrown in the pond the ripples go on forever.
Kathy, you will never be forgotten.
Jill Davis
---
Kathie was not only a terrific musician, but she was as fast with a quip or retort as she was with her drumsticks. I loved working with her at the Peter Britt Festival and always her straight-forward manner in her relationships with her colleagues and friends.
I will miss her and her one-liners! What a lovely person she was.
    
Peter Bay
---