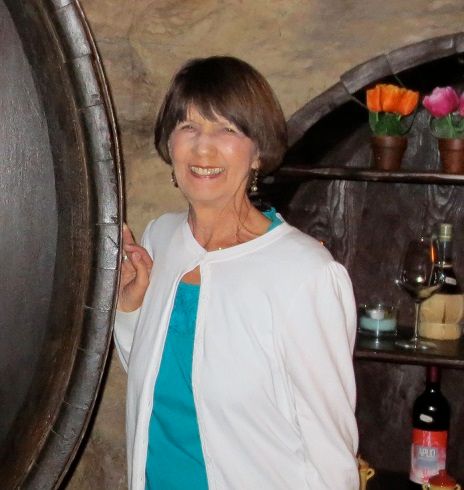 Eleanor "Elli" DeLong born March 27,1931 passed away June 27,2014. Elli loved to travel, especially with her grandchildren and Rick Steves tours.  She volunteered for SAM, ACT, Market Foundation, Paramount and many more.  She especially enjoyed skiing with the Boeing Skibacs, her bridge group and walking friends.  Survived by her brother Noel Sepp, son Mark DeLong (Susan), daughter Kerry Torkelson (John), four grandchildren and two great grandchildren. A celebration of life will be held in August. Remembrances may be made to Sea-King Humane Society and the MS Society. A memorial bench in mom's honor is being planned.
UPDATE (7/23/2014) An update on Elli's memorial...We are planning to celebrate her life in the afternoon on August 24th at her brothers house in Greenwood. Details will be posted and emailed once the exact timing firms up.
UPDATE (8/4/2014) Please join us to celebrate our mom's life on August 24, 2014 from 2-6 PM. She requested we get together for a picnic. Noel has graciously offered the use of his magnificent yard to host the event. The address is 11529 Palatine Ave N.Seattle, Wa. 98133. There is street parking and Christ the King has a lot east of his place at 405 N. 117th. Food will be provided by Crisp Creperie. They are providing a variety of savory and sweet crepes. Of course there will be wine and other beverages for your enjoyment. Looking forward to hearing some stories about our mom, grandmother, great-grandmother, sister. Mark and Kerry Please call or email me if you have questions... Phone 206-274-5878 Email madmanpbp@pbpdelong.com
---
Comments
Skied with Elli many times with SKIBACS and she was always a wonderful help with Boeing personnel challenges. The greatest was when she asked if I ever considered retiring when I was 61. The best decision I ever made in my life and Elli gets cedit for it. Hope we will be in town to attend the celebration.
Bob Beers
---
My mom had a sincere love of all things Seattle, which she imparted to me. Seattle offers the greatest convergence of visual beauty, diversity and temperate weather in the world. She loved to travel, especially with Rick Steves tours, having completed more than 16. I remember the great conversations Kerry and I had (with a few of our friends) around the dinner table during our last couple of years of high school. There was a rule we had to talk about things of importance for an hour. Nothing was off the table and it laid a foundation for me to try and look at both sides of an issue. She was always trying to make sure we staid together as a family and I look forward to doing my best to keep her love of her children, grand children and great grand children alive. I miss her every day....
Mark DeLong
---
What a special lady! My first travel partner, travel teacher and friend. I will miss her and her kindness.
Janna Palm
---
I met Elli in about 2007, thanks to bridge (the card game). She was an excellent player! Later, Elli joined our walking group. We enjoyed sharing conversations and walking each week and celebrating our group's birthday lunches. A lovely person she was! I admire the peacefulness that I saw and felt in her when she knew that her days were nearing an end. I feel fortunate to have known her.
Pat Highet
---
You will be missed. We had some fun times on ski trips, attending plays, the Seattle Art Musuem Jazz concerts, and I enjoyed our friendship for over 20 years. L, Marie
---
Elli's youthfulness and positivity I will always envision when I think of her. It began at Boeing, then running into her at various cultural events where she was volunteering and even at our local supermarket. I was fortunate enough to lunch with her earlier this year and to visit with her in hospice care. She had spunk to the very end. What a wonderful role model!
Stan Moffett
---
I will always remember Elli as one of the coolest moms I ever met. She was softspoken and never showed alarm at whatever shenanigans we young people could think up, always talking to us about it calmly until we talked ourselves out of it. One of my fondest days as a teenager was spent with Kerry when Ellie suggested we buy an all day bus pass and explore The City. In later years when I volunteered at the Pike Place Market Information booth - there was Ellie. Mark and Kerry, you were so blessed to have her for a mom.
Virginia LaFontaine
---
Elli was a wonderful person and an amazing friend. We feel so fortunate to have been her friends for the last 30 years or so and feel her loss deeply. Although we live in Vancouver, BC, we were able to keep in touch through emails, phone calls and visits. I will miss her recommendations for books and movies, the fun times we've had together in Seattle, Vancouver, and on several trips we made together to different cities. Elli felt more like a sister than a friend and we will never forget her smile, her warmth and her calm personality. We extend our sympathy and condolences to all her family. Fred and Lorna Mah
---
Although I did not know Elli well, whenever I saw her she was a genuinely warm and friendly person who had a very classy way about her. She always made me feel important and comfortable in her presence. I know she was loved much by all her family and a real treasure who is greatly missed. I love you all and I am blessed to have known her. Kathy Sanderson
---
Elli always had a winning smile and a good sense of humor. I was fortunate to meet and work with her at Boeing. She was a true HR professional and it was an honor to know her. RIP Elli. My condolences and prayers to her family, God Bless. Vickie Haase
---
We were neighbors in the 60s. We all had small children and were stay-at-home Moms. We learned how to play bridge and had a good time. Elli was a special person and though she moved away, our paths would cross once in awhile. Condolences to the family. - Anne Magorty
---
Elli and I met in the 60s through our skiing friends. Our initially small and ever changing group enjoyed skiing, hiking, and camping. But most of all we enjoyed the company of each other. We laughed and cried together. I consider myself a very lucky woman to have had the friendship of Elli and her family and friends. Elli taught me to make pickles and play bridge and folk dance; she taught me to relax and embrace life with zest. Elli was my friend, my advisor, my confidant, my inspiration. One evening after we finished folk dancing in Seattle, we went to Ballard to a tavern for more dancing. It was midnight when the dancing was over. Elli said, "What shall we do now?" I think of this often because Elli had a joy for life that was contagious. I will always hold that in my heart. My thoughts and prayers to her family and friends. Diane Robinson
---