Joyce Nadine Bittinger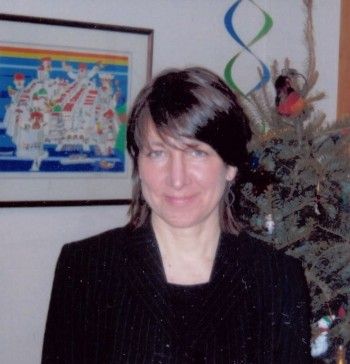 Joyce Nadine Bittinger, 56, passed away on Thursday, April 5, 2018, from lobular breast cancer. She grew up in Greene, NY, was a graduate of Greene Central School and later went on to earn her Bachelor's from the University of New Mexico in Albuquerque, NM, and her Master's and a Doctorate in Psychology from the University of Washington in Seattle, WA, where she made her home.
Her professional focus was on PTSD and on teaching and mentoring others in the field of psychology. After her cancer diagnosis she became a tireless advocate and crusader in the fight against lobular breast cancer traveling the country to attend and even set up conferences and establish and monitor websites and Facebook pages on the subject to get information out and help raise funds for the fight.
Joyce was preceded in death by her parents George and Lois Bittinger and is survived by her wife Tamar Arbel, her sisters Kathy (Timothy) Donahue and Kai Norma (Gary Gorence) Bittinger, her neice Sarah Donahue, her aunt Miriam Jennings, and her cousins. She will be so missed by her many dear friends and by the people at Swedish Medical who treated and cared for her over the years. Joyce's final arrangements and cremation were seen to by The Co-op Funeral Home of People's Memorial in Seattle, WA.
A small, private memorial gathering was held for her at the home of a close friend with a more formal memorial to be planned for a future date. Donations may be made in Joyce's memory to the Lobular Breast Cancer Alliance (LBCA) at https://lobularbreastcancer.org. Joyce loved concerts and events, she loved to travel, she loved her cats, she loved Elton John and her favorite color was green.
---
Comments
I knew Joyce as a wonderfully lively, passionate, and energetic person. I admired her strength and perseverance and most of all her bravery in the face of difficult odds. But she would never give up and that should invigorate all of us. What a loss!
Jeanette Norris
---
Joyce will always be in my memory for her gifts of music and humour. My heart and best wishes go to her sisters, Kathy and Norma. You are all in my prayers.
Joe Roy
---