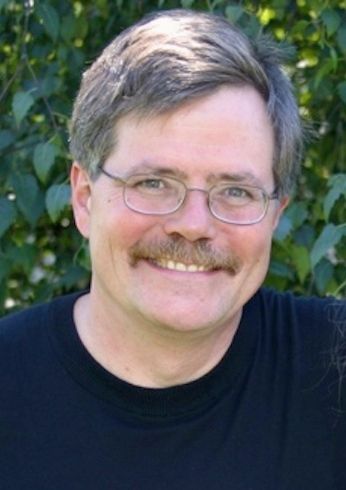 Mark Collin Chambers – beloved husband, brother, uncle, friend, photographer, painter,traveler, partier, lifelong learner – died of ALS in Carnation, WA on April 20th, 2015, at the too-young age of 61.
Mark is lovingly remembered by his wife, Oda Egeland; his father, Glen Chambers; his brothers Lee and Jery Chambers; his sister Kristin Chambers; numerous adoring in-laws, nieces, nephews and their families; and legions of loyal friends. He was preceded in death by his mother, Blanche Chambers, and his brother Daniel Chambers.
Mark was born on March 24, 1954. The youngest of five, he grew up on a dairy farm in Hinsdale, NY, where he had a happy and idyllic childhood. At age 10, his family moved to the nearby town of Olean, where his father taught at the high school. He graduated from Olean H.S. in 1972, and worked for a couple of years before moving to Washington State to attend The 
Evergreen State College.
After graduating from Evergreen in 1980, he worked various jobs as a builder, remodeler, and salesman. In the late 80s he owned his own sunroom and spa company, before stepping into a brief but stellar career in Toyota sales: he won the national championship as the Toyota Salesman of the Year, taking home a new Camry as his prize. In 1990, while working for Toyota, he met Oda "The One" Egeland: Mark reflected about their first date, "She had a face that would always make me happy. It wasn't just love at first sight. It was real love." They bought a house together in Lynnwood in 1992, which they landscaped, designed, and entirely remodeled. They married on July 30, 1994: statistically the day least likely to rain in Seattle. 
He went back into the home remodel business in sales and sales management at Quantum Windows & Doors. At heart and above all, he was a creative spirit: an inventive entrepreneur, and a joyful and inspired creator who found expression through photography, painting, poetry and filmmaking. He quit working in 1999, and from then on pursued his artistic passions, and his visionary renovations of his properties, full time. No vision or project was too big to undertake: on the contrary, the bigger the better. 
Mark and Oda bought an overgrown 60-acre plot on the Tolt Highlands in Carnation, WA in 2002, and over the course of 7 years transformed it into an enchanted refuge for friends, family, and wildlife. In 2005, Mark and Oda became part of the Capitol Hill renaissance in Seattle when they purchased St. Johns, a mixed-use building on E. Pike and Harvard, and completely renovated it. Mark's unflinching vision of what these places could be, and his tireless, full-time dedication to developing the two properties into heart-filled centers of liveliness will be his legacy.
Mark loved music, art, literature, people, parties, cats, and above all, he loved Oda. He will be remembered for his generosity, his joy of bringing people together over laughter and champagne, his keen wit, his piercing questions, his relentless quest to know the answer to everything, his wild creativity, his unblinking courage in the face of his devastating disease, and his huge, loving heart. 
A memorial service is scheduled for May 10, 2015 at 2:30pm at Unity Church of Bellevue, with a reception to follow. Paul Boardman will officiate the ceremony. All are welcome to attend and celebrate Mark's life. 
In lieu of flowers, please send donations to Plymouth Housing Group online at https://www.plymouthhousing.org/how-you-can-help/donate/, or send a check to:
Plymouth Housing Group
Attn: Resource Development
2113 Third Avenue
Seattle, WA 98121
The family would like to thank all the people who helped with Mark's caregiving, especially in the last 6 months of his life, for their tireless dedication.
---
Comments
This man was one of the most amazing men I have had the pleasure to know. My husband Mike & I will miss his friendship, kindness & encouragement. Thank You Mark for sharing your life with us. RIP my friend. --Collienne Becker
---
As long as I am here Mark will be here too.... and so it goes. Take care dear Oda, see you in the summer. --Manuela
---
Mark, you will be so missed! I have never met anyone with your zest for life! I truly thank you for your wonderful friendship. Thank you so much for sharing your life with us. You have made an incredible mark on our community. We will never forget! Thank you, thank you, thank you. Love, Ann
---
Mark sold us our 1993 Toyota Corolla and sold my 1979 Honda Accord for me back in the day. He was a delightful guy, and I think we all got together once or twice socially. Obviously we've been out of touch for a long time, but it was a shock to learn of his death. I still think of him so fondly -- how many people have such fond long-term memories of the guy who sold them their car over 20 year ago? Please accept our deepest sympathies, he was a delightful guy. --Carolyn and Mike D'Albora
---
Dear Oda, I am so grateful to have known Mark, even though a short time.
He was truely a beautiful man, and a wonderful spirit. He was kind, cleaver, and such an incredible humor! I was truely touched by him. 
To have you be his partner and his love, is the only consolation.
Please accept my deepest sympathy and know I am thinking of you both.
Sincerely,
Carolyn Paquette, hairstylist
---
This is "spot on," beautiful, very well written, accurate and wonderful. Mark had a heart that was huge, bigger than life, and a wonderful, giving style that's hard to catch with words. 
I was just lucky, I guess, to have been his big brother. The world needs more Mark's.
Oda, you're the Best, the very Best. And Christine, Thank You so very much. --Lee Chambers
---
The "Connecticut Andersons" had such a wonderful time getting to know Mark and Oda at the Chambers/Anderson family reunions in the nineties. Lawrence, who died in 2009 and his children, Gary and Lynn and their families had great memories of Mark, his open, friendly spirit made him so easy to talk to, engaging and fun. I felt a kindred spirit because of his love of art, which is a very important part of my life but I don't think that was unusual - Mark seemed to create that kind of affinity with everyone. I'm so happy I had that chance to know you both. Sadly, Oda, I know only too well how you must be feeling now. Both my husband Don and my dad, Lawrence (Lela's brother), died in 2009. I send you my heart-felt sympathy. Take good care of yourself. Time will help. Sending Love, ~Lynn
---
Oda, you and Mark are in my thoughts and prayers. Hugs to you, my dear. -Donna Bekkedahl
---
I count myself extremely fortunate to have called St John's home for the last five years - what a wonderful home it's been, thanks in no small part to Mark and the amazing amounts of energy and love he put into the building and its occupants. A few years ago Mark gave me an awesome old wind up tin toy car from his collection and it has had a spot of honor on my bookshelf ever since, and now it will serve as a wonderful reminder his warmth, humor and energy. I feel lucky to have known Mark for the time that I did. Oda, family, and friends - you are in my thoughts. - Susanna in 208
---
Having Uncle Mark in my life for the last 22 years has been nothing short of wonderful. He was an amazing man and touched the lives of every person he met. I love you so much Uncle Mark and miss you like crazy. -Danielle :)
---
In conversation, about a matter of importance, Mark would look at and talk to you in a deep way that made you let go of any pretense, and get to the heart of the matter (and to lighten up). In a very good way, that made you know that all is well, no matter what.
--Bob M.
---
I have many memories of Mark from Vik reunions but the most cherished is his way with the younger people of the family. My children, Rachel and Royce, grew up far away from the extended Vik family and felt kind of like outsiders. No amount of reassurance from me that "we're all family" made them feel as comfortable as Mark's ways. He drew them in with his charm, his outgoing and accepting ways . I will always be thankful for this and many other things that he brought to us Viks. Barbara A.
--Barbara G. Anderson
---
Mark was such a smart and solid person. Of course this is often said when someone is no longer here with us but very true for Mark. He was a true friend at my son's birth in 1980 and all during my time at Evergreen. I'm very sad now. Angel blessings to his family. 
Margaret, Stefan's mom and Mark's friend
--Margaret Peifer
---
I spent a few years hanging with Mark while we wrote screenplays as part of a UW program. We had so much fun during that time and Mark was right in the center of that fun. We lost touch over the years but I often thought of him. I will always remember his energy, sense of humor and generosity. And he definitely told you his opinions and didn't shy away from honest conversation. He always seemed to have many groups of friends. I know he will be missed by many.
--Janet Wallace
---
I did not know of Mark's death until I saw his father's obituary tonight in my local newspaper, the Olean Times Herald. Mark and I were friends throughout junior high school and high school, mostly through Drama Club, although we had other mutual interests. Our paths parted after high school, but we met up at a couple of high school reunions, most recently in 2012. I admired Mark in high school: He was always cooler, had better tastes in music, was smarter (although I wouldn't have admitted it at the time), and was more insightful. And he always had much better luck with girls! My favorite story about Mark involves the time we both were hired for counter work at the new McDonald's in town. This was during our senior year in high school, 1972, and we both had long hair. The store manager told us to get haircuts. I got all of mine chopped off—but Mark bought a wig he could tuck his hair under when he worked! To me, that perfectly exemplified him. This may sound like a cliché, but I was stunned to learn today about his death. The full obituary did him great justice, and I found myself nodding in agreement at many points. My sincere condolences to everyone whose lives he touched.
    
Patrick Vecchio
---
It is with great sadness I write this today, but also great joy that I had the lucky privilege to sit next to Mark in the French horn section of our high school band and orchestra. On occasion, when me the newest French hornist would fumble a note, I would eventually reach back into the bell of my horn to retry to play, and would be shocked by the fact another hand was already there. Yes Mark found a way to amuse and although we say in many classrooms over our time at OHS, our paths crossed again via the internet, and I can't remember how. I was recovering from a brain hemorrhage, so forgive my initial memory lapse, but I vividly remember him filling in blanks of time with descriptions of where he lived, his love for his wife Oda, stories of his cat, the projects ( concrete counters) new building plans and even descriptions of a house I could use to experience his special Pacific Northwest! We chatted about our fathers…his knew mine and he seemed to want to plan a small meeting for them to catch up on old times. What a beautiful thought! I was in Texas but visited my dad from time to time but my father fell, broke his hip, and was never able to get out of the house much after all. But what a plan! Once a week or so Mark and I exchanged paragraph's of the beauty and wonder of how our lives developed over time. I could certainly see his world through his words, and I hope he mine. Then after a bit, his notes were fewer and fewer. In my mind, he was out trimming his land, building great touches in his house, walking with his cat or traveling with Oda. I assumed he was onto fabulous projects and one day I would get an email telling me all about it. But that message never came. Once or twice I sent a short one to him wishing him well and onto the next project. Then someone in our class let me know of his passing. He never once mentioned his illness. He was looking to the sun and letting the shadows fall behind him. He lived his own way to his own drum. I will forever be thankful of the email reconnection with Mark. Sensitive, caring, fun loving, creative, humorous, brilliant and truly his own person. The heavens has a truly bright star !

Kathy Hull OHS '72
---