Irene Rose Buskin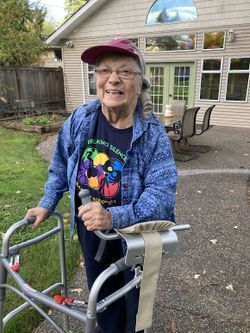 Irene Rose Buskin, born March 11, 1947, in Newark New Jersey, died November 10, 2023, in Seattle Washington.  She was predeceased by parents David Freed Buskin and Alice Mary Kornfeld Buskin, grandparents Werner and Magda Ranschburg Kornfeld and Nathan and Jenny Freed Buskin, aunt Sylvia Kornfeld, uncles Henry Kornfeld and Edward Buskin, and sister Margaret (Peggy) Ann Buskin.  She is survived by siblings Jean Nancy Buskin, Richard Paul Buskin (Lanie), and Susan Elizabeth Buskin (John Heater).  She also leaves behind ex-husband and enduring friend Chuck Rumford, nieces Jenny, Sarah, and Ramie, nephew Todd;  cousins Judy, Warren, and Shona and their children.
Irene grew up in Woodbridge, New Jersey, and obtained her nursing degree at Middlesex Community College.  After several years of hospital nursing in New Jersey and New York she received her Bachelor of Science in Nursing from Hunter College.  She then joined VISTA (Volunteers in Service to America).  In VISTA and afterwards, she spent several years in Kingstree, South Carolina, doing community health education, ER nursing, and general hospital nursing.  She then moved to Seattle and completed a master's degree in Health Administration, specializing in Health Planning, at the University of Washington.  During this time, she was married.  She and Chuck relocated to Huntsville, Alabama, where Irene worked as a planner for the North Alabama Health Services Agency.
Irene relocated to New Jersey where she applied her nursing and social skills to nursing her grandmother Magda Kornfeld through ill health.  She then worked as a health planner in Saint Petersburg, Florida, with a specialty in HIV/AIDS education, before joining the US Public Health Service Commissioned Corps in Bethesda, Maryland.  She retired with the rank of Captain in the Commissioned Corps USPHS.
Irene then moved to New Brunswick, New Jersey, and helped her sister Peggy through many health problems.  In 2011 Irene, as a pedestrian, was hit by a truck and received a traumatic brain injury that affected her for the rest of her life.  After 7 months of hospitalization and rehabilitation, Irene moved to Seattle to live with her sister Jean.  With the support of Jean, sister Susan and family, wonderful therapists, and her own persistent efforts, Irene regained much of her pre-accident abilities.
In recent years, Irene suffered from increasing dementia, and spent the last 2 months of her life in a memory care facility where an accident led to her death.  The family thanks Seattle's Medic One and the staff at University of Washington Medical Center – Northwest for heroic efforts to maintain and restore Irene's life, and for their kindness to Irene's family and friends.
Irene was principled and chose work that was meaningful and useful to others.  She was curious, an avid reader, and a player of many word games, notably Scrabble.  She enjoyed nature and keeping up with the world news.  She was a generous and loving family member and a loyal friend.  Special thanks to friend Diane Lee who could always coax a smile and maybe a laugh from Irene.  Irene retained her interest in the world and her sense of humor through her memory decline.
---
Comments
---