Douglas (Doug) Staats
June 27, 1932- October 7, 2023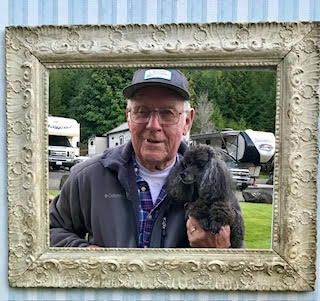 Doug was born in Yakima, WA and grew up in Yakima, Redmond and West Seattle, graduating from West Seattle High School in 1951.  
He married Ina Johnson in 1954 and they settled in Kent where they raised three daughters. When grandchildren came along he affectionately  became known by everyone as "Boppa".
In 1951 he went to work for Kenworth and worked at several divisions of PACCAR, retiring from Pacific Car and Foundry in 1988.  Doug kept up a beautiful yard and garden, enjoyed hunting in Eastern Washington, fishing for salmon, but especially Steelhead on the Green River and spending time with family. 
He was predeceased by his parents,  Gordon and Pearl Staats and younger sister, Dollee Duvall. 
He is survived by his wife of 69 years, Ina, daughters Janet (Mike) Hominda, Diane (Michael) Forrester and Karen (Bart) Turchin.  Four grandchildren Justin (Betty) Buetow, Jennie (Kyle) Herrmann, Hallie Hominda (Mark Mevorah) and Kellen (Jenny) Sturdivan and four great grandchildren, Hudson Buetow, Anders Buetow, Hazel Herrmann and Hank Herrmann. 
A Celebration of Life will be held at a later date. 
---
Comments
Ina and family, I am so saddened by the passing of Doug. He will forever be remembered as a kind, happy, outdoor loving man. I have such fond memories of growing up with your family… living across the pasture.
Hugs to you all and I hope I get to attend the memorial service! Hugs, Ann Parker Radoslovich
---
Mrs. Staats, Janet, Diane & Karen... I am so sorry to hear of your husband, Ina, and you girls of your father passing. We had a great neighborhood growing up and your family is one of the reasons. You were and are good people and great neighbors.

The best to you all and my heartfelt sympathies,
Gail Brown Laskow
---
Dear Aunt Ina and girls, I was so saddened to hear of Uncle Doug's passing, such a wonderful man reminded me a lot of my Dad. So full of life and totally old school, fishing working his garden and being the best husband Dad and Poppa. Sending my love to Aunt Ina and girls at this difficult time. Love Judy
---