Doris May Harkness
February 9, 1926 – February 26, 2023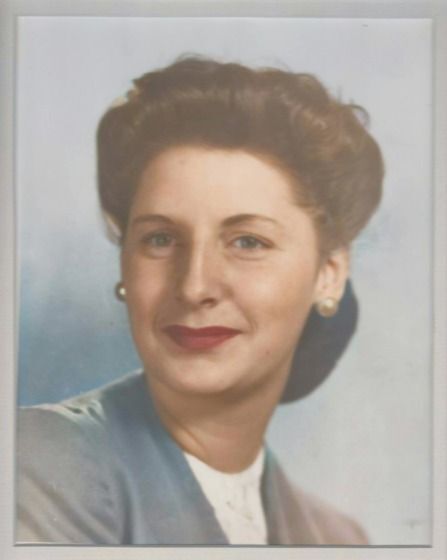 Doris May Harkness was born Doris May Bailey, February 9, 1926, in the rural community of Manette, across the Port Washington Narrows from Bremerton. Our mother's connection to Manette spanned several generations. Years earlier, in 1901, lured by the promise of jobs at the new US naval shipyard in Bremerton, Doris Houston's maternal grandparents, William Webster Avery and his young wife, Josie, left the Midwest for Puget Sound country, where they homesteaded on the Manette Peninsula and raised five kids, one of whom was Erma Avery, Mom's mother.
By 1930, in the midst of The Great Depression, Mom's parents, Stanley and Erma Bailey (née Avery) had moved from Manette to Seattle, where they lived in a small house near Alki Point. Stanley's mother, Sophia Graff Bailey, had been born near Alki in1870, when Seattle was a rough-and-tumble waterfront village on Elliott Bay.
During these bleak economic times, Stanley Bailey found employment as an ironworker in a local shipyard in Seattle. By the early-1930s, Stanley, Erma and Doris had moved back to the quiet rhythms of rural Manette. However, the settled life she knew, near the beaches and woods, took a turn. On the heels of her divorce from Stanley, Erma married Edward "Ned" Houston in 1934. Ned served as a sailor aboard the newly commissioned aircraft carrier USS Enterprise. Soon, Erma and Ned signed adoption papers that changed Mom's surname from Bailey to Houston. 
During this phase of Mom's childhood, Erma Houston and her two girls, Doris and Mom's younger sister, Billie, left Manette and "followed the fleet", and Erma's new husband, Ned Houston. For the next several years, Erma and the girls lived out of suitcases, travelling from one coast to the other, from Bremerton to Norfolk, Virginia, and from Norfolk back west to Balboa Park, California, near the US naval base in San Diego. There, Chief Petty Officer Ned Houston served aboard the carrier Enterprise. Mom would later talk about how painful these constant moves from one city to another were for her. When she became a mother herself, she would recount to us memories of being enrolled in one school, withdrawn, and then re-enrolled in another. She would make friends at a grade school in Norfolk, say goodbye to those friends, and be enrolled mid-year at a school in Long Beach, California. The complicated process of forming new friendships would have to start all over, only to come to an abrupt end with the next move. When Erma brought her daughters back to Manette in 1939, Mom vowed that when she married and had her own family, they would live in one house and one house only. Her kids would attend – and walk to – neighborhood schools. 
Mom kept that vow. She spent 73 years in the house on Ashworth in Seattle's north end. That decision to stay put in the modest home she and our father, Harry Harkness, bought in 1950 gave us kids a gift, though we were not aware of it at the time. It was the gift of stability and continuity in our close-knit Haller Lake neighborhood. That sense of belonging, of having close neighbors and nearby family, was precisely what Mom did not always have. For her three kids, there would be no dislocations, no uprooting, and no move from one school to another. We grew up in the same house on Ashworth where, two weeks after her 97th birthday, our mother died.
After the back-and-forth of her childhood, and following her high school graduation in 1944, the University of Washington accepted Mom's application for admission. In 1945, she joined a sorority, moved into the UW women's dorm – McKee Hall – and declared art as her college major. 
Mom's experience at the UW proved transformative. College life opened her eyes to new worlds. Her classes included art history and the study of anatomy and perspective. She learned to paint and draw in various media, including chalk, oils and watercolors. Her professors introduced her to the painters known as "the big four," including Guy Anderson, Kenneth Callahan, Morris Graves and Mark Tobey, central figures in the just-emerging movement that came to be known as the "Northwest School." 
Mom's interest in and love of art lasted all her life. Even as she raised her family and worked evening shifts at restaurants, she found ways to carve out parcels of time to take art classes. She became an accomplished water-colorist, especially skilled at Japanese-style sumi-e. Some of her works adorn the walls of our homes. One of them – a sumi-e watercolor of a koi – graces the cover of a book of poems by her first-born, Ed, titled The Law of the Unforeseen. At the readings she attended, Ed would introduce his mother, hold up the book so the audience could get a good look, and joke, "Forget the poems. Buy the book for its cover." That always got a laugh, and Mom would beam.  
In 1946, the summer after she turned 20, Mom married our father, Harry Harkness. The newly-weds first met in an art class at Bremerton High School. Following the end of World War II in 1945, Dad received his discharge from the US Army Air Corps. During the war, he had flown combat missions as a B-17 ball-turret gunner based in a region of allied-occupied Italy. Now, he and his new bride were about to start a family
Mom's first pregnancy ended her university education and launched a new chapter of her life. Over the course of the next 8 years, she had us three – Eddie, Randy and Cindy. One by one, she enrolled us in a local preschool at the Haller Lake Community Club not far from home. Soon, she took on the role of preschool teacher herself and joined other young mothers in pioneering co-op preschools. The focus would be on child development, early childhood education, and parenting skills. 
As if she did not have enough to do in raising us and teaching preschool, Mom worked for years as a server at local Seattle restaurants. That period included a stint as host at the Seattle Yacht Club on Lake Washington, and the CAPO Club in Lake City. Because she worked most evenings, Mom would prepare our dinners beforehand and leave them warming in the oven. If she was running late, she would show us how to heat frozen TV dinners. Odd as it might sound, we actually enjoyed those chicken potpies and meals in sectioned aluminum foil trays.
When she had the time, however, Mom was an inventive and inspired cook, with a particular interest in dishes from other countries and cultures. She was a "foodie" before that term came into vogue. One night, it might be Greek-inspired dolmas – stuffed grape leaves made from leaves from our vine in the backyard. On another night, we would have sushi. That was years before the proliferation and popularity of Japanese restaurants. Or we might sit down to a dish called "ham-and-eggs Leilani," a recipe from Hawaii. We thought it was a hoot to eat eggs for dinner. In addition, she taught her kids to cook as well. She would get the ingredients and utensils prepared and have us make the evening meal. To steal the name of a famous book, Mom taught us the joy of cooking. That included teaching her grandkids how to make tamales, and how to press balls of masa dough into tortillas by using a wooden press from Mexico. Each fall, Mom would roll out the family cider press. Her kids and grandkids would crank the grinding barrel to make the mash, then turn the press handle to squeeze juice from the mash into quart jars. Everyone joined in on these culinary happenings.  
We in the family will forever associate our sweet mother and grandmother with two desserts. Both were mandatory for all family gatherings. No one is quite sure where she first learned about Red Velvet Cake, but that became her standard, go-to dessert for all birthdays. Mom's other specialty was flan, a vanilla-flavored Mexican custard. Try as we might to make flan ourselves, we could never recreate the creamy texture of her version. 
Mom and Dad loved to throw parties, especially in the '50s and '60s, during the early years of their marriage. Both had formed strong bonds with their schoolmates from Bremerton High, friendships that would continue for years after people graduated, married and had families. "The Bremerton Group," as they called themselves, would meet regularly, either in Bremerton, where some still lived, or in Seattle, at our house. There were cocktail parties, pinochle parties, Halloween costume parties. Things could get wild. From our bedrooms, we kids would hear loud laughter and singing to the tinkle of Dad's piano.
In the 1970s, Mom's teaching career changed directions once again. Edmonds College hired her as head teacher for the college's on-site day care, a program affiliated with the college's Family Life Education Department and its parent-toddler co-op program. Later, Mom rose to the position of parenting skills instructor. She was perfectly suited for her new role. The education of young children and their parents had become Mom's singular area of teaching expertise. Her shelves at home overflowed with books on child development, on the wonder and importance of children's art, and on best practices for new – and sometimes clueless – working parents. When we kids had kids of our own, we took every advantage of Mom's breadth of knowledge about how to raise healthy, happy, socially adept, well-adjusted children. She had helpful advice for us info-hungry, often stressed, parents on virtually every topic, from toilet training, good nutrition, sleep issues and how to cope with tantrums and power struggles. She urged consistency in sticking to family ground-rules, and for both parents to be on the same page regarding all matters related to parenting. Mom believed strongly in the importance of reading to young children in order to develop language skills and engage the inner lives of their young imaginations.
For both our folks, the demands of work were never-ending. In addition to taking painting or cooking classes, Mom had interests beyond the confines of motherhood. Since her teens, she had loved opera and theatre. In 1945, when Mom would have been 19, she learned that Paul Robeson would be performing in Shakespeare's Othello at the Metropolitan Theatre in Seattle. Until then, theatre companies cast only white actors in blackface to play the role of the black Moor. Mom managed to get a ticket, caught the Bremerton ferry to Seattle and attended this historic production, an event she would later describe as the thrill of a lifetime. Years later, when her kids finally left the nest, Mom became a regular subscriber to Seattle Opera. She would regale us with accounts of productions of La bohème, Carmen and The Magic Flute. Mom loved pop music as well. In 2012, we took her to one of Leonard Cohen's last concerts, held at Key Arena in Seattle. Cohen's best-loved signature song, "Hallelujah" remained one of Mom's all-time favorites.
In diary entries from her teens, Mom would routinely note the names of films she and her friends would take in at the local movie houses in Bremerton. She would often cite the main cast members, followed by add a brief bit of film criticism. Here is Mom's entry for April 29, 1944: "Last night Carol and I went to a double bill, The Imposter and Phantom Lady. They're pretty good, but not too extra special. Good, though." Even into her 90s, Mom proved she qualified as a serious movie buff. She had an uncanny ability to know about the best, most current films playing at Seattle theatres. If any of us decided to go out to see a film, we would consult her first. As for TV fare, she likewise would tell us what shows to watch. An especial favorite of hers was the popular series from several years ago, Downton Abbey. She adored its star, Maggie Smith.
In addition to her large collection of picture books for young children, and her many parenting guides, Mom's shelves included antique volumes of fiction and poetry – many of them handed down from her mother, Erma. These included works by Poe, Wordsworth, Keats, Longfellow, Dickinson, Whitman and Twain, as well as more contemporary novels. Until her eyesight began to fail, Mom read avidly, partial to detective fiction, including the works of Agatha Christie and the series called The No. 1 Ladies' Detective Agency.
Mom wrote well and vividly, something we only recently began to appreciate by reading the diaries she kept through her high school years. The entries reveal a typical teen who loved to hang out with her school chums, and who spent perhaps a bit too much time on the phone talking to an impressively long list of boyfriends. When not on the phone, she would pal around Manette or catch the Bremerton ferry to go shopping in Seattle with her dearest and closest cousin, Carol Hilstad. Mom's diaries offer a fascinating glimpse into what life was like during the war years. In an entry in November 1945, she describes her excitement on learning that President Roosevelt had won a fourth term as president. From the ages of 6 to 20, Roosevelt was the only US president Mom ever knew.
Politically, Mom did not fit the usual mold for people her age, who often tend toward conservative viewpoints. On the contrary, she was a life-long and ardent Democrat. Mom was appalled by the outcome of the presidential election of 2016. She was shaken even more in January 2021, by the violent attack on the Capitol Building in an attempt by supporters of the losing presidential candidate to stop the peaceful transition of power. Claims of voter fraud were, Mom well understood, based on lies and evidence-free conspiracy theories promoted by that same losing candidate and his supporters. Mom could never fathom why millions of Americans fell for those lies. Throughout her long life, Mom championed liberal values and supported the cause of social justice, women's rights and reproductive freedom. Despite the country's apparent turn away in recent years from the time-honored principals of democratic government, Mom's outlook remained, even into her late 90s, positive and optimistic for the future. She believed people were good, and that goodness and truth would triumph over fact-free conspiracy theories and the denial of reality.

Mom's early experience of near-constant moving from one home to another, one region of the country to another, may have dampened her enthusiasm for travel. However, that would change. With her then-companion, Al Gallinari, she took her first trip to Europe. That included a week in Italy, where Al and Mom visited his ancestral village to meet relatives who still lived there. Mom enjoyed getting a close glimpse of family life in a small Italian village. Later, in the mid-1980s, she would spend several weeks in Tianjin, in the Peoples Republic of China, visiting her son and daughter-in-law while they were teaching at a Chinese university. Later still, Mom traveled to South Africa to visit a friend. She even went on a guided safari.
Of all the countries she visited, Mexico was nearest her heart. Mom's favorite uncle, Warren Bailey, made the introduction. Warren, younger brother of Mom's birth father, Stanley Bailey, lived with Juanita, his Mexican wife, in the fishing village of Mazatlan in the decades before the explosion of tourism transformed the city into a major seaside resort. Warren built a simple apartment for Mom, perched on the roof of his small house. This apartment became her home-away-from-home. Mazatlan likewise became the preferred travel destination for many in our family, including Mom's daughter and primary caregiver, Cindy Harkness Howard, who spends part of each year at her Mazatlan condominium.
Mom traveled widely throughout Mexico. Years before the surge in interest in Frida Kahlo, one of the giants of 20th century Mexican art, and world famous for the brilliance of her folk art-inspired wardrobes, Mom made the pilgrimage to Casa Azul, home – now preserved as a museum – of Frida Kahlo and her muralist husband, Diego Rivera.
Even as she was undergoing dialysis treatment for end-stage kidney disease, Mom requested a final trip to Mazatlan. This past November 2022, family members flew her down and spent two weeks with her at Motel Marley, Mom's second home-away-from-home, located on the beach near the zona dorada, the "gold zone." Each morning, she would scoot herself in her wheelchair out to the lanai, drink her coffee, eat a plate of chilaquiles and, as she would say, "watch the world go by." That included a steady stream of vendors selling sunglasses, pastries, beadwork bracelets, bright blankets, sunhats stacked by the dozens on the tops of their heads, or selling cups of sliced mangos and strawberries. For these treats in particular, she would count out her pesos.  In the afternoon, a mariachi band would stop to play their guitarras and blow their booming tubas. The music would be loud, as if in competition with the sound of waves breaking along the shore. Such a simple event as the sun dropping into the Pacific, just to the right of Isla Venado, Deer Island, a mile offshore, filled Mom with deep joy. This trip was not without its challenges. These included getting to and from the local hospital to continue her dialysis treatment, making sure she was eating well and taking her meds, pushing her places in her wheelchair. These minor matters would vanish when we saw the pleasure she got from her final fling in Mazatlan.

If you have the good fortune to live in the same house for 73 years, as Mom did, you earn the right to become an honored and respected elder member of your community. Mom qualified. For decades, she played an active role as member of the Haller Lake Community Club. Back in the '60s, well before their divorce, Dad served a term as club president. The HLCC is where, not long after moving into their home on Ashworth in 1950, Mom first taught co-op preschool. 
Several years ago, neighbors pitched in to create a small park out of an otherwise unused portion of Mom's dead-end street on Ashworth Ave. Volunteers planted shrubs and trees, installed several attractive sitting benches and erected a sign that reads "Harkness Park." The sign is visible from Mom's house. This gesture by her Haller Lake community touched her deeply.
The symbiotic meld between Haller Lake preschool and Haller Lake Community Club has always been a two-way street: young families would enroll their toddlers in the preschool and follow that by joining the Club. Mom deserves much credit for attracting new members. For over seventy years, she held nearly every Club position: trustee, treasurer, secretary, vice-president. On August 27, 2022, the board of trustees introduced Mom at the Haller Lake Community Club's 100th anniversary party as the longest living Club member.
Few of us will ever forget the suffering and death caused by the two-year Covid19 pandemic. Mom contracted the virus that had proved deadly for hundreds of thousands of America's elderly. She was one of the lucky one whose symptoms were mild. 
Still, in her last years, Mom had to cope with a growing list of age-related conditions. They included excruciating spinal pain for which pain meds offered only brief relief, macular degeneration that resulted in failing eyesight, and most serious of all, end-stage kidney disease. With some reluctance, Mom elected to undergo dialysis at a nearby clinic. That meant three 4-hour visits per week to have her blood filtered. Mom gamely went to dialysis on alternate days. These sessions, while they kept her alive, took their toll on her, physically and psychologically. It was no easy task simply to get Mom to and from the clinic, not to mention delivering her to frequent appointments with her other doctors, or drive her to the emergency room when she required immediate medical care. 
The downside of dialysis was the sheer number of hours of having to sit motionless while her blood circulated through the filtering machine. The upside is that dialysis gave Mom an extra year of life. It allowed her to go on short outings, culminating in the ambitious 2-week trip to Mazatlan, described above. In addition, dialysis bought time for Mom to be with her family for a final year of birthdays and holidays. 
When dialysis seemed no longer effective, Mom made the decision to stop treatment, fully aware of the consequences of that choice. Thanks to her Hospice care team, Mom lived out her final days comfortably and pain-free. For that, for her dialysis doctors and nurses, for the kidney and vision specialists at Kaiser-Permanente, and for the Hospice nurses, we are profoundly grateful.
While she was still alert and able to get in and out of a car, Mom accepted a dear friend's invitation to drive to the Tulalip Resort Casino and plug quarters into the slot machines. To our relief, Mom did not lose her life savings. On the contrary, she brought home several hundred dollars in winnings.  

One of her last requests was to take a birthday spin on The Great Wheel, Seattle's waterfront Ferris wheel. She got a kick out of the dozen or so of her kids, grandkids and great-grandkids all clambering into the Plexiglas compartments, snapping pictures left and right, of her, of the Seattle skyline, of ferries crossing Elliott Bay, of the majestic Olympic Range rising in the distance. 
After the Ferris wheel, our throng had a birthday dinner for Mom at Seattle's historic waterfront restaurant, Ivar's Acres of Clams. She loved every minute of what would be our last family outing with her.
Now, our beloved matriarch, our primary and irreplaceable source of affection, kindness, stability, wisdom and love, has left us. Mom asked for little and gave us much, not just to those closest to her, but to everyone – her friends, her neighbors, her teaching colleagues from years, her fellow coders at the University of Washington Parenting Clinic, including those who in her last weeks brought her flowers and even a heart-shaped cake. One young woman who had worked with Mom remarked that Doris Harkness was the mother she wished she had had. 
In addition to her three children and her beloved daughter-in-law Linda Harkness, Mom leaves behind her grandchildren: Devin Harkness (Lyndsey Mackenzie), Ned Harkness (Megan Kohl), Reed Harkness (Heather Hawksford), Jared Harkness, Sam Harkness (Bailey), Maddie David (Sennen), Rose Durham (Guy), George Bailey, Beaux and Elias Howard, and Peter Whitney. The still-growing list of great-grandchildren includes Clio, Hilde, Cosmo, Doris (Mom's namesake), River Bird, Arwen, Wolfe, Helen, Ivy, Ava, and Dash. 
Mom adored her family, and we adored her. She supported our endeavors and cheered our accomplishments. Her joy, her humor, her passion for life, her gift of good-heartedness – these have become our richest inheritance. Doris May Harkness will live in our hearts and memories forever.
The family will hold a life celebration for Doris Harkness May 14, 2023, 3 p.m., at the Haller Lake Community Club, 12579 Densmore Ave N, Seattle, WA 98133. In lieu of flowers, please donate in our Mom's name to the charity of your choice.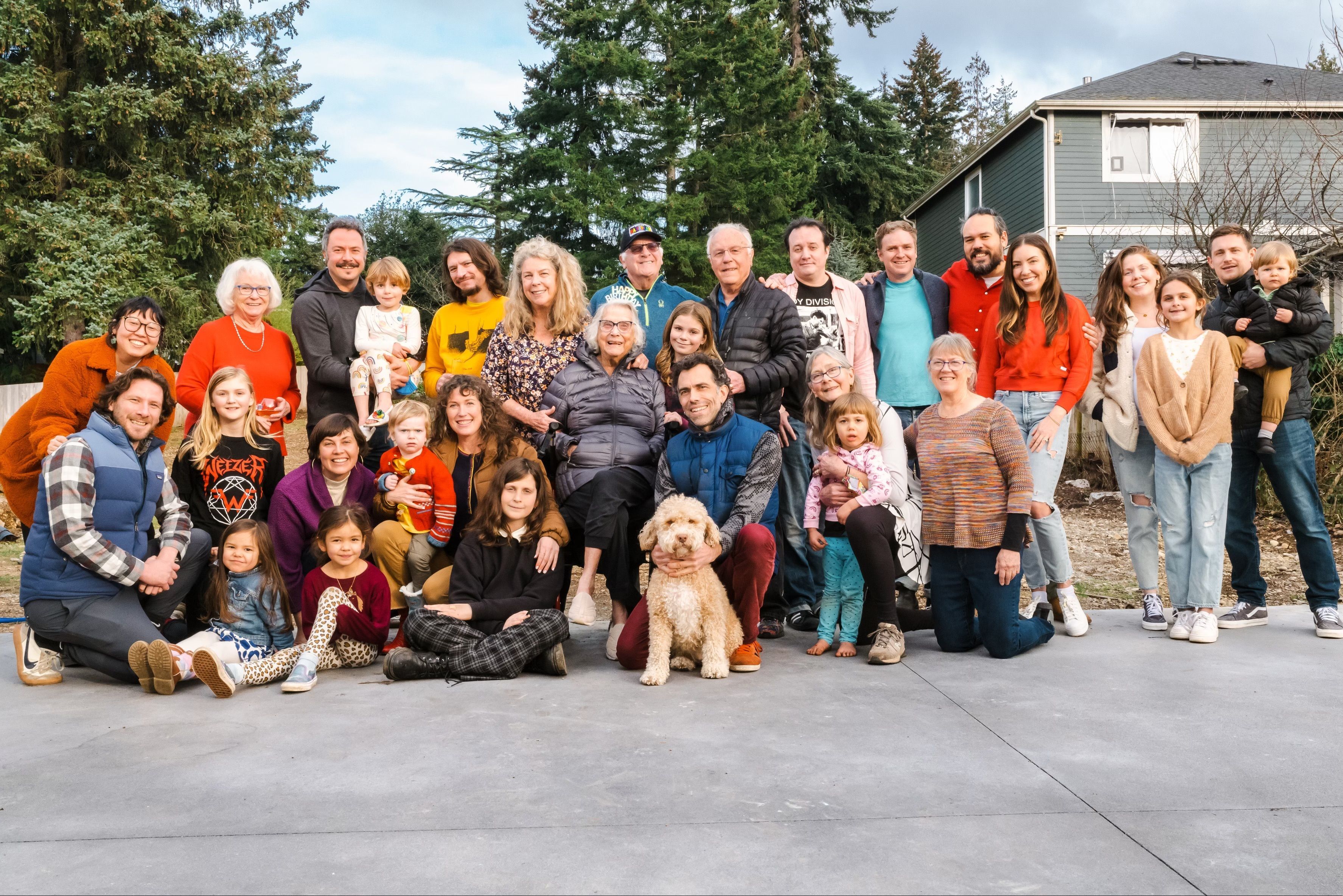 ---
Comments
A lovely summary of a life well lived. I knew Doris through the Parenting Clinic at the University of Washington. She was not only a very competent worker, she was the heart of our group. She worked with many young university students and was clearly a mother/grandmother figure to them. She was patient, kind, knowledgeable and accepting of all. Her young coworkers had the best role model. As a friend, Doris was always available with a kind word, a bit of advice if asked, and a warm hug.
It was an honor to be counted as a friend to Doris. I will always remember her as one of the best people I have known.

Lois Hancock
---
My beautiful Aunt Doris will be missed by many including me.
Bunny Bassett
---