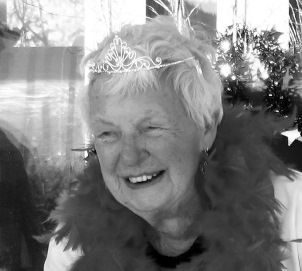 K. Eileen Allen was born in Tacoma, Washington on September 24th, 1918 and grew up in Seattle. After graduating from Ballard High School, she went to work as a "number please" girl at the telephone company. In 1938 she began 54 years of married life with Roy Allen, raising three children, Melody, Craig, and Dale, to value adventure, education and fresh air.  Every summer featured one or more camping trips. Any complaints of summer boredom would prompt her to say, "Why don't you take a spin on your bike?"
 When the kids were all school-age, Eileen started taking classes at the University of Washington and teaching in the UW laboratory preschool at the Child Development Institute. 
Over the next 20 years, she raised her family, graduated from the UW magna cum laude, Phi Beta Kappa, and Pi Lambda Theta, completed a master's degree, wrote and presented numerous research papers on child development, and directed the UW laboratory preschool program. She also authored or co-authored seven books on child development, two of which became standard texts on mainstreaming children with developmental disabilities into public schools. 
In 1974 Eileen accepted a full professorship at the University of Kansas where she continued teaching, researching, writing, and presenting papers across the country.  She was awarded a Congressional Fellowship and spent a year in Washington DC as an advisor to The Select Committee on Aging. During this time she served as President of the National Association of Early Childhood Teacher Education, Chairperson of the Early Childhood Program Committee of
the First World Congress for Future Special Education, and President of the National Division for Early Childhood, Council for Exceptional Children and was cited in the World Who's Who of Women. 
Every summer, she and Roy returned to their one-room cabin on Hood Canal, where she got up early to walk her beloved beach and spent the days writing, gardening, and doing laundry in a washtub with a washboard and mechanical wringer.  
In 1987 Eileen retired from the University of Kansas. She and Roy returned to the Northwest where Eileen worked on successive editions of her books and resumed her commitment to the University Unitarian Church - a relationship that fed her intellectually and spiritually for 40 years.  Every summer through her eighties she hosted a "preacher party" at the beach for all the ministers past and present. 
As her vision gradually failed and reading became more difficult, Eileen began memorizing poetry, which she would gladly recite for any willing listener.  Her final, co-authored book, I Like Being Old, encourages the reader to make the most of every aspect of aging, just as she had done. Eileen Allen died just three weeks short of her 97th birthday in Seattle.  She is survived by her children, three grandchildren and one great-grandchild - in addition to friends and colleagues far and wide who considered Eileen a role model, guide, and personification of a life fully lived.
A memorial will be held October 18, 2015 at 3:00 pm at the University Unitarian Church in Seattle, WA.
---
Comments
I met Eileen as a first year doc student at Kansas where she took me under her wing and told me to join Council for Exceptional Children and Division for EArly Childhood--she was president of the Division. It was a wonderful gift and she continued to mentor me by offering me many opportunities to co-present at CEC and other conferences about inclusion of children with special needs. On one of our adventures (2 day seminar we gave in British Columbia), Eileen invited me and our colleague TurdyLee to visit her beloved beach and dig for clams. We helped Eileen and Roy celebrate their 40th anniversary on the beach. So many wonderful memories of a woman who influenced my life and career.
-Susan A Fowler
---
I had the pleasure of meeting Eileen just before her 95th birthday. We became fast friends and soul sisters almost immediately. Today is her birthday, and I am thinking of her and the poems she gave me. It is an honor to be one of a long line of people she mentored who fell in love with her. How's Eternity, Eileen? I miss you!
--Amy Maguire
---
Eileen was my grad school mentor and friend. I will never forget my visit to her cabin on the peninsula for Labor Day weekend 1996. And I will never forget Eileen, who had many significant influences on my professional and personal lives. I know she is with me still.
L. Carol Scott
---