Wanda Lee Ball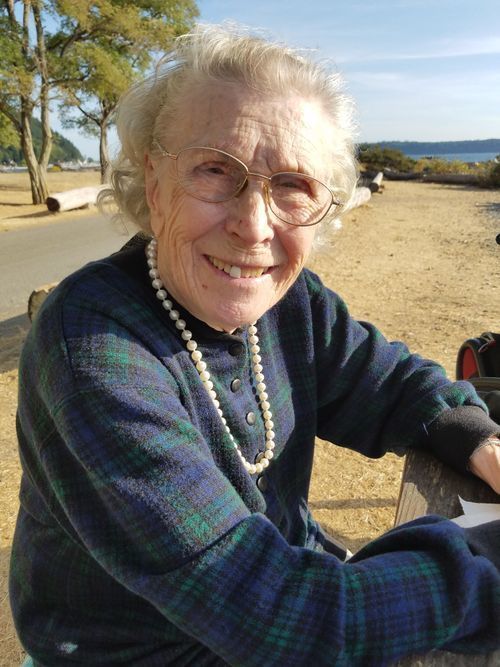 Wanda Lee Ball, 94, of Edmonds/Seattle, Washington, passed peacefully at home, after suffering a fall, resulting in a broken hip. She was surrounded and supported by family, passing from this earthly realm to the next portion of her journey, Sunday February 20th, 2022.

Wanda was born in Spokane, Washington, in May of 1927 to Oliver and Winifred Messinger, the 3rd born of three daughters. Wanda attended Roosevelt High School, but never graduated, as she wanted to be an artist -- and her occupations throughout her life reflected this passion for creativity and art. Wanda's most rewarding occupation was being house mother at Boys Village, a court appointed temporary home for boys. Wanda found great joy and sense of accomplishment in ministering a "Grandmas love and comfort" to these boys in their time of crisis.
Wanda's strong Christian faith kept her strong and steadfast through the years. Wanda had a adventuresome and strong mischievous side to her, a stubborn and independent spirit that made her the strong unique woman she was.

Wanda is survived by her daughter, Wyona Moody, two of three sons, David Ball, Jonathan Ball, and daughter-in-law Teresa Ball. Wanda has seven grandchildren: Joy Moody Strand and Grandson-in-law Travis Strand, Ryan Moody, Jeremy Ball and granddaughter-in-law Christina Ball, Sarah Ball Johnson, and Rachael Ball. She also has nine great-grandchildren: Angela Moody, Ravyn Moody, Anthony Verlinda, Reba Strand, Capron Stewart, Matthew Ball, Anthony Rojas, Ethan Ball, and Seth Ball. And two great-great-grandchildren: Jordan and Anabelle LaFontaine. Special mention: Wanda is also survived by her two neices and two nephews, her sister Louise's children: Sandra Selby, Karen Preston, and Rick and Mike Johnson.

Proceeded in death are Wanda's parents, Oliver and Winifred Messinger, two older sisters, Glennagene Messinger and Louise Messinger Johnson (and Louise's husband Warren Johnson), and her youngest son and "her baby," Aaron Ball. And the young love of her life, husband, and father of her four children, Capron Ball.

Wanda would like to extend a huge thank you to her pastor and fellow members of Grace Chapel!

Wanda would be pleased if when you think of her, you choose to give or act with kindness on those less fortunate than yourself. To say prayers and take action for solutions for the mentally ill and those suffering from addictions.
Psalms 23

The Lord is my shepherd; I shall not want.
He maketh me to lie down in green pastures: he leadeth me beside the still waters.
He restoreth my soul: he leadeth me in the paths of righteousness for his name's sake.
Yea, though I walk through the valley of the shadow of death, I will fear no evil: for thou art with me; thy rod and thy staff they comfort me.
Thou preparest a table before me in the presence of mine enemies: thou anointest my head with oil; my cup runneth over.
Surely goodness and mercy shall follow me all the days of my life: and I will dwell in the house of the Lord for ever.
---
Comments
Hello wonderful people who were part of my Mothers life. I am the second son of three. 3rd born of 4. Brother of an elder sister and brother Husband of an awesome lover. Father,Uncle, Grandpa...all titles Allowed to me thanks to a wonderful Mom. Bless your HEART Mama.
- Jonny lee
---
Go ride your horse mom, jump on that trampoline, go run anywhere you want...be free of this earthly human restraints!
I know you'll say. ..you don't need any rest now....so I won't say that....
Go enjoy your next journey!!!!
Love you...your bossy Sargent of a daughter!!

Wyona Moody
---
Grandma,
I have something very important to tell you....."you're doing a great job, keep up the good work!!"
I love you very much, always have... Always will!!
With that, I sing you a lullaby......."get on that sleepy land boat..chug chug....woo woo....close your eyes and hold Jesus hand, for he watches over you!!"
Just in case you forgot...which I know you haven't....why did the tomato turn red?
Cause he saw the salad dressing!!!
Love you forever... your grandson.... Ryan.
Ryan C. Moody
---
Oh grandma….my first memory of you is with the beautiful dress you hand Made for me! Then when jelly spilt on it from a peanut butter and jelly sandwich, I never ate jelly again!

You really are a special soul that traveled this earth. I already miss your spunky personality and your never ending love and "god bless you's"

Watch over all us in the family please, we'll need your never ending presence.
I Love you great grandma.

Ravyn Rose
---