Mary Freundlich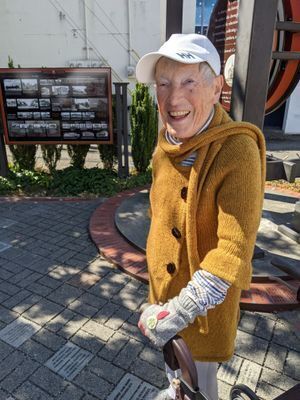 Mary Freundlich's spirit remains with us after cancer took her last breath at 8:50 am on October 6, 2023.  Mary grew up in NYC, the daughter of Walter and Mary Zubowsky and sister to Frances, Caz and Chester.  Mary graduated from Washington Irving High School in 1950 and Hunter College in 1956.  
Mary met Jerry Freundlich at a USO dance in New York City in 1955.  They married in Columbus, Ohio in 1957 where they started their life together.  Within 6 years, they moved to the Philadelphia, PA area.  Her connections to friends made in Philadelphia continue to this day.  Jerry and Mary raised their children, Jay and Julie in Yardley, PA and the Unitarian Universalist Church at Washington's Crossing.  
Twenty years later, after family vacations to North Carolina, Florida, Ohio and beyond, circle suppers, playing bridge, carpooling and working as a registrar at Helene Fuld School of Nursing, the Freundlichs moved to Redmond, WA and eventually settled in Edmonds, WA.  In Washington, they made many friends and settled into retiring by volunteering and spending time with family.  The Edmonds Unitarian Universalist Congregation was a supportive community for both Mary and Jerry.  
The stories of Mary will show she valued family.  She was a mother, grandmother, great grandmother, sister, aunt and sister in law.  The memories of Mary will tell you she was a traveller, a recruiter, a knitter, a friend.  Always determined.  After Jerry died in 2015, Mary continued traveling, recruiting, knitting and making friends.  She started walking all over Edmonds.  She saw beauty everywhere and was thankful for a full and well lived life.  
She will be missed by many.  Her immediate family – Julie and Dayne Taylor; Jay and Bonnie Freundlich, Dale and Justin Scott, Dean Freundlich and Kristen Albrecht, the Lilleys , her sister-in-law, nieces and nephews.  Life long friends in Pennsylvania, New Jersey, Virgina, and Washington and new friends met at book club, EUUC, Edmonds Landing, Kaiser, the dentist and walking around Edmonds.
A memorial service will be held on October 22nd at 3pm at the Edmonds Unitarian Universalist Congregation, 8109 224th St SW, Edmonds WA 98026.  Memorial donations may be made to the Mountlake Terrace Food Bank.
---
Comments
---